Clock On Tray Extends Windows 7 Default System Tray Clock [Giveaway]
Clock On Tray is a complete Windows system tray clock and calendar extension. By default, system tray clock does not provide many options except some basic functionality. Also most developers do not bother giving attention to this part of Windows. This nifty little application hosts a great deal of features, tools, and different options which abets user in carrying out diverse tasks and also to schedule them promptly with an intuitive alarm system deployed within. It comes with some beautiful visually aesthetic themes which helps a user in customizing the system clock to match Windows theme.
Editor's Note: Clock on Tray is a paid application that comes in four versions – Lite, Standard, Pro, and Extended (see comparison chart). We are giving away 10 licenses of Extended edition, which costs $45 dollars each. More information on how to participate is given at the end of the article.
Application's usability is ranged from high to grass-root level, empowering both high-end and amateur users alike. It helps in setting yourself up for managing tasks, scheduling events, marking your peers/friends/relatives birthdays, it comes with different kinds of alarms for the automation of daily tasks/events or schedules. Be it weekly, monthly or even annually events/tasks, you can easily set them with each having different buzz.
It also brings more friendlier and feature-rich calendar as compared to default system tray calendar. The aforementioned tools and features perfectly weaves in with it, you can view coming events, pending tasks, birthday parties coming in near future, with options like add tasks, alarms, diary entry, note, and finally change day and time settings, right within the calendar.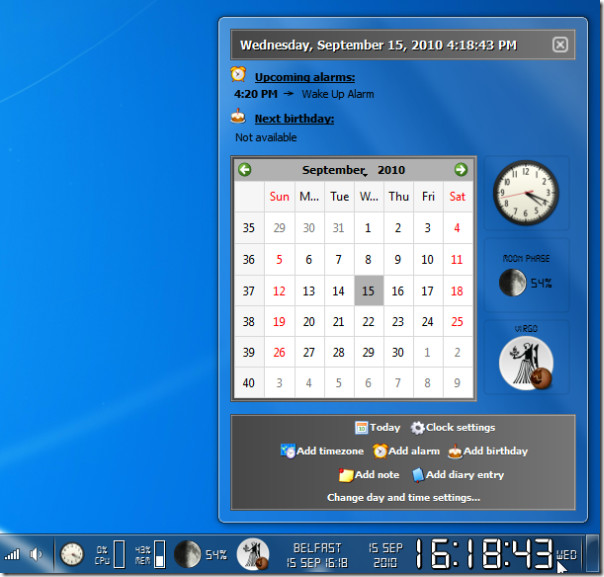 Since it encompasses various kinds of skins and elegantly crafted themes, you can pick out the one that suites your flavor.
It extends the functionality of default clock in different ways, you can select provided add-ons from library and bring them right into the system tray area. Since add-ons are included for addressing diverse end-users' needs, you can have Analog Clock, Moon Phase, Zodiac Viewer, CPU and Memory usage viewer, and a lot more.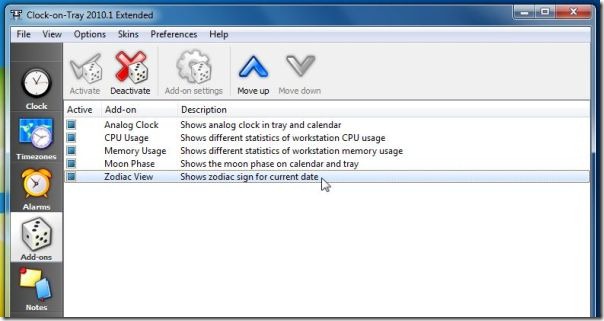 Another worthwhile aspect is that it will ease the way you take notes. While offering desktop sticky notes, you can easily manage and organize information in order to keep yourself updated all the time.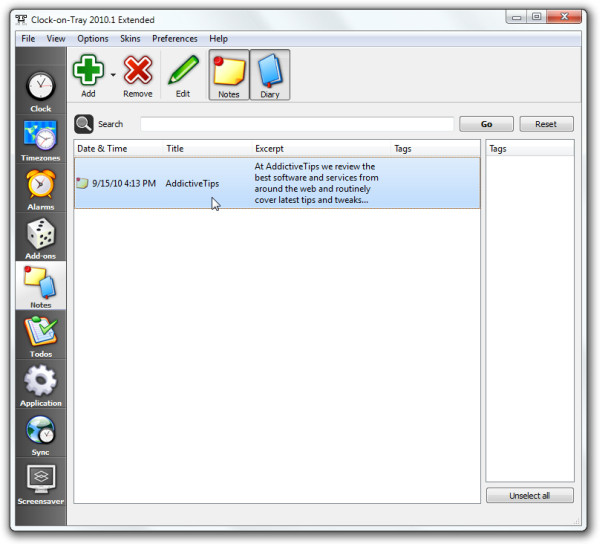 Beneath notes, it also features to-dos, you can jot down stuff to do and manage them with build-in to-do list manager.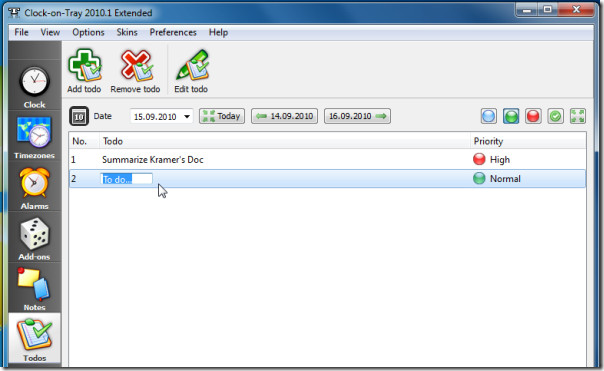 The application is highly-customizable, you can change every bit of it including the overall appearance of clock, add animations, and insert different time zones.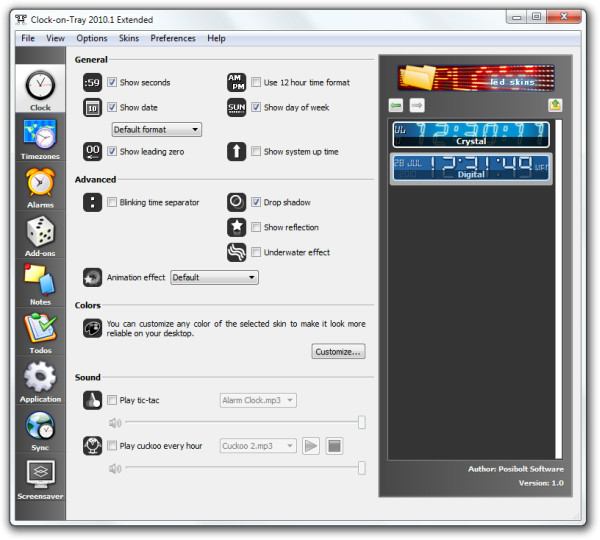 The application developer seems very keen about updating the product consistently. You can expect a new, and a more improved UI in coming iterations. Besides UI, the author is also eager to revitalize the product with some more add-ons support and application specific functionalities.
Considering the range of handy features and tools it offers, certainly it is a one must-have application.  One would expect it to be taking hefty amount of memory, but on our testing machine, the memory footprint remained stagnant around 50MB which is quite normal.
It supports Windows XP, Windows Vista, and Windows 7. Testing was carried out on Windows 7 x86 system.
Giveaway
The giveaway will only last for 24 hours. Participation in the giveaway is simple. First you need to follow us at @addtips, then tweet about this giveaway, and finally leave a comment explaining why you need this tool (with the link of your tweet). We will pick out 10 winners!
Update: The giveaway has ended, winners will be notified soon via email! Thanks for participating.