Configure And Sort Windows Services Easily With Turbo Service Manager
Windows services perform important system functions without the need of user intervention to keep the operating system and its components functional. These services can be manually disabled, paused, started and resumed from the Windows Services console. While most users simply do not alter the state of running services, it can be sometimes necessary to enable/disable some services. For example, the Windows Server 2008 requires the manual activation of Themes services (after installing Desktop Experience) to enable the Aero effect. Turbo Service Manager is a portable application which helps in easily configuring Windows services.
Caution: This application is not recommended for novice users as one can end up causing major system issues due to incorrect configuration. Make sure you know exactly what you are doing when performing a service configuration.
The available options include anything from the common start, stop, pause and disable options to the ability to save and load service state using an XML file. You can also sort, view and manage service by Win32 and Kernel. It also has a test load feature, which tells you about the changes that would have been applied if you loaded the service state. The main interface displays all the active services, their state (running or inactive), startup status (enabled, disabled, manual or boot startup), and service executables location on local drive.
For example, in the screenshot below some of the services are disabled such as the Adobe Acrobat Update Service. This is so because I like keeping some unwanted services disabled so that they do not start with system startup and hog my system resources.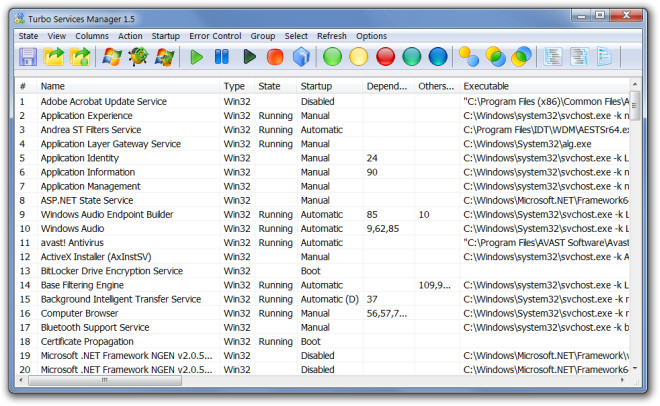 By default the Win32 services are displayed which includes application and Windows native services. If you would like to switch to Kernel service, click Kernel option from toolbar. These services are listed with their name, state, startup configuration and error control information. To configure any of the service types (Win32 or Kernel), select a service and choose an option from the toolbar. The available options include Save (to save a service state as an XML file), Load (to load a service state from an XML file), Test Load (to give you preview of changes), Start, Pause, Resume, Uninstall, Automatic, Manual, Boot, System (to configure how the service is activated or managed).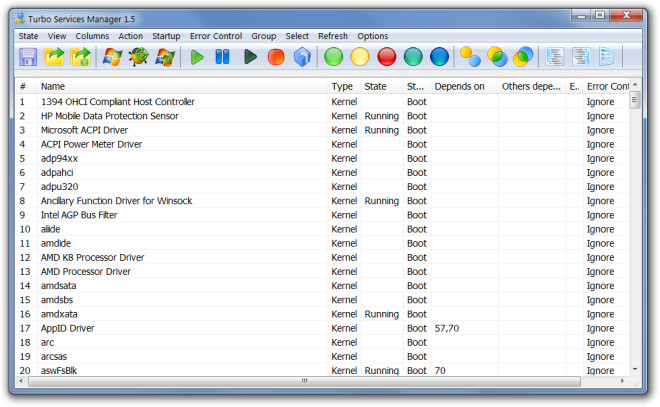 The toolbar also contains three kinds of grouping options to help you further refine the services which you intend to view. These options allow you to list services by no group, by group state and by startup services. Turbo Service Manager is available for both 32-bit and 64-bit Windows operating systems. It works on Windows XP, Windows Vista and Windows 7.
Download Turbo Service Manager