Convert Any Word Document To JPG, PNG, TFF, Or BMP Image File Format
Few weeks back I covered a post on converting any document to PDF format. In this post I will tell you how to convert any printable document in windows to multiple image formats easily. ImagePrinter is a free utility that converts your document which can be printed in your Windows system to the one or many BMP, PNG , JPG, TIFF or PDF image files. Yes, it supports PDF too along with other popular image formats.
Simply run the program, and you will be shown the Options in the main System tab. You can select the Output folder and enable any outside file to open after conversion.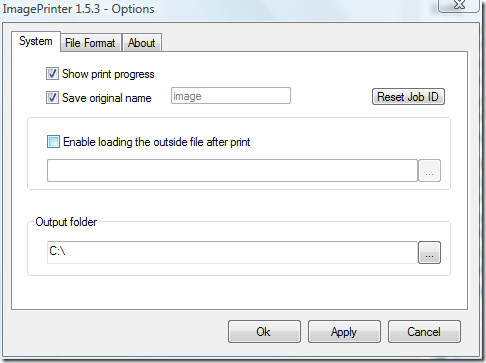 To change the format go to File Format tab and you can select the desired settings.
To convert the document, follow the same method which I covered few weeks back(link given above), but you will choose the Universal Image Printer from the options. This software works only in Windows XP and older versions. Windows Vista is currently not supported(but soon it will be available). Enjoy!