Copper Is Free Point Of Sale (POS) Software For Small Businesses
Checkout or Point of sale (POS) is the location where transactions occur when exiting a retail store, super market, etc. POS terminal is the hardware and/or software used for checkouts, which is the equivalent of an electronic cash register. EPOS (Electronic Point of Sale) has become more of a rule rather than the exception for many retail stores, chain stores, malls and the like. Rather than introducing new systems of transaction, developers are enhancing this already well established system of checkout. Unfortunately, most POS software are not free and are only available for trial. If you were hankering a free POS application then try Copper Point of Sale Software. Although freeware, it handsomely delivers POS and inventory keeping options on a professional level.
At the time of installation, you can choose to select additional components to install with Copper. These include extras for accounts tracking, inventory management, a backup software and a browser toolbar. Having said that, it might be worth unchecking the toolbar and web search checkbox to avoid unnecessary components from being installed in your browser.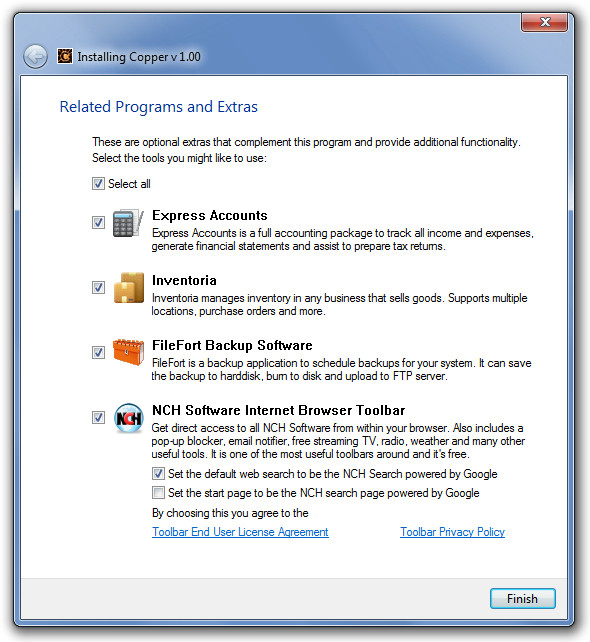 After installation, a quick start wizard allows adding a username, password, phone number, business address and other credentials.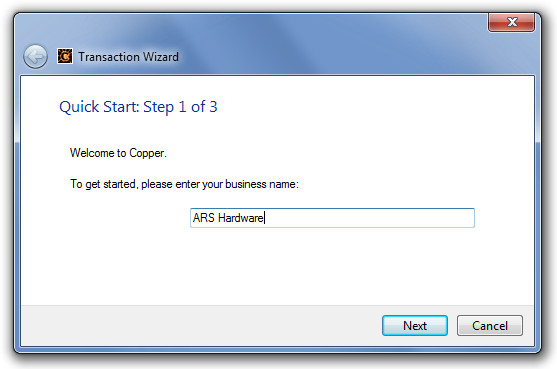 Once you have added the initial information for a designated username, simply click on Log On and enter your password to start managing your point of sale and inventory information.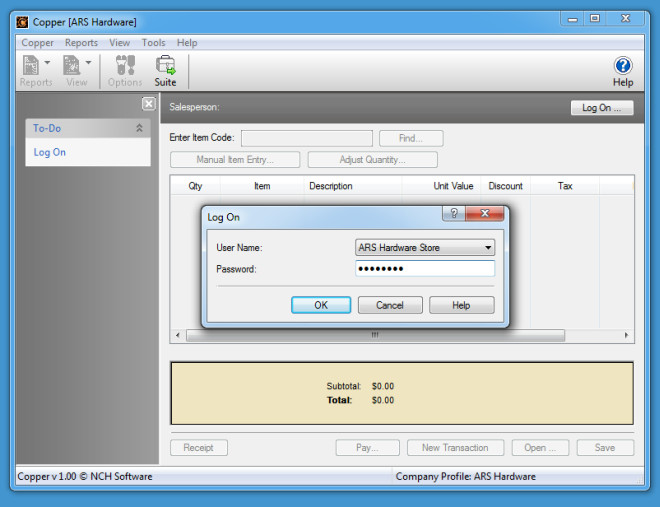 After logging in, you can add/remove  sales items, salesperson, transaction reports and other required details for managing and identifying your available stock. Some of the major advantages that can be achieved with the help of Copper include the following:
The retail checkout process for employees and customers can be streamlined via the available tools such as inventory management. For example, it contains a cash register system that stores product information, making the checkout process quicker and accurate for customers and business records.
It allows easily recording sales transactions.
It allows printing receipts for customers .
Product pricing and discounts can be easily managed.
Its interface is easy to use and compatible with touch screen terminals and barcode scanners.
It has a data backup/restore feature to keep data safe.
With Copper Point of Sale Software small and medium businesses can easily manage their point of sale transactions without paying for expensive POS software. However, if you are only interested in inventory management, check out Nevitium Inventory Manager.
Copper works on Windows XP, Windows Vista and Windows 7.
Download Copper Point of Sale Software