Copy Path to Clipboard: Access File/Folder Path Copy Functions From Right-Click Menu
You may already know that Windows does not show you the complete path of a folder or file, and if you need the complete path, you need to click the Windows Explorer address bar or open folder/file properties to copy the complete path. Wouldn't it be better if you could copy the complete path of folder and file from right-click context menu? Copy Path to Clipboard provides you with just that. It is an application for Windows that allows you to not only copy the Full Path and the Filename, but also Relative Path, URL Path, Parent Folder Path and the UNC Path of selected files and folders, all from the Windows right-click context menu. Additionally, it lets you copy the path of multiple files and folders at a time to Windows clipboard, so that you paste folders/files names along with their source paths in any text editor. More on Copy Path to Clipboard after the break.
Having so many copying options in one tool allows you to save a lot of time wasted in performing these functions manually.
After installation, it integrates Copy Path to Clipboard menu into Windows right-click context menu, letting you access all aforementioned copy functions.All you need is to select a file and select the required copy option from Copy Path to Clipboard menu.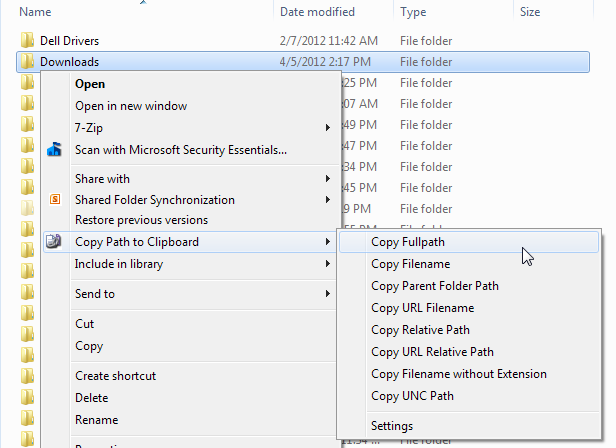 As stated earlier, you also copy the path of multiple files and folders at a time. All the options with (CRLF) in front of them work by copying multiple items at once.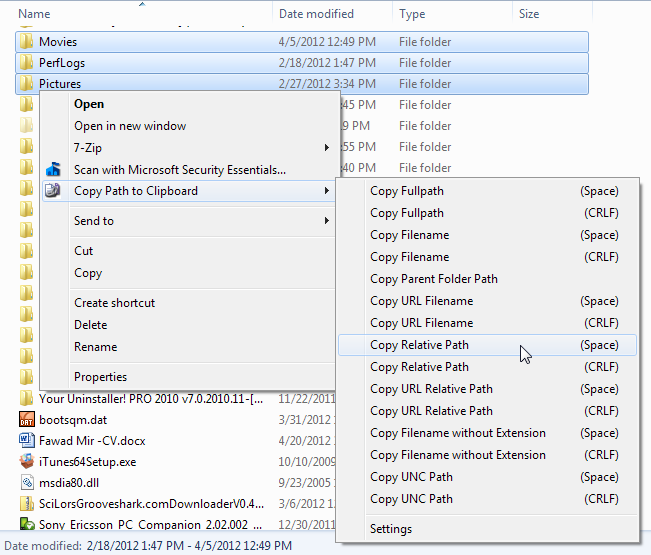 The Settings menu allows you to select which items to make visible in the content menu. The list includes Copy Full Path, Copy Filename, Copy Parent Folder Path, Copy URL Filename, Copy Relative Path, Copy URL Relative Path, Copy Filename without Extension, Copy UNC Path and Settings. Just uncheck the ones you don't want to see in the menu and click OK.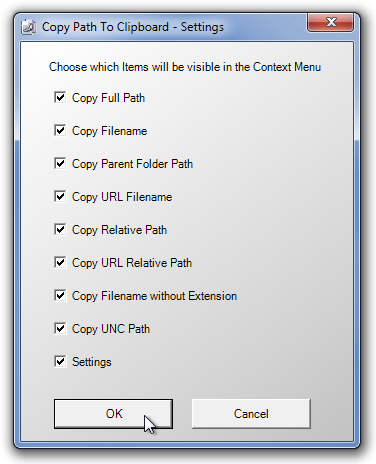 Copy Path To Clipboard is a fantastic tool that takes care of almost all your copying needs. It works on both 32-bit and 64-bit versions of Windows XP, Windows Vista, Windows 7 and Windows 8.
Download Copy Path to Clipboard