Copy Multiple Items To Windows Clipboard With ClipCycler
Having a clipboard manager is almost essential to the kind of work we do. This holds true for almost any user handling text, and hence a good, free clipboard management program is essential. ClipCycler is a free, open source application with a memory footprint of under 500kB that lets you cycle between various clipboard texts with keyboard shortcuts.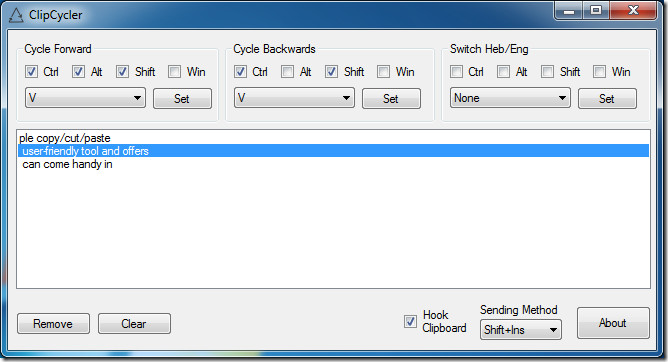 Download and run the executable and it will sit in your system tray. For first usage, you need to define the key combinations for cycling forward and backward amongst the copied texts, and also to switch between Hebrew and English, the only two languages supported by this tool. You may also select a default paste method, which is preset at Shift+Insert.
With the key combinations set up, you can begin your work. Use whatever combination you've chosen to cycle between various clipboard values, and use the chosen insert shortcut to paste that text from clipboard to your application.
ClipCycler is lightweight, minimalistic and gets the job done. However, one downside was that the program is not entirely bug free, and sometimes it confuses the choice you've made with the one adjacent to it. Please let us know if you face a similar problem.