Create Compressed Virtualized Applications With Enigma Virtual Box
Previously we reviewed Cameyo, which claims to be the very first application virtualization product to hit the market. Since the idea behind application virtualization is to bundle up all the related files, dynamic link libraries (DLL), components, and other essential scripts to prop the main executable file, rather than deploying an application having deep roots in terms of files structure & hierarchy and library classification, it'd be better to go for virtualizing the product, so every connected user on network can seamlessly deploy/install the application without complaining about missing components or other library files.
Enigma Virtual Box is built keeping this very need in mind. It is an file system application virtualization software that enables user to embed files which are essential to run an application in question into a single executable file (EXE), without compromising on application's work-ability.
The application supports almost every file type, ranging from DLL, OCX, COM, media files including; AVI, MP3, etc., to DOC, TXT. The whole file emulation is carried out without extracting any temporary files, as all the processes are done in memory. The application working is based on injecting all the files which are to be inserted into main executable file. According to developer, when an application (which you've inserted in it) tries to access a set of embedded files, its loader recognizes this and returns all the necessary data to make the application run without any problems.
Usage is fairly simple, it requires you to specify the main executable file of the application which is to be virtualized followed by output folder to save the resultant application bundle. Once it is done, you need to include all the files which are related to the specified application.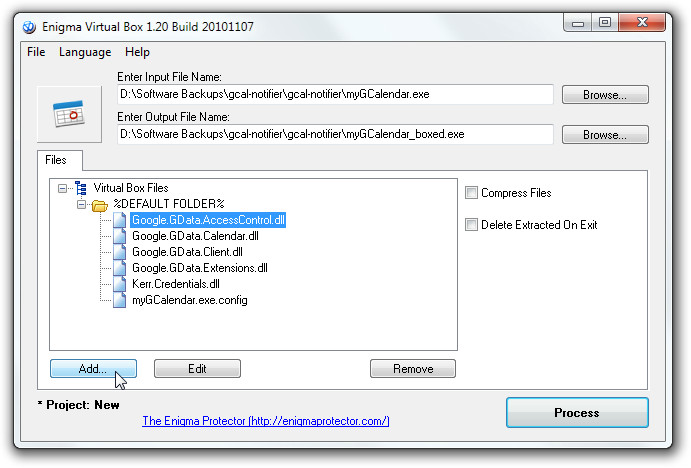 It also lets you compress files and delete the extracted package on the fly by enabling the respective options. To begin virtualization, click Process. Once processing is over, click Run to verify if the application is working properly or not.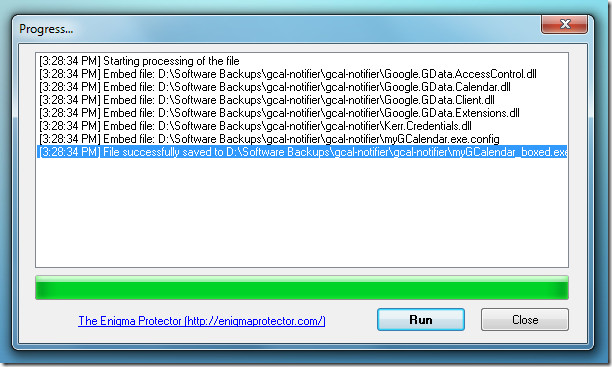 Developer is of the view that Enigma Virtual Box real usability can be observed when it's required to make your application more flexible and robust against security issues. Also, many software developers will find it useful for hiding DLLs of their developed applications and protect them against illegal copying of code/script.
The application works on Windows XP, Windows Vista, and Windows 7. Testing was done on Windows 7 x86 system.
Download Enigma Virtual Box (listed in right sidebar)