Create/Make Windows 7 Ribbon – Visual Ribbon Creator
If you want to make Windows 7 Ribbon and add it in your application, give Visual Ribbon Creator a shot. It is developed for VC++ programmers only. Ribbon is a great feature in Windows 7 and deserves an appreciation.
This tool generates Ribbon code, DLL, and Code Snippers for sample usage. It requires Visual Studio 2005 or 2008 and Windows 7 SDK. The app creates standard Windows 7 Ribbon using Win32 only and is very different than Visual Studio 2010 editor which creates MFC/Office Ribbon.
Please note that you should use this tool only and only if you are doing Win32/x64 directly.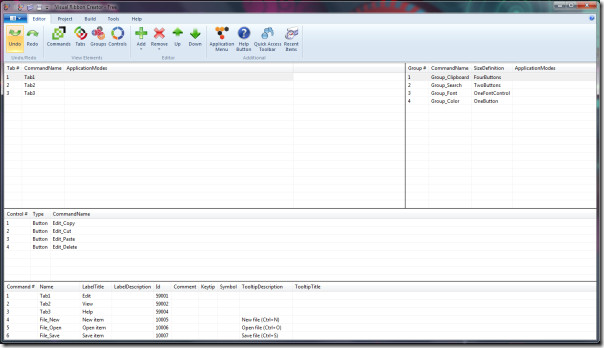 There are three versions available, free, standard, and professional. The free version includes all the features and can generate ready-to-use Ribbon DLL but will include an additional tab with copyright information. This shouldn't be much of a problem for most users.
Download Visual Ribbon Creator
You will also be interested in Windows 7 Ribbon Explorer. A tool that allows developers to view the result of the ribbon markup(XML). The app complies the Ribbon XML(UICC.exe, RC.exe, Link.exe) and then loads it showing the resulting Ribbon.
It includes lots of additional features, such as, enable editing, set various application modes, change Ribbon colors, set property of Ribbon command, and much more.
Download Windows 7 Ribbon Explorer
Please note that they are two separate apps, Visual Ribbon Creator creates the Ribbon while Windows 7 Ribbon Explorer views the Ribbon, allows developers to play with it and much more. You can export the Ribbon XML from the first app and test it on the second app.