[Giveaway] Decipher TextMessage: Save iPhone SMS & iMessage Threads To PC
Back in the days of using Symbian 'smartphones', before threaded messaging perhaps even existed, I was a huge fan of text messaging. The biggest bummer than dumb phones posed at that time, at least from my point of view, was their limited message memory. When I got my hands on my first iPhone, the biggest relief was the fact that it was able to store virtually unlimited number of messages. Then, over time, the SMS craze diminished, until text messages remained only a form of communication that my phone was capable of doing – until recently. For some reason, I needed to save some messages off my iPhone, and that's when I realized there was no way to do it (well, no easy way, at least). The hard way involved manipulating the sqlite database that stores iPhone's messaging threads manually, while the easy way required shedding off some bucks for outstanding results. Decipher TextMessage is one such cross-platform paid application that will allow you to view and export all your iPhone's messaging threads (SMS, MMS and iMessage) as text or HTML files and save locally, along with a few other, highly useful options, such as recovering deleted messages.
Note: Decipher TextMessage is a paid app that will make your wallet lighter by $14.99. AddictiveTips is giving away 5 licenses for the Windows version of this app, details for which can be found at the end of this article.
The application is available for both Mac OS X and Windows, and works by extracting the messages from your iPhone's iTunes backup. In essence, it employs the same sqlite manipulation that can be achieved through manual means, but not only is the process simplified thanks to the application's GUI, but also much more refined. As Decipher works with the iTunes backup of your iPhone, it's imperative that you have backed up the device at least once with your PC/Mac for the tool to work correctly.
When you launch the application, it will first look into the default iTunes device backup folder for all available backups, and extract the messaging information.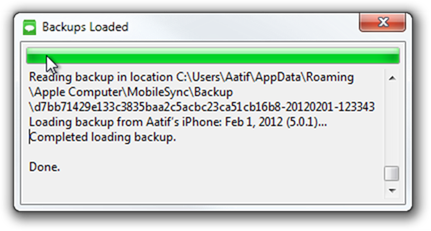 The main interface is a three-paned window with the left one listing all available device backups, the middle one populating the message threads by contact for the selected backup, while the right one displays any selected thread in its entirety. A row of buttons is available on the top, containing Export, Sort, Search, Recover, Hide, Print, Copy, Help and Check for Updates.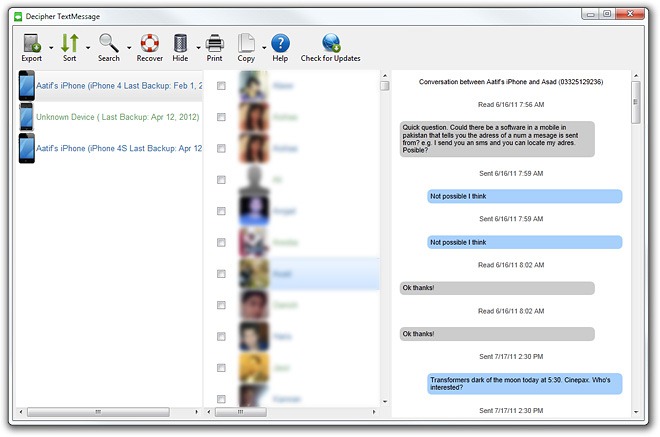 Usage is extremely simple. Viewing a message thread can be done within the app's own interface, which includes a timestamp with each message, along with an indicator for whether it was incoming or outgoing. Sent and Received messages are also color-coded for visual differentiation. The end of each thread displays the total number of messages contained within.
Decipher TextMessage neither contains any menus for settings, and is controlled entirely through the buttons at the top of the interface. Export allows you either capture the selected conversation, all conversations on the device, or all checked threads. Messages can be exported as either text or HTML, where the latter will not only preserve the visual differentiation of the app's own message viewer, but also include any multimedia content in messages (pictures, videos etc).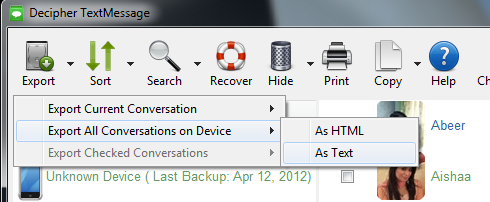 The next button, Sort, will change the order in which messages will be shown. Choices affect both the whole contact-based conversation list, as well as the threads themselves, and can be configured to show oldest first, newest first, or, for conversation list, in alphabetic order (which is the default selection). Further on, Search will allow you to look up any word within a thread.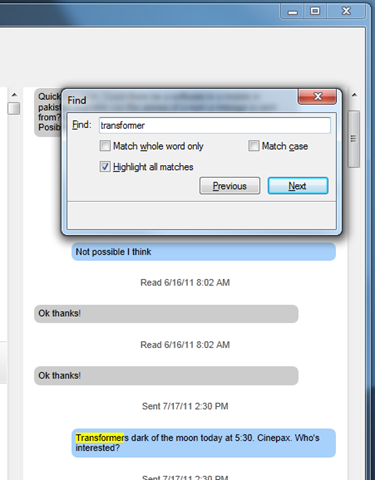 Recover is a rather interesting feature of Decipher TextMessage. Suppose you delete a message thread from your iPhone. As with all operating systems, the space used by that particular thread is marked available, and not immediately overwritten. When iTunes backs up your device's contents to your PC, it stores the complete sqlite database. The tool will, in this case, look for all messages within the backup that have been deleted but not yet overwritten, and will make it possible to recover those to your PC should you wish to do so. Highly useful for all those cases where you accidentally delete something and later find yourself needing it desperately.
Just launch the recovery console, select from the available options those that you wish to keep, and hit the Save button.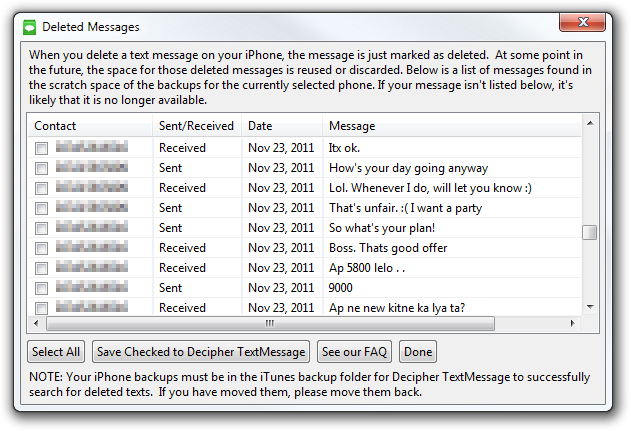 Decipher TextMessage is a wonderful tool for completely or selectively backing up/exporting your iPhone's message threads to your PC or Mac, including all the multimedia content that might be there. It's lightweight and fast, and has a pretty decent set of options, especially when compared to other offerings on the internet. Add to the mix the fact that it's available for both Mac and PC, and you get a pretty good deal. The only thing I found missing was the support for exporting messages as PDFs, which would have doubly enhanced the app's usefulness. Regardless, if you are an avid text message user on iPhone and want to keep your messages safe and viewable at any time, these would be 15 bucks you won't regret spending.
Giveaway: We are giving away 5 full licenses for the Windows version of Decipher TextMessage. The giveaway will last for 24 hours. Participation is simple. Follow @addtips on Twitter, tweet the giveaway and in the comments below, provide a link to the tweet. Alternatively, you may comment on our Facebook or Google+ page, where the comment should preferably be under the shared post and not on the page itself. Our editors will pick the five winners randomly.
Update: The giveaway has been closed and licenses have been sent to winners.