How To Delete A Product Key From The Registry On Windows 10
Windows 10 saves your product key to the registry. You may have heard of, and possibly used some apps that allow you to look up your Windows 10 product key. These apps make use of the information stored in the registry to find and display the product key. If you ever need to, you can delete a product key from the registry.
SPOILER ALERT: Scroll down and watch the video tutorial at the end of this article.
A Word Of Caution
Deleting the key will not impact your current activation status however, that doesn't mean you should delete it just for kicks.
Under normal circumstances, there is no need to delete a product key from the registry, ever. If your system is functioning perfectly fine, you do not need to upgrade a from one version of Windows 10 to another, you haven't changed any major hardware, etc., you do not need to delete the key. More importantly, if your valid key isn't being recognized as valid, deleting it is not the solution.The easiest way to resolve an activation problem is to simply call Microsoft. You may be on the phone for a while but you will end that call with an activated system.
If you do decide you need to delete the product key, make sure you back it up first. This is especially important if you have a retail or OEM key, or if you've upgraded from Windows 7 or 8/8.1 to Windows 10.
Lastly, if whatever problem you're having requires you to delete the product key from the registry, try using your system with a local Windows 10 account first to see if the problem goes away.
Delete A Product Key
You will need administrative rights to delete a product key from Windows 10.
Open the Command Prompt with administrative rights. Enter the following command. The second you tap Enter, the key will be deleted. If you have any second thoughts, don't tap the Enter key until you've sorted out you apprehension.
slmgr –cpky
Once you tap the Enter key, the product key will be gone and any apps that can read it will no longer be able to look it up. You must restart your system after executing the command for the change to take effect.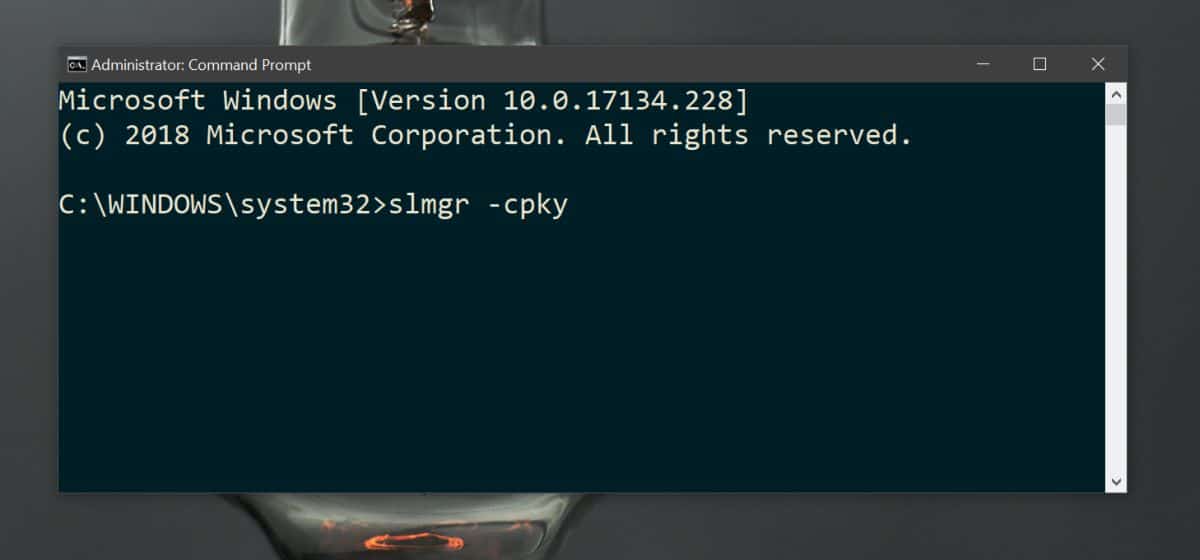 Change Product Key
If you need to change your product key, there's a specific setting for it and you don't have to manually delete the old one. To change the product key, open the Settings app and go to Update & Security. Go to the Activation tab. Scroll down and click the Change product key option. It will guide you the rest of the way.