Digital Janitor: Auto Cleanup Download Folder By Sorting Files
The Digital Janitor helps in sorting folders on the basis of where you wish specific file types to go. Suppose you have a Downloads folder where every type of files are downloaded, in the end you have to manually sort them out by copying files to various folders depending on file type. With Digital Janitor and a couple of clicks, you can define which file type should be moved to which folders, thus making the sorting process automated.
The working of the tool is very simple, specify the folder that you want to cleanup(in my case it is Downloads folder), choose the file type, then browse and select the directory to which you want to move the files of  the selected type.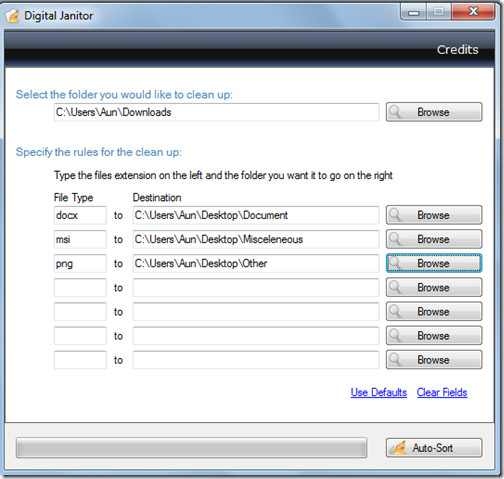 Once done with the configuration, hit the Auto-Sort button and you will find your specified folder cleaned up and the files of each specified file type placed in the respective directory. You can specify a maximum of 7 rules which are enough for most users.
Hitting the Use Default option loads the default configuration and the Clear Fields option lets you reset the fields.
It works on Windows XP, Windows Vista, and Windows 7.