Compress Picture In Word 2010 Document
A document having hefty images might bogs down scrolling & navigation. Word 2010 address this problem by offering image compression feature which lets user compress images on the fly without using any other 3rd party tool. It comes useful when you're carrying a lot of documents which contains a great deal of heavy images, using this feature, you can also save a lot of precious space.
By compressing images in document you can optimize the size of it. To compress them, select the picture and head over to Picture Tools Format tab, and click Compress Pictures.

This will bring up Compress Pictures dialog, configure the compression options as desired and click OK to compress the image.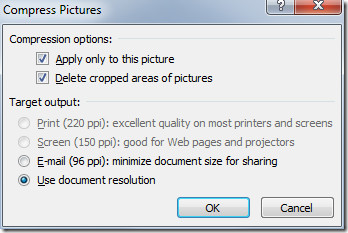 It is to be noted that it can reduce the quality of images, so be very meticulous in validating the image quality before saving the document.