How To Disable/Enable Windows 8 Action Center Messages [Tip]
Action Center in Windows shows all the important notifications related to the Security and Maintenance of your system. It is basically a collection of messages that need the user's attention. The number of components that Action Center notifies you about in Windows 8 is relatively higher than Windows 7. As you may know that in Windows 7, Action Center notification settings are divided into two different groups. The Security messages group contains six different options, including messages about Windows Update, Internet Security settings and Virus protection, while the Maintenance messages group includes three items, namely Windows Backup, Check for updates and Windows Troubleshooting. However, in Windows 8 there are some additional notification settings, including Microsoft Account, Smart Screen, File History etc.
The Security and Maintenance messages are included in Windows for the safety of users. For instance, if you haven't installed an anti-virus on your system, then Action Center will prompt you to install an antivirus suite and upgrade virus definitions to prevent the system from malicious applications and scripts . Often, this can prove to be an annoyance, as the feature continuously displays a variety of system maintenance & security notifications. In this post, we will explain how you can turn off security and maintenance messages from the Action Center.
To disable the security and maintenance messages, first open the Start Screen and type "Control Panel". From the results list that opens in the left side, click Control Panel to access it.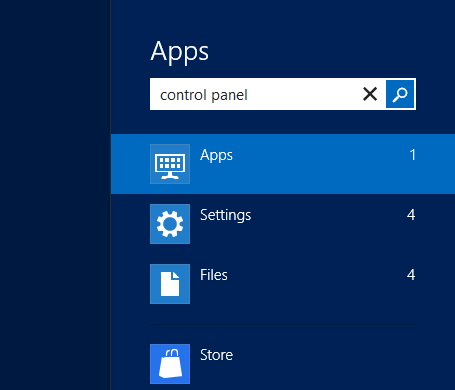 Now, look for Action Center in Control Panel. If you are using the Small icons view, you can find it in the first column of the list right at the top.
The Action Center lists all the security and maintenance messages related to your computer. To change the settings, click the Change Action Center settings button available in the left pane.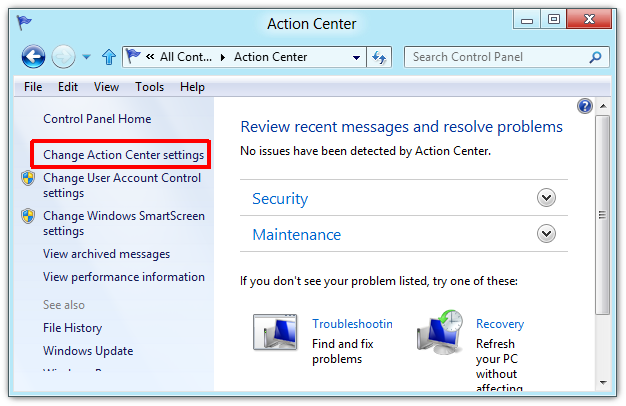 Just like Windows 7, the Action Center settings in Windows 8 are also divided in two groups named Security Messages and Maintenance Messages. Uncheck the items you don't want to receive notifications for, and then click OK.
Now, you will not receive any notifications for disable items. It can be really useful in clearing out the clutter from your notifications window.