DiskMax Is Brilliant Hard Disk & Registry Cleaner
DiskMax is a unique disk cleanup tool that has largely stayed out of our radar. Since Microsoft has made no changes to the default disk cleanup tool and does little to help users clean up disk space, this is where 3rd party cleaners come in. We all know about apps like CCleaner and the likes but DiskMax is brilliantly unique with a twist.
It takes a different approach when it comes to cleaning your hard disk and registry. Unlike traditional cleaners, it will first ask the type of cleanup you want to run and then it would present you with various choices as the cleanup operation is underway. This simplified approach is what makes it different.
On the main window you will find three modes of operation, Quick, Standard, and Detailed.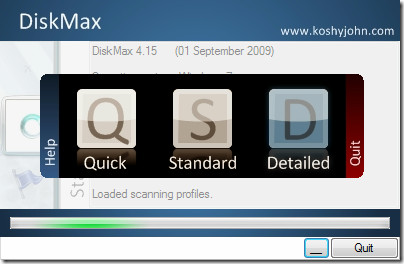 In the screenshot below you can see how it presents users with choices. In order to make it less annoying you can choose to remember the answer.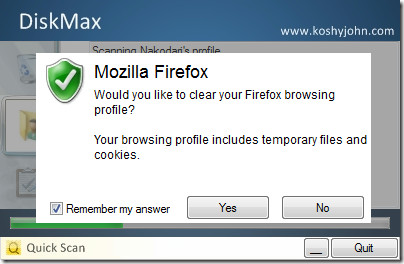 I ran a quick scan and the result is what you see in the screenshot below. It freed up a little more than 400MB of hard disk space.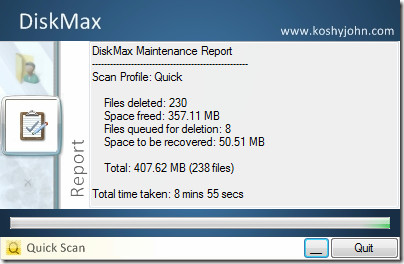 The total time taken for quick scan was less than 45 seconds, but since I was taking screenshot of each step the final result came out to be be 8 minutes and 55 seconds.
I am surprised that this tool wasn't discovered before. Unlike other half-baked cleanup utilities, this one is surprisingly stable, fast, and cleans various parts of Windows. Hit the link below to see the complete feature list.
It works on Windows XP, Windows Vista, and Windows 7. Both 32-bit and 64-bit OS are supported. Enjoy!