Download Subtitles For Any Movie via Drag & Drop With pysubd
Most of us find subtitles online, download them, extract them, and then copy them to the Movie or TV Show folder where the video is residing. What if you want to automate this whole process with a simple drag and drop? pysubd is an ingeniously simple yet robust python-based subtitle file downloader that automates the steps you take to find and download subtitles of movies and TV shows. The application is suitable for those who hate finding subtitle files from a never-ending search results of various online sources. pysubd relies on OpenSubtiltles.org for finding and downloading subtitle files.
Just drag and drop a movie file over the main interface and it will start searching for best quality subtitles and download them in the same folder where the movie file is located. Both the movie file and the subtitle file name will be the same. pysubd supports all well known video formats, such as, .avi, .mkv, .divx, .mp4, .ogg, .rm, .rmvb, .vob, .x264, .xvid.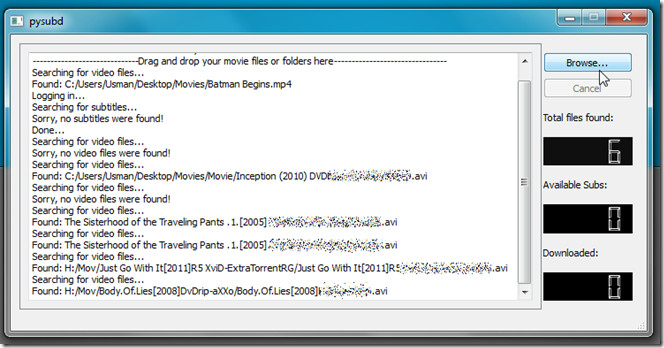 Apart from drag and drop, you can also click Browse to select a video file. It is an open source application that works on Windows XP, Windows Vista, and Windows 7.