Download Winamp Windows 7 Shell Integration
If you are an avid Winamp user and have finally migrated to Windows 7, I can vouch for the fact that you will be quite disappointed because it does not integrate with Windows 7 Shell. The jump list support and taskbar integration have been surprisingly left out.
Win7Shell is an unofficial plugin that adds full Windows 7 taskbar integration. It will show you the status of the song while it is playing. You can add bookmarks, recent played songs, etc to the jumplist. There is an option to control the basic playback when you hover your mouse over the taskbar icon.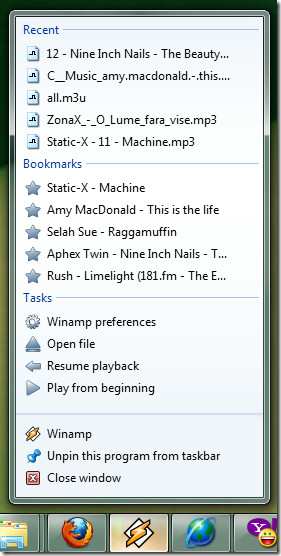 To quickly open a file, visit preferences, or play the playlist from beginning, right-click the taskbar icon and choose the options given under Tasks. There are tons of other features which we haven't mentioned here. To see the complete list head over to the plugin's official page.
It is a plugin for Winamp in Windows 7. Both 32-bit and 64-bit versions of the OS are supported. Enjoy!