How to FIX the DPC WATCHDOG VIOLATION Error (Working Solutions)
DPC WATCHDOG VIOLATION is a BSOD error you might encounter when trying to play or work on an important project on your computer. It can be caused by various issues at the software or hardware level.
In addition to the classic Blue Screen of Death message, Windows writes the DPC_WATCHDOG_VIOLATION error code on the screen if you want to look up a solution online. It's probably how you ended up on this page in the first place.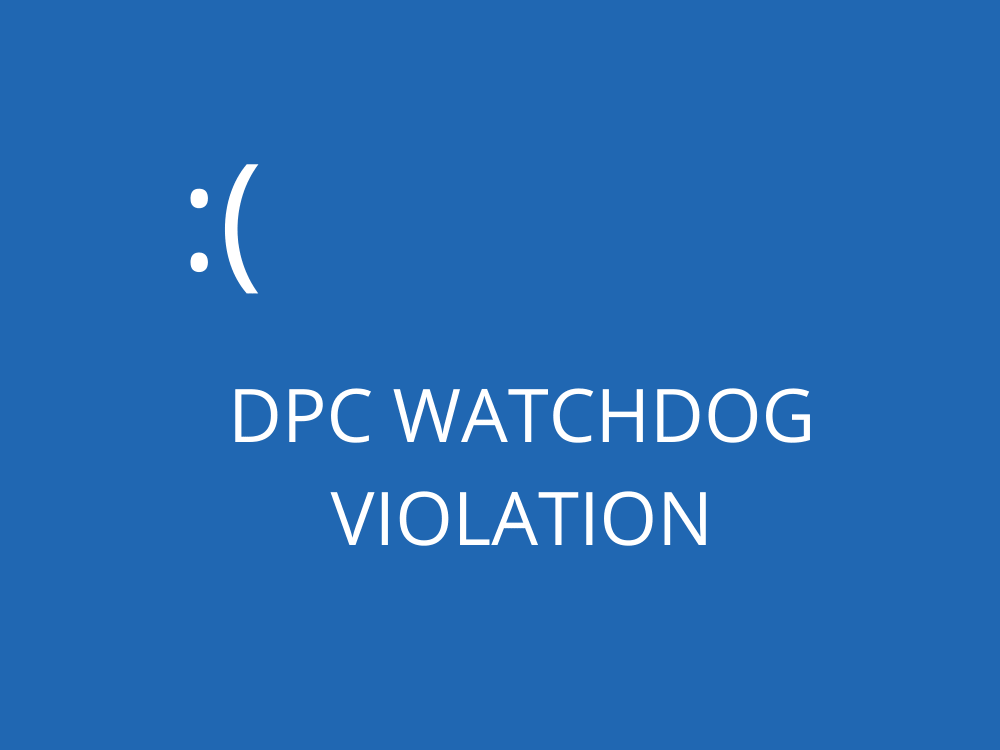 Microsoft explains why you receive this error code and how you might fix it. However, unless you're a programmer, those instructions won't tell you much. We're here to break it down for you.
How to FIX the DPC WATCHDOG VIOLATION Error
If the error is recurring, it means that your computer has a persistent problem that must be resolved as soon as possible.
There are several solutions you can try to get rid of this annoyance. It's not mandatory to go through all of them. Just start with the first one and work your way down.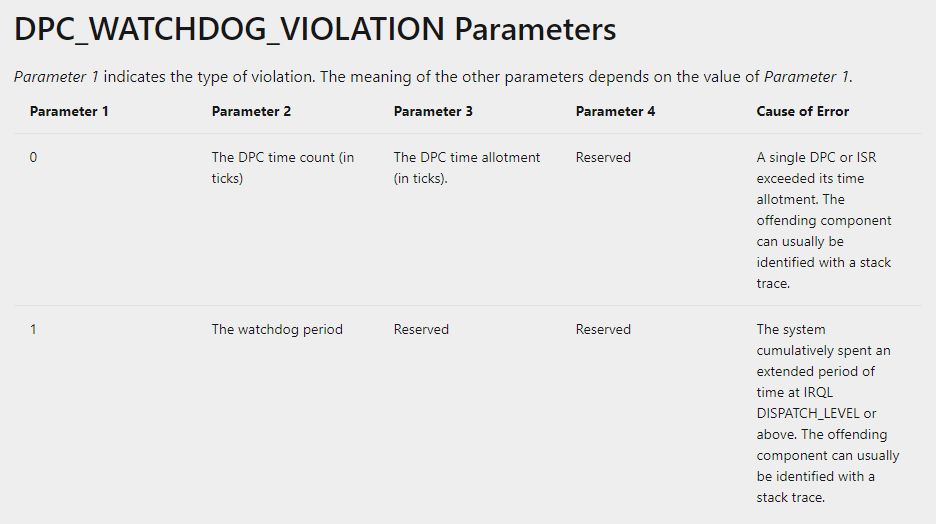 Before getting started, though, you should create a system restore point as a failsafe measure. Or, better yet, set up a full backup of your hardware.
1. Update your drivers
If at least one of your devices isn't running properly due to obsolete or incompatible drivers, it's enough to trigger the DPC_WATCHDOG_VIOLATION BSOD error code.
Here's how to reinstall drivers automatically:
Restart your computer. Windows should automatically reinstall the correct driver version
If you're still getting the DPC WATCHDOG VIOLATION stop code, it's possible that Windows failed in its attempt to install the correct driver.
You could look up the latest driver versions on the official website, depending on the manufacturers of your devices. Once you download them, you can easily install them on your PC using Device Manager and the Browse my computer for driver software option.
But it takes a pretty long time. Plus, you risk installing an incompatible driver if you don't know what you're doing, which could cause even more problems to your operating system.
The safest plan of action is to use driver updater software. Such applications scan your PC, identify obsolete drivers, look up newer and compatible driver versions on the web, then download and install the drivers. The best part is that everything is performed almost automatically.
2. Set the SATA AHCI Controller driver
The device driver that usually triggers the DPC WATCHDOG VIOLATION error is the SATA AHCI controller. There's a simple trick to it:
Go to Device Manager, expand the Storage controllers menu, right-click SATA AHCI Controller, and select Properties
However, if the iaSorE.sys driver file was already selected, proceed to the next solution.
3. Make sure that your installed hardware is compatible with Windows
If you started receiving the DPC_WATCHDOG_VIOLATION error code after building a new computer from scratch, you should check for hardware compatibility problems.
For example, when it comes to custom-made computer units, check if your motherboard and CPU processor are compatible with each other. Then, make sure those two components are compatible with the remaining parts, including your RAM and GPU cards.
On the other hand, if you just upgraded to Windows 10, perhaps your existing hardware isn't compliant with Microsoft's latest operating system. Consult the official Windows 10 specifications to learn more. To stop BSOD errors, it might be necessary to upgrade your gear.
4. Detach your peripheral hardware
Even if a specific piece of hardware is compatible with your computer and Windows and has the newer driver installed, it might still be faulty. In that case, you should return it to the manufacturer if you still have its warranty.
But it can be tricky to identify the guilty hardware. It's easier to unplug everything from your computer, restart your machine, and confirm that you're not getting the DPC_WATCHDOG_VIOLATION error anymore.
Afterward, plug in the components one at a time to see which one raises red flags. It's also recommended to start Windows in safe mode, followed by reinstalling each driver (see the first solution on this list for more details).
5. Check software compatibility
In addition to hardware, the DPC WATCHDOG VIOLATION error could be triggered by a problem at the software level. Perhaps you recently installed applications that aren't compatible with your operating system or suspicious programs that trigger malware alerts.
You should be able to confirm this if you're the only one with access to your PC and remember if you started getting the stop code after installing a new application on your PC.
It could be an antivirus tool, VPN service, web browser, overclocking utility, RAM optimizer, game booster, PC optimization suite, or anything else.
Here's how to uninstall recent programs:
Select the first tool in the list. If you want to be absolutely sure that it's a suspicious program, look up more details about the program and its processes on Google. Click Uninstall when you're ready and follow the removal instructions
Reboot your PC and see if you still get the DPC WATCHDOG VIOLATION error
However, if the guilty application has already made changes to your system registry and mixed its DLL files with your Windows libraries, then uninstalling it won't really solve anything.
It's better to restore Windows to a previous checkpoint, before you installed that program.
6. Use System Recovery
If the previous solution didn't work but you strongly suspect that the DPC_WATCHDOG_VIOLATION was caused by a program, try using System Recovery mode.
7. Check your computer for malware
Some malware agents are powerful enough to take over your system and stop processes and services. They could even prevent you from accessing Task Manager, Group Policy Editor, and other critical parts of Windows.
So you should run a malware scan to check this. If you don't have a third-party antimalware solution installed, it means that Windows Defender is in charge of your computer's defenses. Here's how to use it:
Third-party antivirus tools may have different options, so make sure to adjust the steps above accordingly. You might even have an application that supports vulnerability scans, which you should definitely perform on your PC.
8. Verify system errors
We saved this solution this far down the line because it's more delicate and involves using Command Prompt. Don't worry since you don't really need any special skills to use CMD, as long as you follow the instructions below to the letter.
To remain on the safe side, though, it's a good idea to create a system restore point or data backup if you haven't already done it until this point.
Get started by running CHKDSK (Check Disk):
Terminate all active processes
Press Win key + R, type cmd, then press Ctrl + Shift + Enter to launch Command Prompt with admin rights
Command Prompt will ask you to confirm scheduling the scan at the next system boot. Type y and press Enter to confirm
Reboot your PC and wait
CHKDSK should repair any disk errors that trigger BSOD messages, including DPC WATCHDOG VIOLATION. However, if you still can't shake it off, proceed to the next Command Prompt tool.
Here's how to run SFC (System File Checker):
Run Command Prompt as admin again
Type sfc /scannow and press Enter. It will start a Windows-wide scan and repair any corrupt system files
Restart your computer once the scan is over
Unlike CHKDSK that checks for hard disk errors, SFC identifies and repairs corrupt system files. So you can rely on it to solve bad system files that cause BSOD errors. If it still didn't do the trick, though, proceed with DISM.
Here's how to use DISM (Deployment Image Servicing and Management):
Fire up Command Prompt with elevation rights
If the scan results indicate any issues, write DISM /online /cleanup-image /restorehealth to handle them
Reboot your machine again
DISM is a bit more invasive than CHKDSK and SFC because it looks for corrupt files in the component store of the Windows image. But it should help troubleshoot the DPC WATCHDOG VIOLATION error if it's caused by a faulty Windows file.
9. Consult Event Viewer
Event Viewer is a built-in Windows tool that collects diagnostics about the operating system and notifies you of any events, including error messages.
If you still can't get rid of the DPC WATCHDOG VIOLATION error after trying the solutions above but aren't yet ready to perform a Windows factory reset, consult Event Viewer to obtain more details about the BSOD message.
Here's how to use Event Viewer:
Restart your computer right after getting the DPC WATCHDOG VIOLATION error
Select the first error on the list and read its description in the General tab
You can use this information to look up more details about the exact cause of the DPC_WATCHDOG_VIOLATION stop code on the web.
However, if it becomes too much for you, consider getting in touch with a tech specialist and sharing details from the Event Viewer.
DPC_WATCHDOG_VIOLATION: Parting Words
To summarize, you can try to fix the DPC WATCHDOG VIOLATION error by updating your drivers, changing the SATA AHCI Controller driver to iaSorE.sys, and ensuring that your installed hardware is compatible with Windows.
You can also unplug any external devices to isolate the faulty component, check software compatibility with the operating system, and use System Recovery to restore Windows to a previous checkpoint.
If that doesn't work either, check your computer for malware infections as well as your system for errors. Lastly, you can use Event Viewer to figure out the exact root of the problem.
Did these solutions work for you? What else have you tried to repair the DPC_WATCHDOG_VIOLATION stop code? Let us know in the comment section below.