DuckLink Screen Capture Offers Auto Scroll To Capture Long Documents
Previously we covered two brilliant screen capturing tools called Greenshot and Shotty. The former being efficient in capturing specific region and offers user-defined cursor position while later offers HQ screenshots with Windows Aero-Snap and shadow support. Duck Link Screen Capture will be helpful for those who need to capture a long document or webpage, where scrolling is required (horizontally or vertically) to manually capture each region spread across the screen.
It also offers other screen capturing behaviors which includes; full screen, specific region, and active window capturing. The most distinctive side is capturing the whole document even it is spread over multiple pages. It automates the scrolling of the page for taking screenshots. All that is required is to specify the window which is to be captured. On clicking the window, it will start scrolling the page to capture the whole page in single screenshot. Once page is completely scrolled, you have the options to send the image to clipboard or save as an image file.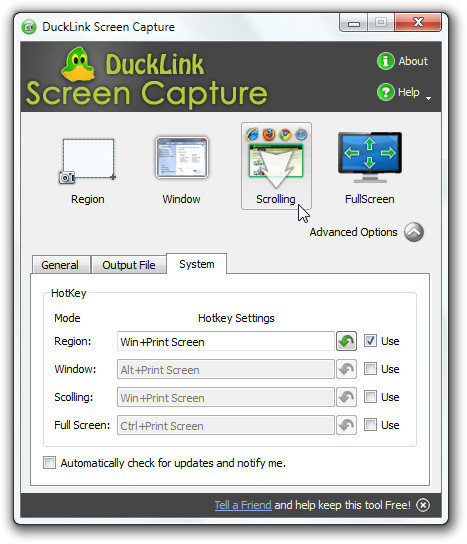 Glance at the size and quality of the screenshot taken in one-go.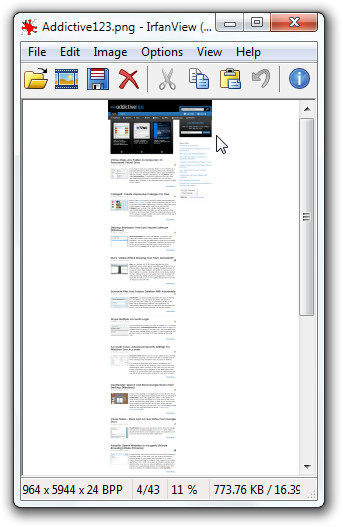 You can also register hotkeys for taking screenshots, enable option of including cursor, specify time interval for scrolling pages, and change output folder. All these settings can be configured from Advance Options. It runs on all Windows based OS, testing was done on Windows 7 x86 system.
Download DuckLink Screen Capture