Enable And Share Your Laptop Location [Windows 7]
Windows 7 has a build-in platform called Location and Sensors Platform, the API is provided that allows 3rd party developers to integrate their applications and use it to share the location. But this location can only be shared in those laptops that contain a GPS sensor, this is a serious drawback since no hardware manufacturer includes a GPS in a laptop or netbook.
Geosense is a 3rd party tool for Windows 7 that integrates itself in the operating system. Once enabled, it will use WiFi and IP triangulation to pinpoint to your exact location. In short, it makes third party applications to become location aware.
After installing Geosense, go to Start Search, type Location, and select Location and Other Sensors from the search result. Here you can enable it by checking the Geosense Location Sensor checkbox and clicking Apply.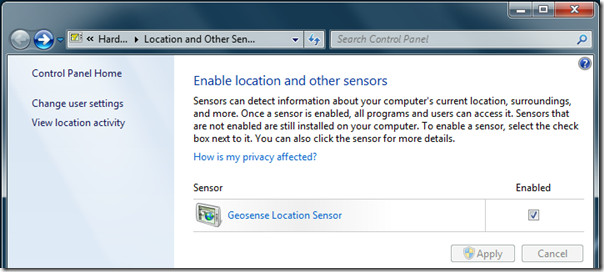 At the moment there are only a few location-aware applications are out there, including the build-in Sidebar Weather gadget and 3rd party client MahTweets. You will be notified every time an application tries to access your location.

Technically, apart from integrating in Windows 7, it will install a Windows 7 sensor driver which connects the location platform with geo-location service providers. At the moment, Geosense uses Google Location Services for both WiFi and IP triangulation. Surprisingly while testing, it was able to pinpoint to my exact location, which is outstanding.
It is developed for Windows 7 only, both 32-bit and 64-bit versions are available.