Enable Back The Disabled Show Hidden/System Protected Files And Folders
Some viruses and malwares will prevent user from opening Folder Options to make changes. Quick Hide is a small (218KB) application to let user enable the hidden and system files and folders. It can also enabled back file extensions with a single click.
All that is required is to run the executable and enable the required options. Now refresh the Windows Explorer to view hidden, system protected files/folders and file extensions.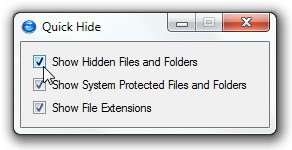 If your system got infected with malwares and viruses which disabled Folder Options, along with Task manager, Registry editor, Control panel, Ms-config, Task Scheduler, etc., you can try out previously covered advanced tool called Re-Enable.
In our experience, Quick Hide works as intended. It runs on Windows XP, Windows Vista and Windows 7. The application was tested on both Windows XP and Windows 7 x86 systems.