Easy Email Extractor: Extract Email Addresses From Files, Folders, URL & Text Snippets
Want to extract email addresses from documents and text files but hate scrolling up and down the document to manually copy the email addresses to the list? Easy Email Extractor may help. It's an application for Windows that saves you a lot of time that you'd have spent finding the email addresses from not only documents and plain text files but also from given text string, folder and URL. It automates the process of finding and listing down the email address without having to search email address specific character like '@' from the document. Moreover, it can be integrated into Windows Send to menu to send the selected document/file/folder to main interface for performing email address extraction process.
The main interface contains 6 tabs in total namely File, Folder, String, URL, Settings and Filters. The first 4 tabs allow you to extract email addresses from files, folders and sub-folders, text string, and URL, whereas Settings and Filters tabs let you enable/disable Send to menu integration and apply filters to extract only required email addresses, respectively. To extract email addresses from a file, specify the file source path and then click Extract Emails to extract all the email addresses from a file.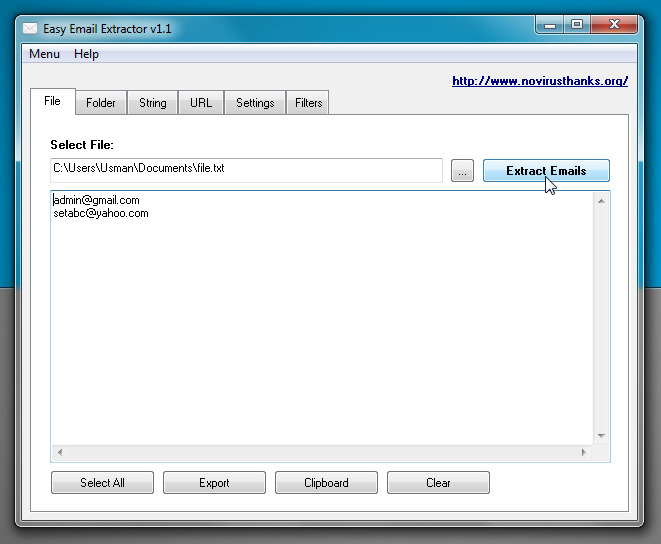 Similarly, you can extract email addresses from Folder and URL. However, if you want to find all the email addresses from specified text snippet, paste the string in String tab and hit Extract Emails to extract emails from the snippet.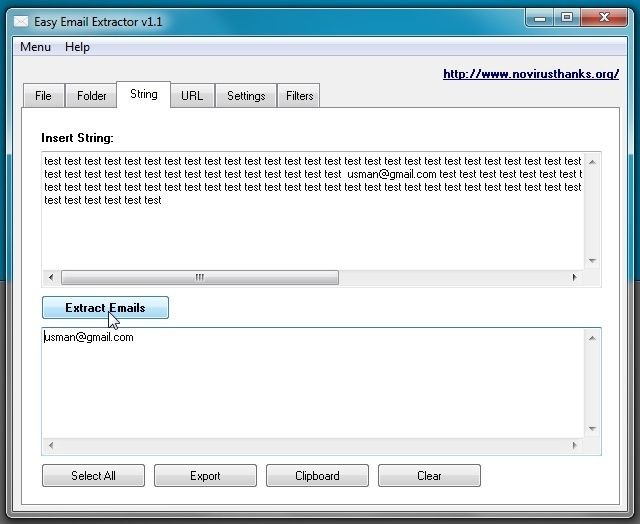 Before you start sending files and folders to main interface from Send to menu, make sure the Send to option is enabled in Settings tab. When you click Easy Email Extractor from Send to menu, it immediately opens the main interface with selected file/folder, allowing you to extract the email addresses.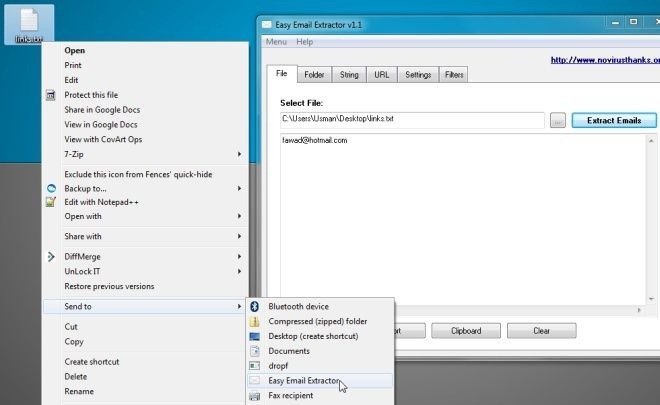 The Filters tab lets you specify the keywords that you don't want to extract from files, folders, URL and text string. Sadly, it doesn't change the results in real time, so you have to click Extract Emails from each tab to see filtered results.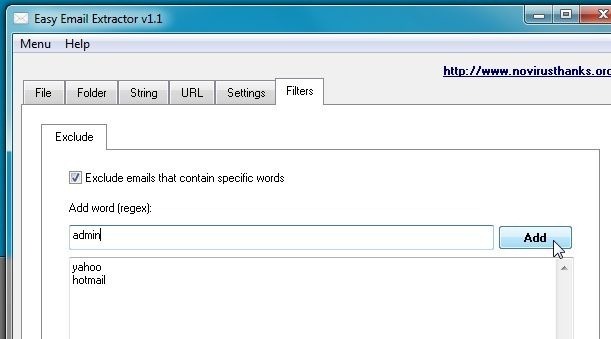 Once email addresses are extracted, you can copy the list to clipboard or use the Export option to save the list in TXT format. In a nutshell, the application makes it easy to find and extract email addresses from documents, files and folders. It works on Windows XP, Windows Vista and Windows 7.