How To Fix Dynamic Lock Not Working After Windows 10 April Update
Dynamic lock is a feature in Windows 10 that can automatically lock your system if it detects a paired and connected Bluetooth device is no longer in range. It's intended to work with phones but you will find you can get other devices like the Mi Band 2 to work with it as well if you have the right pairing app. More importantly, it can also be used to unlock your system. It's fairly useful but unfortunately your dynamic lock may have stopped working after the Windows 10 April Update. Here's how to fix dynamic lock not working.
Fix Dynamic Lock Not Working
If dynamic lock is not working, you'll notice it when your system fails to lock. If you use a connected device, your lock screen will indicate that the device cannot be found. Windows 10 will try and find it but if it doesn't, you'll get an alert that dynamic lock isn't working.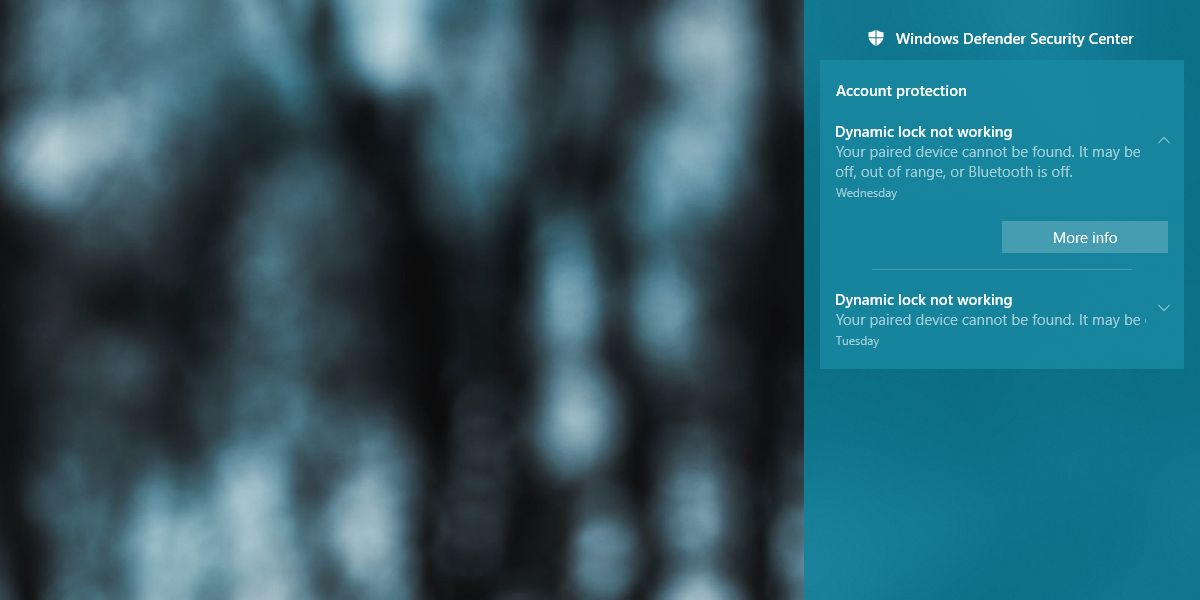 There are two ways to resolve this; the easy way, and the hard way.
The easy way entails opening the Settings app. Go to the Accounts group of settings, and select the Sign-in options tab. Scroll down to the Dynamic lock section, and click the Scan for device button. Ideally, Window 10 ought to be able to find your device and fix the problem. Make sure your device is in range and turned on, and that Bluetooth is enabled. Also, make sure that you device appears under paired and connected devices under Bluetooth settings.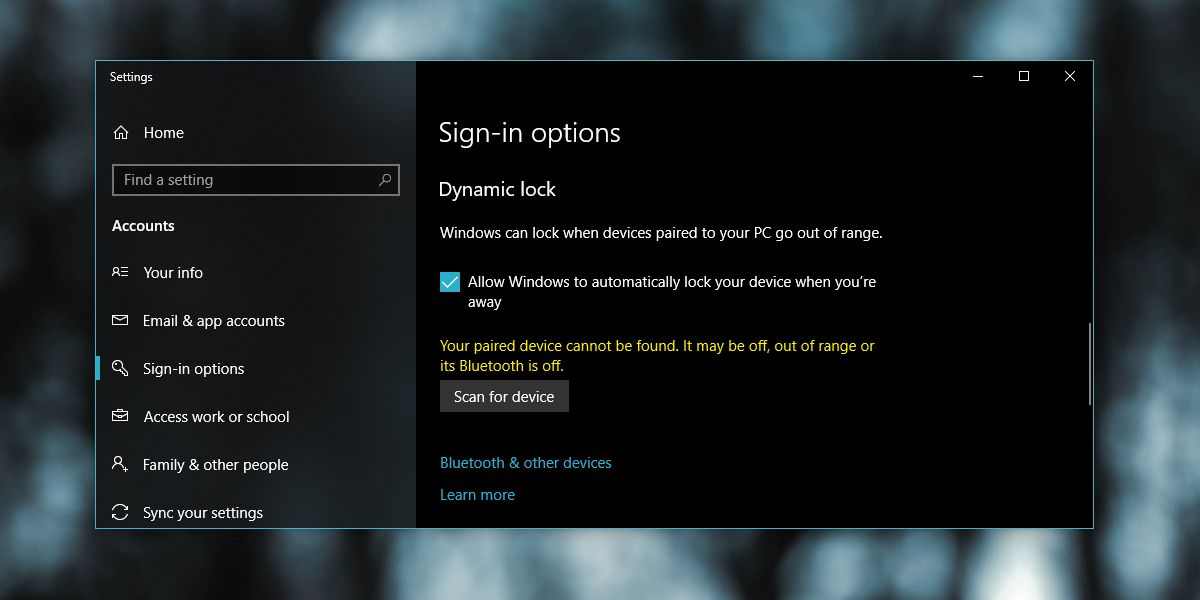 If this doesn't work, and chances are that it won't, you're going to have to go with the harder solution.
If you use an app to connect your device and Dynamic lock, open the app and remove/disconnect the device from the app. Next, open the Settings app and go to Devices. Select Bluetooth, and select the device you use with Dynamic lock. Remove the device. Turn Bluetooth of, and then turn it on again. Pair your device again, and then connect it. If that's all you need to do to get Dynamic lock working, this should do the trick.
If you use an app to connect the device to Windows 10, open it and connect the device again. That should fix Dynamic lock not working. Basically, you have to pull the plug on your device i.e. disconnect it completely and then connect it again. This fixes the problem but Windows 10 might still keep showing you a notification that Dynamic lock isn't working. There's no getting rid of that for now.