How to fix tablet mode unavailable on Windows 10
Tablet mode is a feature on Windows 10 that is, as the name describes, meant for use on tablets and touch screen PCs. That said, even if you don't own a Windows 10 tablet or a touch screen PC, you can still turn tablet mode on. There's a quick toggle for it in the Action Center and there's a dedicated setting for it in the Settings app. If tablet mode is unavailable on your Windows 10 PC, there are two fairly quick fixes for it. Here's what you can do.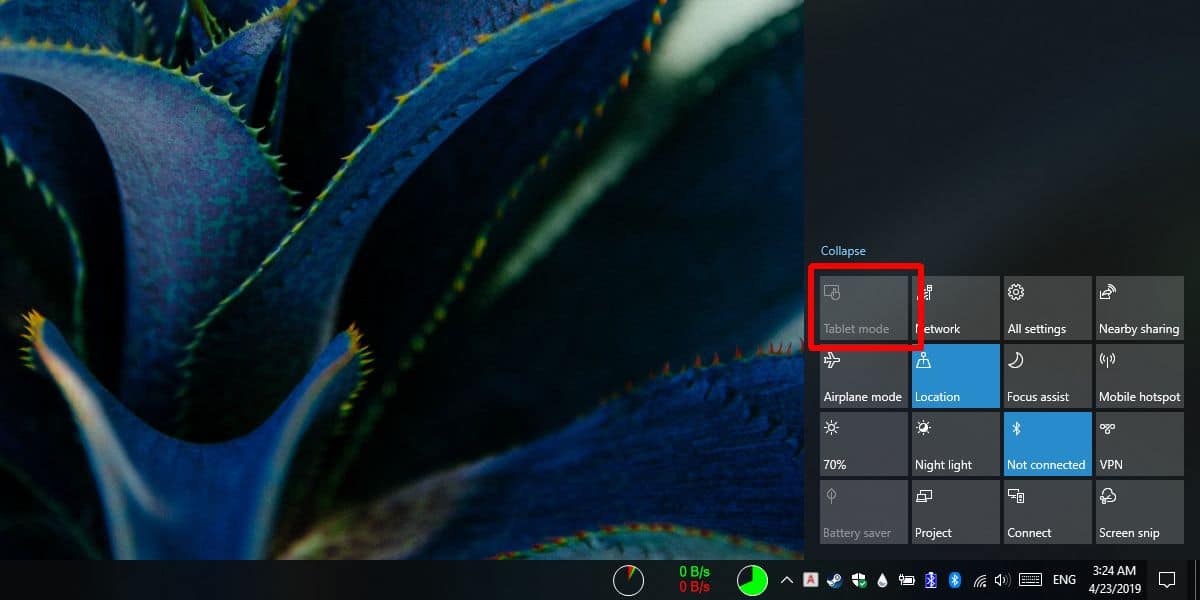 Fix tablet mode unavailable
There are two things you can do to enable tablet mode when the toggle for it is disabled.
Remove external displays
Tablet mode is available for Windows 10 devices with one exception; you must not have an external display connected to your system. You can understand that this excludes all desktop systems that are running Windows 10. If you have a laptop though, regardless if it has a touch screen or not, you can use tablet mode. Remove any external displays it has and the tablet mode toggle will be active in the Action center.
Registry editor
There is one other method that you can use to force the tablet mode to turn on when it refuses to turn on. This method requires editing the Windows registry.
Use Windows Search to look for the registry editor or open the run box with the Win + R keyboard shortcut. In the run box, enter regedit and tap the Enter key.
Once the registry editor is open, navigate to the following location;
HKEY_CURRENT_USER\SOFTWARE\Microsoft\Windows\CurrentVersion\ImmersiveShell
Here, look for a value called TabletMode under ImmersiveShell. If it doesn't exist, you can create it yourself. Right-click ImmersiveShell and select New>REG_DWORD from the context menu. After you create the value, double click it and enter 1 in the value data box.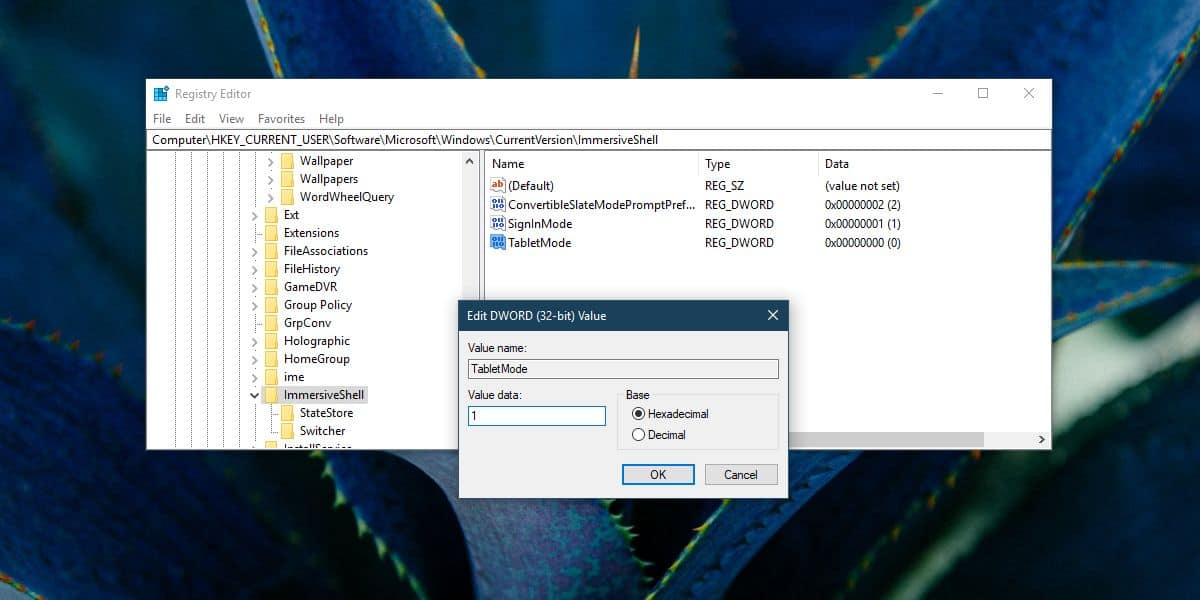 Next, you need to restart File Explorer. Open Task Manager and on the Processes tab, look for Windows Explorer. Select it and click the Restart button at the bottom. When your desktop background returns, the tablet mode should work on your system. The toggle in Action Center will be active.
Tablet mode settings
Once you've enabled tablet mode on Windows 10, you will likely need to tweak some of its settings. Open the Settings app and go to the Devices group of settings. Select the Tablet Mode tab and change the settings that you need to.
Tablet mode offers an alternative desktop that combines the Start menu and desktop into one. It's a lot like the disastrous Start menu that Windows 8 came out with so if you see it, don't panic. Just disable tablet mode and you'll get the old desktop back.