How to fix the WiFi connectivity issue on Windows 10
A recent Windows 10 update resulted in connectivity issues for some users. Not all users who received the update were affected. Microsoft did acknowledge the problem and has now released a fix for it. The only problem is that unlike the update that caused the bug in the first place, this fix won't roll out to users automatically. Instead, users will have to install the fix manually. This isn't complicated but you do need to know where to go to get the fix/update, and how to install it. Here's what you have to do.
Note: This is an optional update and should only be installed if you're suffering from the connectivity issue. DO NOT install it just for the sake of it.
Fix WiFi connectivity issue
The fix can be downloaded from Microsoft's update catalog. You can visit the website here. When you visit the website, you will see every single update that Microsoft rolls out to various versions of Windows 10.
In order to download the correct update, you need to know its name. According to Microsoft, the update for each supported build of Windows 10 is as below.
Windows 10, version 1909 (KB4554364)
Windows 10, version 1903 (KB4554364)
Windows 10, version 1809 (KB4554354)
Windows 10, version 1803 (KB4554349)
Windows 10, version 1709 (KB4554342)
What this means is that if you're running Windows 10 1909, you need to install the update named KB4554364. All the updates that are a fix for the connectivity bug were released on March 30, 2020. This basically gives you two criteria to narrow down the update you need to install.
Search for the update by name. Check its release date and it should be March 30, 2020. Select the one that suits your system architecture i.e., 32-bit or 64-bit, and download the file. Don't worry that the 'Products' column mentions older/other versions of Windows 10. The 'Title' column is what you should pay attention to.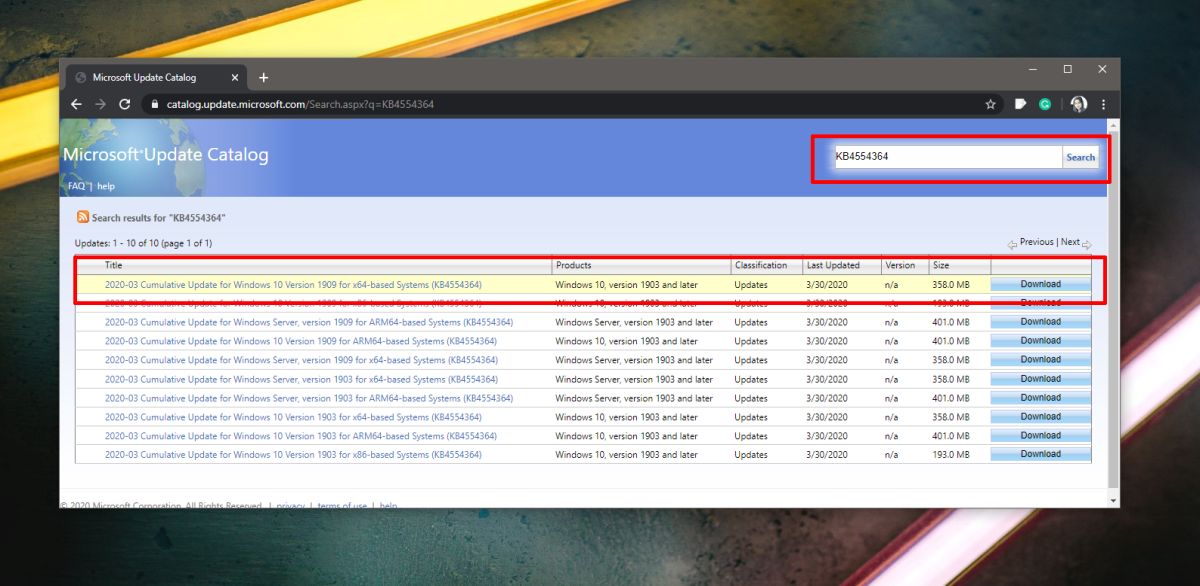 The file will download as an MSU file. Once it is downloaded, run it and it will install the update.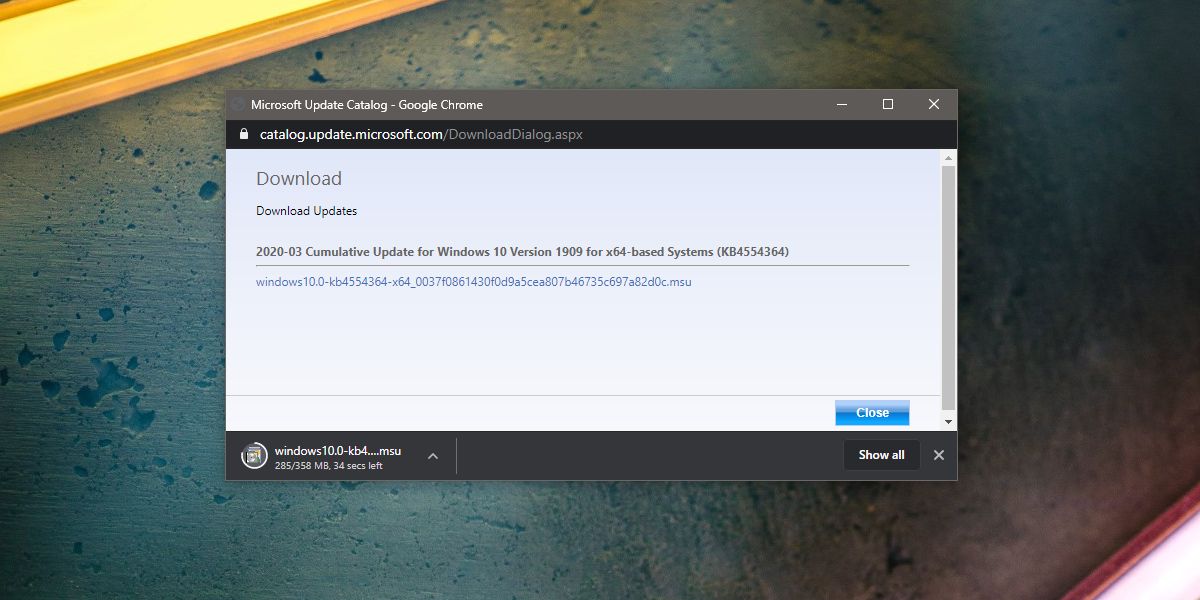 The connectivity issue
The connectivity issue that this update fixes manifests differently for different users. Some users simply see the no connectivity icon in the system tray but are still able to connect to the internet and use it normally. Other users find they simply cannot connect to the internet or a few select apps are unable to connect to the internet. There's no rule that decides which apps are able to connect and which aren't. The bug affects users running Windows 10 Home, Pro, and Windows server editions.