Flickr Drive In Windows 7
Flickr Drive is a shell extension for Windows Explorer that adds a virtual drive to make it easier to explore, manage, and upload photos to Flickr. It is developed by the same guys behind both SkyDrive Explorer and Gmail Drive.
Flickr Drive allows users to even create a new photoset and allows them to browse photos of their family and friends apart from their own personal photos. All Photos are neatly categorized, you will also find a folder named My Favorites where you can browse all photos that you have marked as Favorite.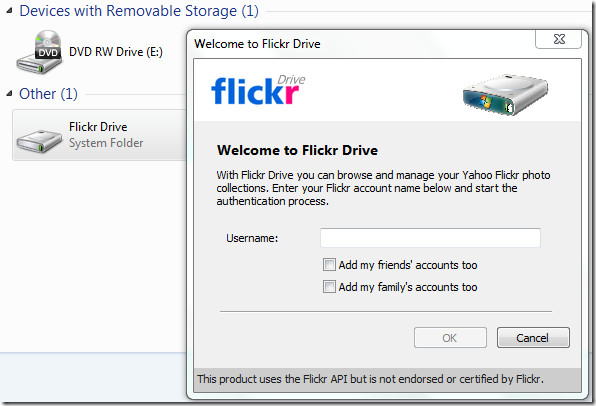 The biggest problem here is that it doesn't support Windows 7 64-bit yet and works only on 32-bit OS. It does however install on Windows 7 but the Drive does not display anywhere in Windows Explorer. The developers need to seriously look into this matter as more and more users are installing 64-bit OS as opposed to 32-bit.
Having said that, I believe if you are an avid Flickr user this shell extension will really come handy.
It is developed to work on Windows Vista and Windows 7 only. Enjoy!