FRAPS Download for Windows 10 (Full Review 2021)
When it comes to recording your screen on Windows 10, the number one software that everyone will suggest is OBS (Open Broadcaster Studio). It is a great app; it can record and stream, you can use it to set up scenes, and it can record the desktop, a particular window, multiple windows, and even a webcam feed.
One major reason OBS is always suggested is that it's free. The app is free but it can run into odd problems and if you want something more intuitive and simpler to set up and use, you will likely look for other options.
FRAPS for Windows 10
FRAPS is a popular screen recording tool for Windows. The app claims to support Windows XP, 2003, Vista and Windows 7. There's no mention of either Windows 8/8.1 or Windows 10 which may lead some to think the tool won't work on a Windows 10 system.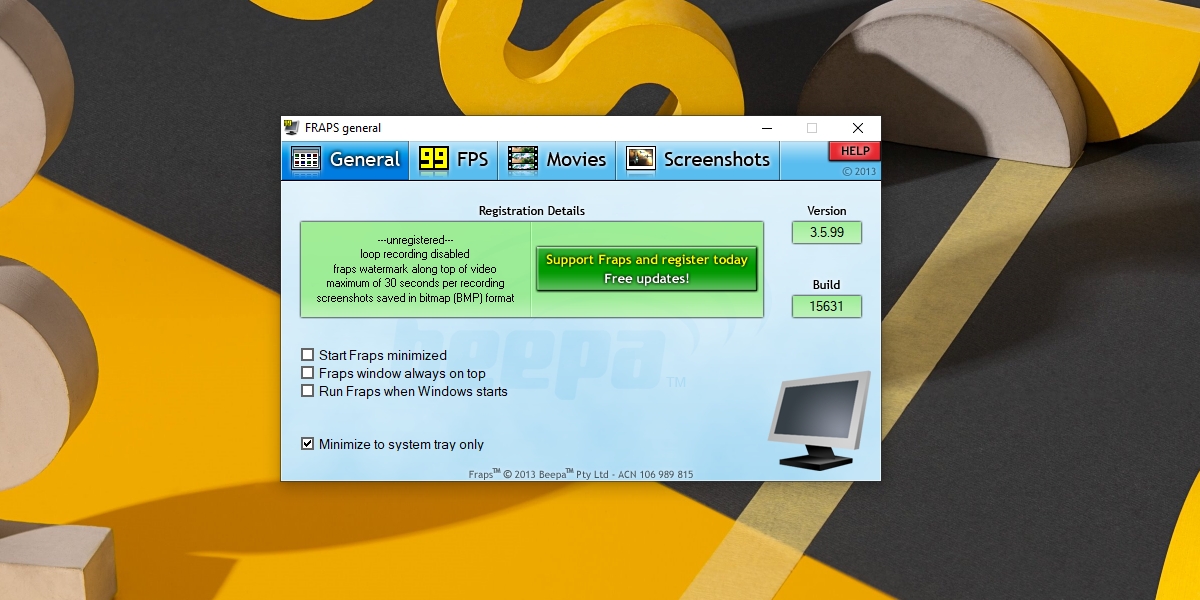 FRAPS works on Windows 10. It has a free version, and a licensed version that costs $37. The free version of the app comes with considerable limitations which means it's only good for a test run of the app. If you plan on using it long term, you will need to buy a license.
The free version of FRAPS will,
Record video with a watermark. The watermark is small and placed at the top and somewhat negligible.
Limit video recordings to 30 seconds.
Screenshots can only be saved in the BMP format.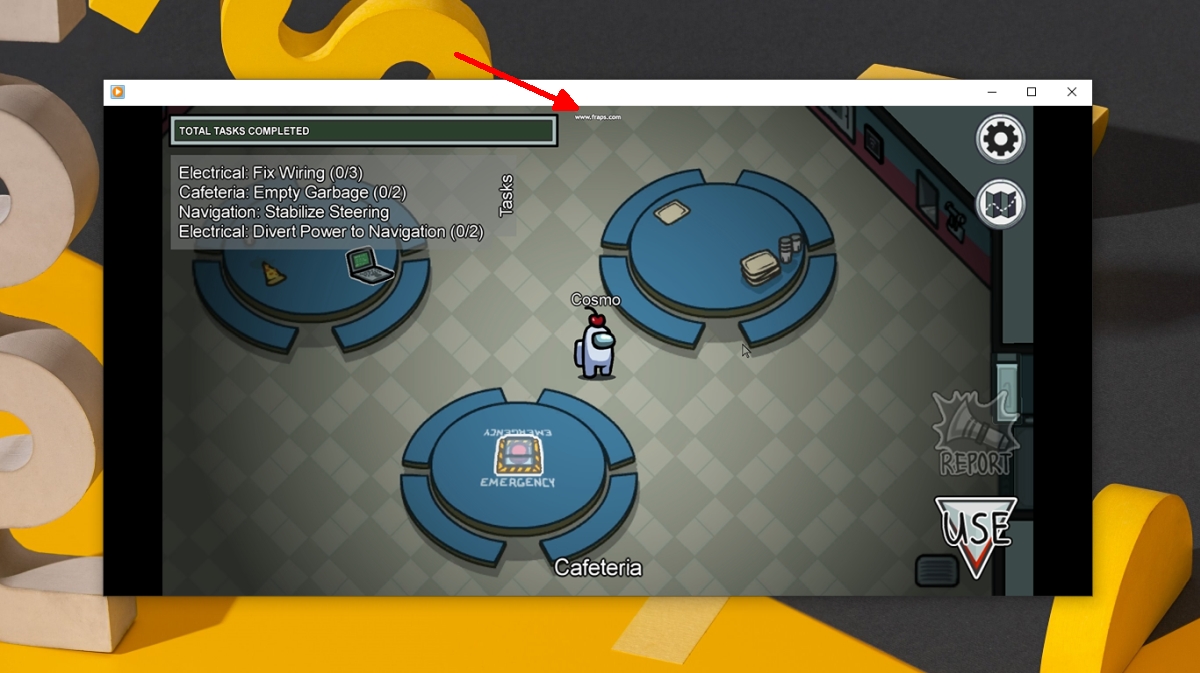 Why use FRAPS?
While FRAPS is a paid app, it does have its benefits.
The app supports older CPUs, e.g. a Pentium 4 which means no matter how old the hardware on your system is, you will be able to use this app to take screenshots and record screencasts.
You can use the app on older versions of Windows 10, even those that are no longer supported outside of security updates.
You can control the FPS of a recording.
Sound can be included in the recording.
The mouse cursor can be shown or hidden per your own preferences.
You can add an FPS counter to the recording.
You can lock the framerate of a recording so that it doesn't fall below a particular threshold.
For longer videos, the app can automatically split files into smaller chunks of 4GB.
FRAPS offers a very clean recording interface. You will not see any overlays or other indicators of a recording app on the screen.
FRAPS will automatically save a video or screenshot with the name of the app it was recorded/taken in, with the date and time added to the file name.
Limitations
One major limitation that FRAPS has, regardless if you buy it or not, is that it can only record apps on Windows 10 and not the desktop itself.
It doesn't seem to play nice with UWP or Microsoft Store apps. Check if it can record the app you want to record before you purchase a license.
The app is generally geared towards games and not other app types.
Record with FRAPS on Windows 10
In order to use FRAPS to record an app you need to do the following.
1. Change default media player
If the Movies & TV app is set as the default media player, FRAPS will not record your screen.
Open the Settings app (Win+I keyboard shortcut).
Go to Apps>Default apps.
Select Media player and select either Windows Media Player or another non-UWP app like VLC player that's installed on the system.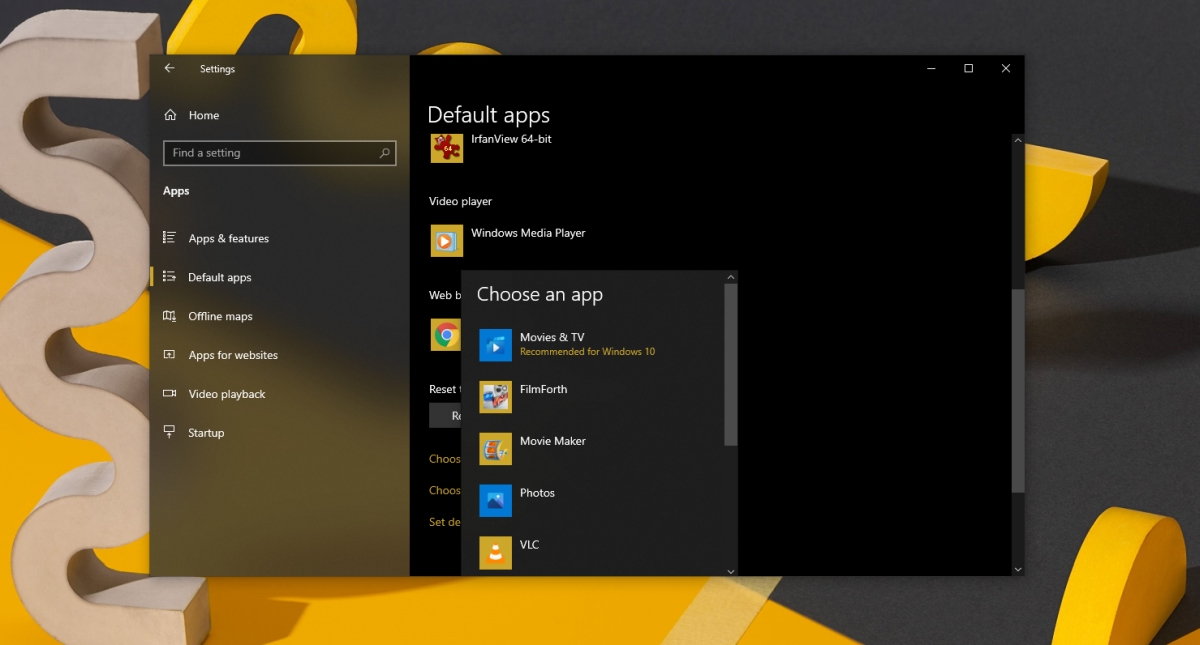 2. Enable Windows 7/8 compatibility
FRAPS should work fine with Windows 10 but it is generally a good idea to enable compatibility mode for the app.
Download and Install FRAPS.
Right-click the app's EXE or shortcut and select Properties from the context menu.
Go to the Compatibility tab.
Enable the "Run this program in compatibility mode for" option.
Select either Windows 7 or Windows 8.
Click Apply.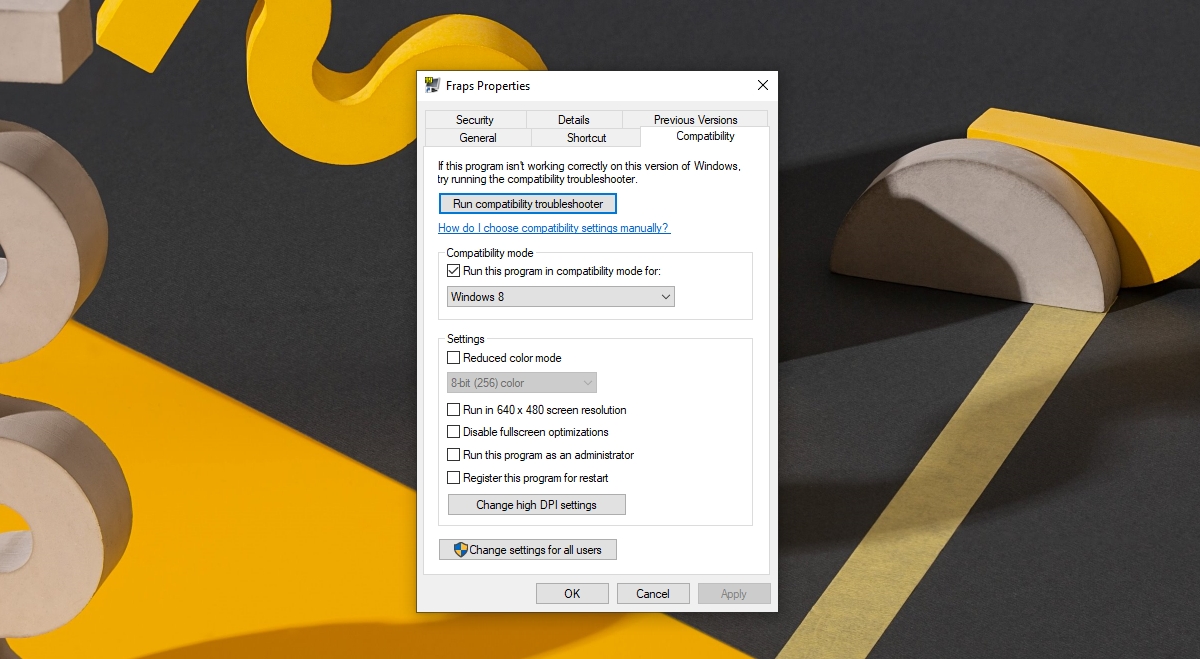 3. Start recording with FRAPS
Run FRAPS with admin rights.
Open the app you want to record.
Tap the F9 key to start recording a video or tap F10 when you need to take a screenshot.
Tap F9 to end a recording.
FRAPS – FPS counter and benchmark
FRAPS is a screen recording and screenshot tool but it can also display the current FPS for an app/game. This is a small but fairly useful feature. You can toggle the FPS counter with the F11 key.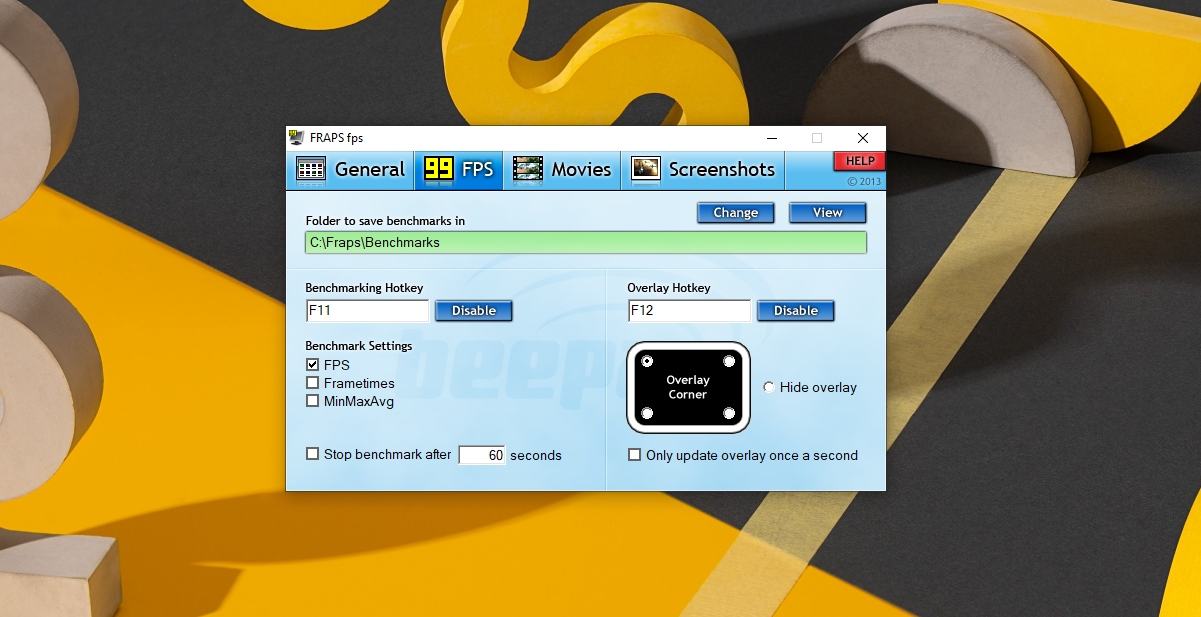 Conclusion
FRAPS has not been updated in quite some time. The UI is rather outdated but it's an old and loved app. It offers a clean recording interface that's easy to manage. It won't work as a stand-in tool for streaming but for good quality video recordings, or for taking screenshots, it's not bad.