FSL Launcher: Tabbed Shortcut Manager With Backup/Restore Support
The Windows 7 taskbar and Jumplist feature certainly provide a quick and convenient way to access most frequently used applications and files, but if you're already dealing with a cluttered taskbar, then you probably need an efficient application launcher to categorize your favorite applications and regularly accessed files. We've covered a lot of useful application launchers, such as Gizmo Toolbar (lets you enable multiple toolbars on your desktop in different styles and themes and provides you with extensive customizations to change the style, color, size, font, opacity, behavior, placement etc., of shortcuts) and MadApp Launcher (allows you to add application shortcuts, and access them via hotkeys). Today, we stumbled across FSL Launcher, an application launcher that supports adding application shortcuts via drag and drop, and categorizing them under separate tabs. It allows you to group similar items, like applications, URLs, files and folders together, and provides you with options to create, delete, rename, back up and restore the icon groups.
The application has the ability to manage shortcuts for multiple Windows users. It creates a separate shortcuts database for each Windows user. After installation, the shortcut window can be accessed by moving your mouse pointer to the top left corner of the screen. You can add shortcuts to FSL Launcher by dragging and dropping them on to the main interface. Switching between the available tabs allow you to add shortcuts for different types of applications. For instance, if you want to add a URL, head over to the Internet tab to add a website URL. The makes it easy for you to navigate to the required shortcut when you have to access it.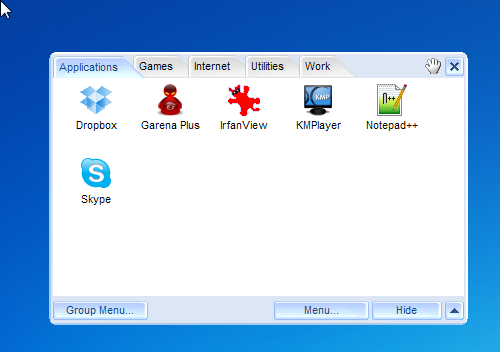 The Group Menu button at the bottom left corner lets you manage the tabs. You can Rename (using Properties), Add, Remove and Add Shortcut to the tabs. There is a direct link available to the Groups Folder that lets you open the parent directory containing all the groups of different shortcuts. Moreover, it lets you create backup of groups in a ZIP file as well as restore them with a single click.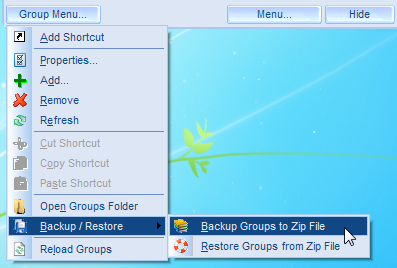 Clicking Menu –> Setup (available on the main interface) lets you configure different application settings. You can change customize numerous default settings such as Language, Show and Hide delay time, Icon Options, Warnings and Confirmations etc.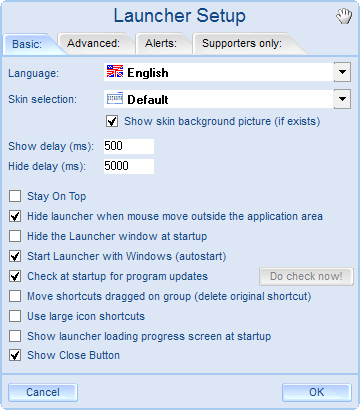 FSL Launcher works on both 32-bit and 64-bit versions of Windows XP, Windows Vista, Windows 7 and Windows 8.