Fully Customize Windows Restore Points With System Restore Manager
System Restore Manager is a portable application that provides you with a complete range of options to manage your Windows system restore points. Using this application, you can create a System Restore Point, let other users enable/remove restore points, select the amount of disk space allocated for system restore points, change the restore point time to live (TTL) and change the system restore interval (e.g. 24 hours).
As you can see in the below screenshot, all available restore points are displayed on the main interface of the application. From the option located at the bottom of the interface, you can create, delete and restore system restore points. From the options located on the right sidebar, you can view and change the currently allocated disk space for system restore points. The default restore point TTL (Time to Live) is 90 days, but you can also change that to suit your needs. Once you have selected the desired options, click Apply Changes. In case you perform a wrong configuration, click System Defaults to restore the default options.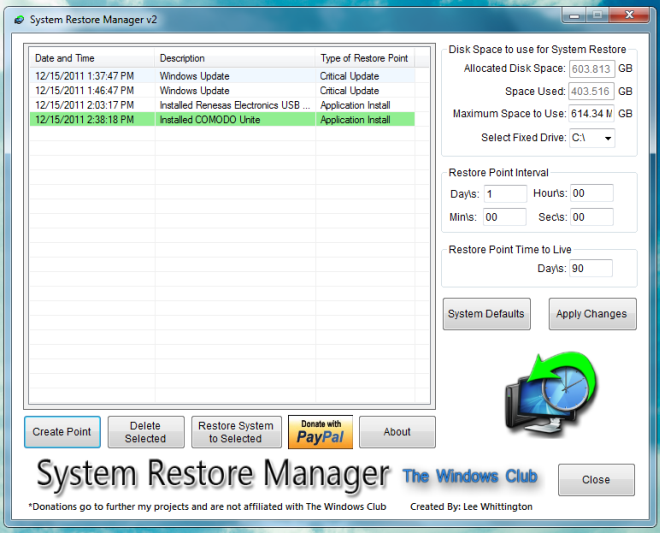 While System Restore Manager provides many useful options for managing your restore points, it does not allow extracting files from specific restore points by mounting them. You can get this feature in a another application, known as System Restore Explorer. System Restore Manager  works on Windows Windows XP, Windows Vista and Windows 7.
Download System Restore Manager