Funny Photo Maker: Apply Effects & Insert Images Into Amusing Scenes
Adobe Photoshop is arguably a magnificent photo editor, but when it comes to using its photo editing features, most of the novice users find themselves perplexed due to the myriad of available options. If you also happen to be one of those users who get confused when using Photoshop, then you can try one of the many simpler solutions for giving your photos a quick makeover. Funny Photo Maker  is one of them. It is a light-weight, easy to use photo-editing tool that enables you to apply various tweak-able photo effects and frames. You can apply several filters to your photos and make them look gorgeous within a few clicks. The application comes packed with plenty of amazing PhotoFunia-like templates to create funny-looking or artistic photos that you may want to share with your friends on Facebook and Twitter. In addition, it has the ability to generate high-quality images for printing purposes. Keep reading to find out how it works.
The application offers quite an elegant, aesthetically pleasing, gray UI design and supports lucid navigation. The main window includes two different tabs: Design and Output. The Design tab contains the photo editor, carrying the aforementioned photo filters. All the photo filters and effects can be selected from the right side of the application window. You just need to add your image by clicking + button near the Design tab, while the rest would be done by the application itself. The Frames tab include several random photos of animals, automobiles, billboards, calendars etc., and you can etch an image onto these photo frames. Similarly, the Face fun contains images of animals and people with removed faces, allowing you to insert any photo you want into the frame.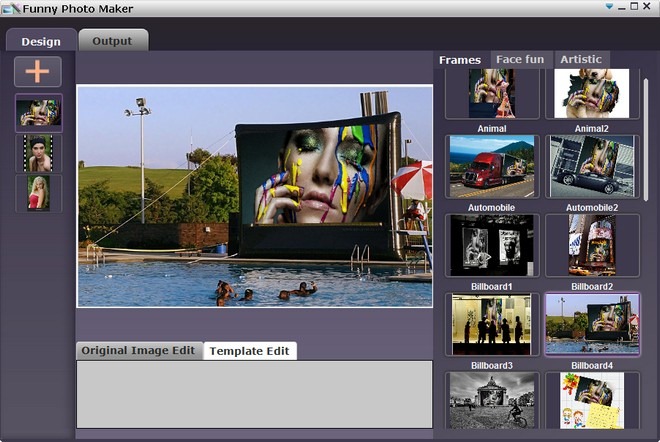 The Artistic tab, on the other hand, provides you with image calibration effects to give image an artistic feel. It contains a number of different effects, for instance Depth Dim, Contour, Mist, Oil Paint, Rain, Water Paint, Snow and so on. You can make further changes to the image by using custom sliders present at the bottom of the window.
The Output tab provides image preview and let you zoom in/out the picture. Here you can export the picture to save it into BMP, JPG, PNG and GIF format.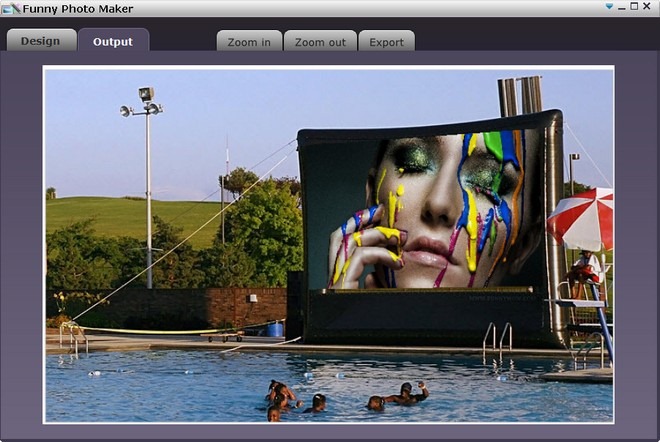 Funny Photo Maker is available for free and works on Windows XP, Windows Vista, Windows 7 and Windows 8. Both 32-bit and 64-bit OS editions are supported, while it was tested on Windows 7, 64-bit.