Panther: Feature-Rich Media Converter With Audio Compression Feature
When we talk about media converters, names like Handbrake, Format Factory or Freemake Video Converter automatically come to the mind. These media converters offer a plethora of features to customize the video and audio conversion process. We have also tested and reviewed various media converter tools in the past – Motion Man, Oxelon Media Converter, Adapter, E-Z Media Converter, just to name a few – which include a limited feature-set for converting video and audio files. However, what makes a media player different from others is the quality of its encoding engine, user interface and ease of use. If the latter factor is what attracts you the most, then you should give Panther Media Converter a try. It is a stylish media conversion application that lets you convert both audio and video files into widely used media formats. Additionally, you can compress your audio files with the built-in media compression option, which according to the developer, compresses the media file without hurting the original audio quality.
The main interface contains 3 different functions convert audio, convert video and reduce the size of your Music Files. Clicking Audio Files takes you to audio conversion console, where you can select the source file and output directory, as well as output format of the source file. It supports various output formats, including MP3, WAV, MP4, AMR, OGG, RM etc. You may click Advance to tweak a few more settings like audio bitrate, channels, sampling rate and so on. When you're ready, click Encode to start the conversion process.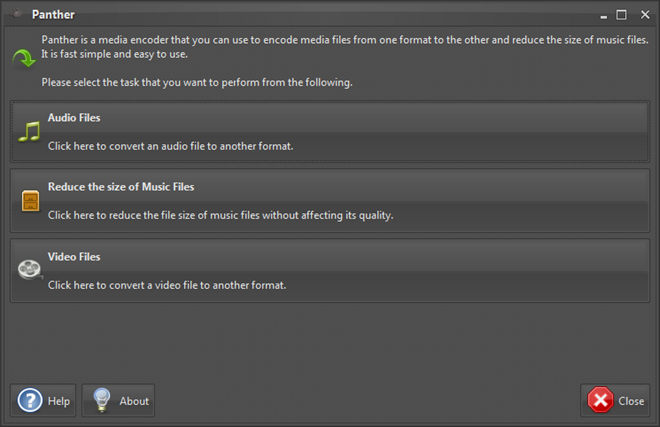 Converting video files also works pretty much the same way. The application only encodes videos into a few formats including 3GP, AVI, FLV, MOV, MP4 and MPG, but you can always select custom presets. As I mentioned earlier, you can quickly reduce your audio files size by clicking Reduce the size of Music Files. Here, you can add your music file(s), select output directory and audio bitrate. It's quite useful feature if you want to shrink the size of your music files without changing the format.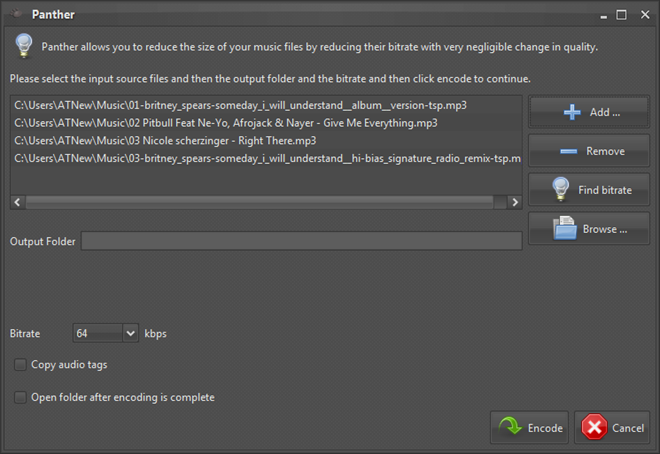 Panther Media Converter might not sound as feature-rich as other popular media converters, but it does provide a user-friendly interface with its simple design and satisfying performance. Moreover, the option to compress various music files at once helps music enthusiasts in compressing their huge music library. The application is available for free and works on Windows XP, Windows Vista, Windows 7 and Windows 8.
Download Panther Media Converter