Get Windows 7 Aero Shake & Aero Snap Feature In Windows Vista/XP
Do you know about those awesome Aero Shake and Aero Snap features in Windows 7? Now you can get them on both Windows XP and Vista. For those who don't know what AeroShake and AeroSnap are, here is a small intro for them.
Aero Shake: Minimizes all other windows, when one active window is shaken.
Aero Snap: You can maximize, minimize, resize window by just dragging-dropping it to the side of the the screen or to the screen corners.
True Transparency is an awesome app that was originally build to bring Windows Vista transparency to Windows XP. You can change different skins just for some eye-candy look. But in the latest version of this app(v.1.1), the developer has added two new awesome features – Aero Shake and Aero Snap.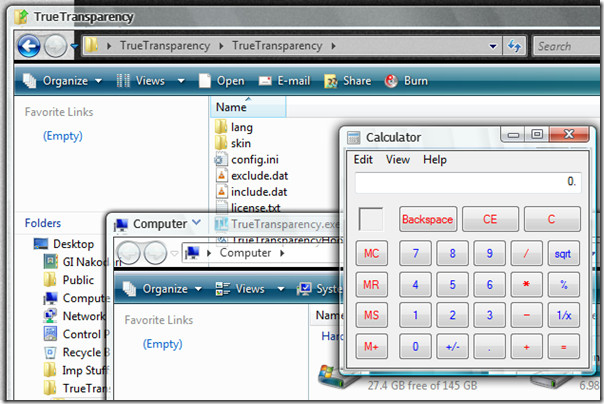 All you need to do is extract the zip archive and run the main executable file. I ran it in Windows Vista and the experience was rock solid. The best thing is that it doesn't slow down the system at all. Watch the video below to see the demonstration of these features.
Once running, you can change the options and skins from it's system tray context-menu.
Note it only will only work on Windows XP and Vista, older versions of Windows have not been tested. Enjoy!