Get Windows 8 Metro Task Manager's Compact View Mode In Windows 7
Perhaps one of the most awaited event of 2012, is Windows 8 launch. All eyes are fixed on Microsoft's upcoming OS. Software giant didn't leave us waiting though by giving an early preview of what to expect from this revamped operating system. If you have been following our Windows 8 coverage closely, you must know that the Consumer Preview of Windows 8 has a lot of similarities to Windows 7, but there are also a lot of changes as well, especially in terms of features and GUI. Windows 8 is the first PC-based operating system featuring the Metro UI, with support for tablets in conjunction. After the Windows 8 Consumer Preview got released, most developers have since been coming up with various software that port Windows 8 features to Windows 7 (and Windows Vista, too). If you're already using Windows 8 Lock Screen, Charms bar, Start Screen and other Windows 8 UI elements in Windows 7, check out Metro Task Manager, as well. Similar to the aforementioned ones, it's an application that brings Windows 8 Metro style task manager to Windows 7. For those who aren't familiar with the new task manager, it has been vastly improved and is more robust, offers 2 view modes namely compact and extended view mode. You can read a detailed guide on Windows 8 Task Manager, its new features and options here.
The Task Manager application is portable, saving you from any program installations, and letting you use it on the go. Just run the executable file and you can view all the running applications along with their status. The application allows you to End Task for any running app, as well as quickly restart Windows Explorer.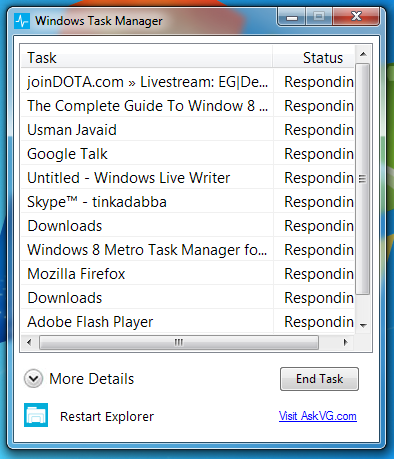 Clicking More Details launches the default Task Manager. In Windows 8, the More Details button reveals the extended Windows 8 Task manager, which contains Processes, Performance, App History, Startup, Users, Details and Services tabs.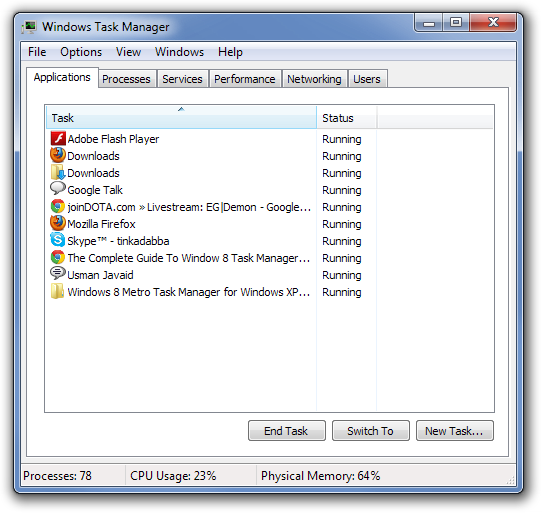 As of now, it's just a basic implementation of Compact mode of Windows 8 Task Manager. Nevertheless, it lets you quickly view all running applications and end their processes. If the developer could include all the features of Windows 8 Task manager, it would certainly be a useful addition for users of previous versions of Windows. The application works on Windows XP, Windows Vista and Windows 7. Testing was only done on Windows 7 though.