GO Contact Sync Mod: Fully Synchronize Google Contacts With MS Outlook
Last year, we covered Go Contact Sync, which is an open source application for synchronizing Google Contacts with MS Outlook, and vice versa. Since our review, this application has been updated with a few more options that allow more robust synchronization of contacts. These include synchronization of contacts (and not just deleted contacts as was the case in the older version) along with synchronization of notes and proxy setting configuration.
To sync your contacts, enter your Google account credentials, enter a profile name, select a synchronization format (Sync Deletion, Sync Contacts and Sync Notes) and a contact synchronization criteria (e.g., Outlook to Google synchronization only, Google to Outlook only, etc). Click Sync to synchronize your contacts.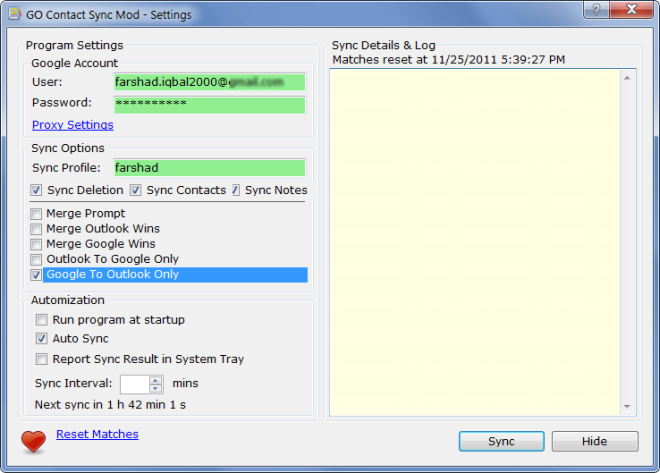 You can reset all options by clicking Reset Matches, another handy option which was not present in the previous version of Go Contact Sync. Being able to reset all options means that you do not have to restart the application each time you require making changes to your configurations.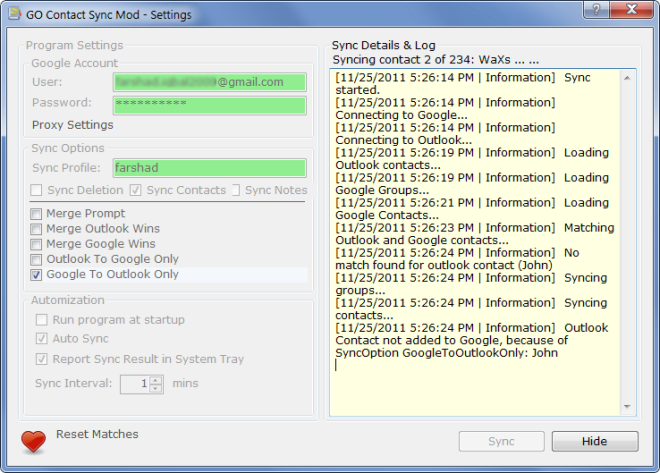 Go Contact Sync works on Windows XP, Windows Vista and Windows 7.