GOM Audio Is A Light Music Player With Themes & Web Radio Streaming
If you love testing out media players like me, then the name GOM Player would probably have crossed your path. It's an excellent multimedia application that proudly stands amongst the likes of VLC Player, KMPlayer and Media Player Classic, to a certain extent. The folks behind GOM Player have recently released another media player labeled GOM Audio that, as its name suggests, is targetted targeted towards audiophiles. Although it's not as feature-laden as other audio players (none have pulled me away from Winamp or iTunes so far) it's a nice, lightweight package with a compact design and some really impressive features. For instance, features like multiple skins, internet radio streaming, A-B repeat, varying playback speeds, plugins support and a comprehensive equalizer are nothing short of praiseworthy. Does it fair well against rivaling apps? Read on to find out!
The user interface of GOM Audio oozes simplicity at best. The default skin boasts a wood colored theme, and does not take much of your screen real estate. The main window contains all the basic playback controls, and you can reveal further windows of the player via hotkeys. For example, pressing F7 unwraps playlist tabs, while F9 reveals Net Radio window which lets you listen to online radio. You can create as many playlists as you want. The Playlists section houses Add, Delete, Select and Sort buttons at the bottom, along with total playback time of all tracks.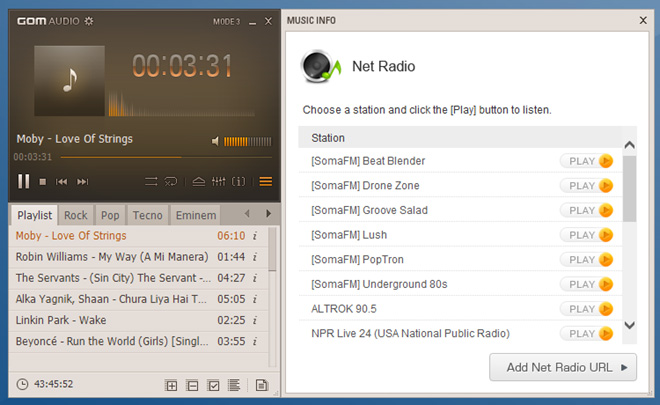 Apart from the default (Basic) skin, the application allows you to select amongst two additional skins named as Polar Bear and Fondness. A handsome feature for those who don't usually like to be tied to a single theme.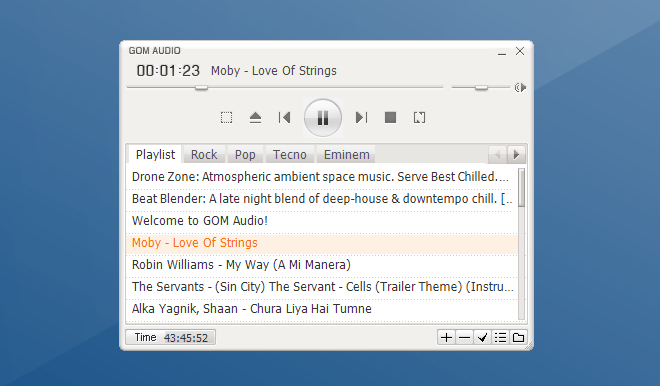 GOM Audio also houses a powerful equalizer with plentiful presets, such as Classical, Dance, Club, Rock, Pop, Ska, Soft, Live, Party, etc. You may also manually adjust the equalizer and save your own custom presets. Another punchier feature of the application is playback control. Controls tab (present alongside the Equalizer window) enables you to adjust Tempo of the current song ranging between –0.1x and 2.0x. In addition, you can set A-B points for looping an audio track – not something refreshing, a nice option nonetheless. Right clicking the main window pops up the context menu from where you can select various options, including Playback, Volume, Repeat, Shuffle, Power options (to apply post playback behavior of the application) and Preferences.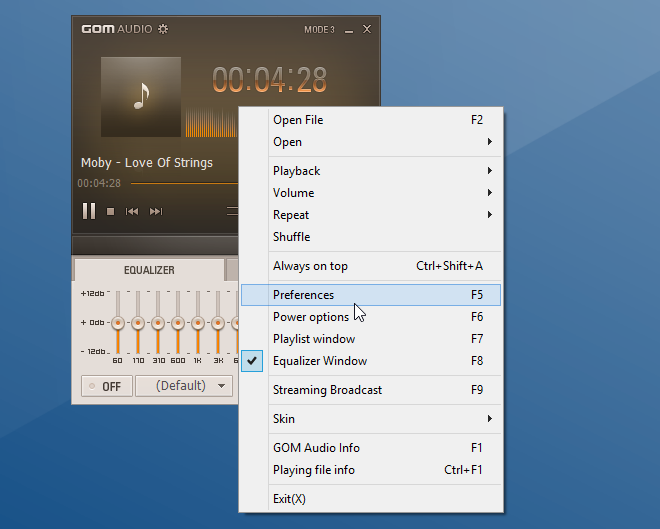 Preferences window allows configuring plentiful options under Basic (General, Titles, Updates, File Types, Shortcuts, Browser, Others), Skin (Manage, Settings), and Plugin (DSP and Plugin) panes. Some noteworthy parameters that you can alter include ability to minimize to system tray, desktop tiles that displays current song's title and cover art near system tray, file type association, Global Hotkeys, enable a trio of audio effects under DSP and add custom skins.
If you are looking for a small and lightweight audio player that doesn't use much system resources then GOM Audio might be an answer. It's compact, beautiful and contains many options you can ask for. Power users may want to look somewhere else though. The application works on Windows XP, Windows Vista, Windows 7 and Windows 8.