Gomigo: Organize & Access Frequently Used Programs From System Tray
No matter how many software you use, there would always remain only a handful of applications that are the most frequently called to action. Some may search for applications using the Start Search, while others would highlight them as quick launch buttons to easily access them,  but, consider the situation where you need to simplify access to web pages as sub-categories of a browser through menu-like access layout with minimum possible clicks. Gomigo is a free tool that lets you create menus and access items from the system tray. Just click its system tray icon and access the most-used/important programs. You can assign, modify, and delete programs from the Gomigo system tray menu, as well as define sub-menus in a few clicks.
The setup for this application is in Spanish language, so you'll have to click through installation based on your gut-feeling (don't worry, you can easily figure it out). After installation, an orange icon will appear on your system tray. Clicking the icon shows you the menu containing a default list of frequently used applications like calculator, notepad, internet and office.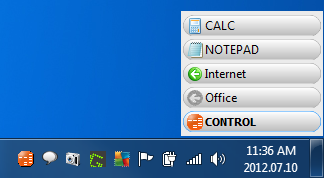 To edit, modify or add a sub-menu, just right click any relevant entry and the option set will appear. Moreover, clicking the Control button reveals all user-defined features. In addition, the multi-lingual support promises users from different regions (Español, Netherlands, Deutsch and English) to feel at ease.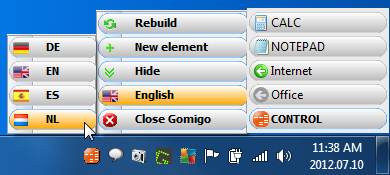 To add a new entry, select the New Element option in the Control menu and then specify the relevant details like title and file location path in the New Element window. You can associate any file type may it be an executable, document, zip, or a web file. The folder icon in this window allows you to browse to the required location. By clicking Accept, a new entry would appear in the menu, which can either be used directly or a sub-menu can be added to it. At any point, if you feel the need to hide this application menu, click the Gomigo icon and this would do the trick.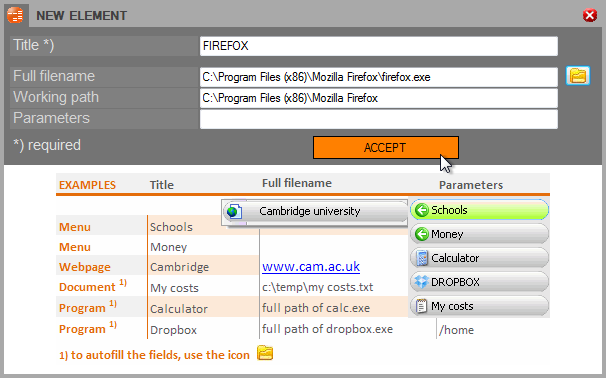 For better organization and access, you may require sorting the application buttons or a redundant entry removal. Applications gain or lose importance with time due to which an easy option for modification is incorporated into this utility. Just right click any specific entry to add a new sub-menu (by clicking New element), change the title/path (by clicking Modify), remove or sort (by clicking Place above and so on).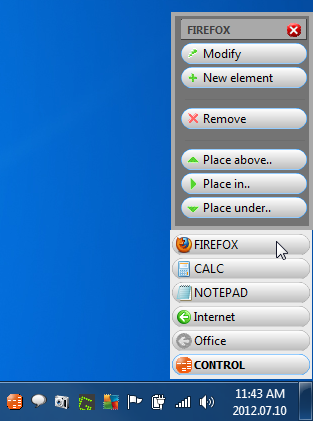 In short, the application would benefit all those users who want to quickly organize their utilities on their desktops. We tested this utility on Windows 7, 64-bit edition. It supports  Windows XP, Windows Vista, Windows 7 and Windows 8.