Group And Organize Program Icons In Windows 7 Taskbar With Bins
I love the fact how Microsoft puts in many new features amidst every new iteration of Windows OS. Among many great features found in Windows 7, the option to pin items to the taskbar (also called superbar) is of immense convenience. It is far more flexible than the quick launch option that was previously present in earlier Windows versions like the XP or Vista. However, if one has too many items pinned to the taskbar, it can result in a lot of clutter. A remedy to this problem has been provided by the developers of Fences with their new utility called Bins.
It is a Windows taskbar organizer which can group multiple pinned tabs by binding them together to reduce taskbar clutter. Doing this allows users to pin related items together, so they can easily identify and launch programs belonging to same group without having to pin each app to taskbar.
To consolidate multiple items together, choose the pinned item and hover it over another pinned program's icon. For instance,  you can drag a pinned program, lets say, Chrome over another pinned app, such as, Firefox to consolidate them under one hood.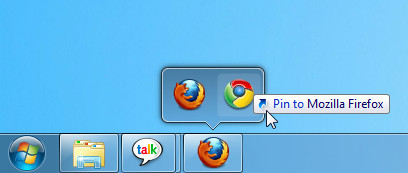 This will allow you to set multiple pinned items together in such a way that you will be able to reduce clutter on your taskbar. With Bins, you can join related or unrelated programs on the taskbar. It is immensely useful to pin related programs like browsers for easy sorting and identification of taskbar items.

Bins sits in the system tray, from where you can bring up Settings window to configure provided options and features. The Taskbar Tweaks tab can be used to enable the indicator line on icons, and to configure Aero Peek and Taskbar related behaviors, respectively.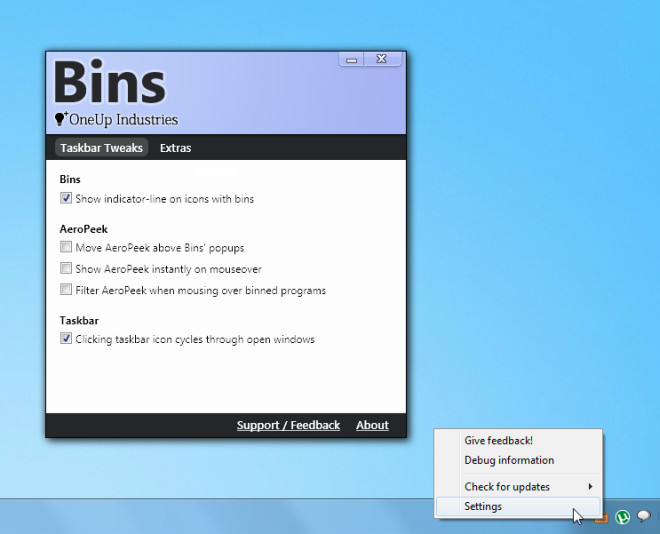 If you would like to temporarily disable Bins or get a default view of the pinned items, head over to the Extras tab and click Disable Bins Button. To restore it, simply click Undo. Here, you can also lock bins from editing, retain a single line if your taskbar is set to auto hide and view system tray icons on mouse hover.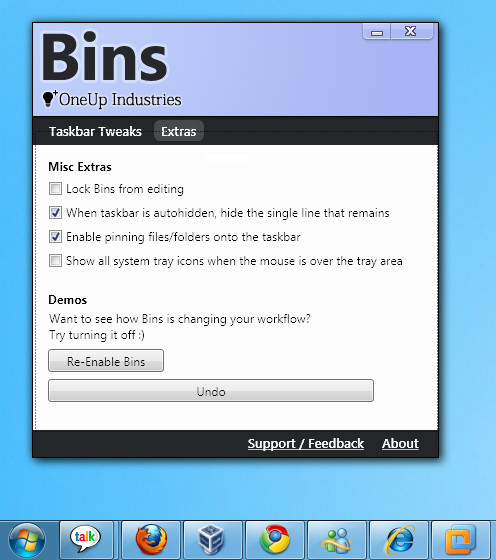 To download Bins, you need to provide email address in order to receive a private beta invitation from the developer. It must be noted here that Bins is currently in beta, therefore users might experience some bugs and functionality related issues. However, we did not experience any problems during our testing.