Hands-On With Google Drive For Web, Windows, Mac & Android [Review]
The wait is over – after years of speculation, Google Drive is finally here, with apps for Windows PC, Mac and Android available for download and iOS apps for iPhone, iPad and iPod Touch coming soon. So what does Google's long-awaited and much-anticipated cloud storage service have in store for you? Does it have what it takes to make a significant impact in today's cloud storage market riddled with countless others? Read on to find out all of this and more after the break.
So what exactly is Google Drive all about? Short answer: Google Docs + Dropbox. Yes, it really is as simple as that. In fact Google Drive isn't exactly an altogether new Google product at all – it is essentially Google Docs rebranded, with Dropbox-like syncing support for PC and Mac, and 5 GB of free storage. Watch the video above for Google's introduction to Drive.
Key Features At A Glance
Here's a great video put up by Google that walks you through most features of Google Drive:
Here is a summary of all Google Drive has to offer:
5 GB of free storage (Paid plans for up to 16 TB available)
10 GB maximum file size limit (Of course you are still limited by your total storage plan)
Apps for Windows PC and Mac OS X with full Dropbox-like folder syncing support
Selective Sync for PC and Mac clients, allowing you to only sync certain folders
Android app for online access to your files, with the ability to make files selectively available offline
Access your files from anywhere in a web browser using the web interface
Web interface also allows you to upload files
Direct access to your photos and videos in Google Drive from Google+ for easy sharing
Search your Google Drive files by type, owner and more, and even by text or objects in images and scanned documents
Directly view over 30 types of files online in the web interface, including MS Office and OpenOffice documents, spreadsheets, presentations, HD videos, Adobe Photoshop, Adobe Illustrator, AutoCAD, SVG, PDF, TTF and more.
Create, open and share files directly in Google Drive from certain compatible web apps and web apps, with a section in Chrome Web Store listing all web apps compatible with Google drive
Share and collaboratively edit files with others from anywhere in real-time with Google Docs, choosing whether collaborators can view, edit or comment on your files
Access up to 30 days old versions of your files, with the ability to revert back to any of them anytime
UPDATE:
 Our comparison of free tiers of all major cloud storage and sync services is up now, so if you want to choose which free cloud storage and sync service is the best for you,
head over to it
and see all the details before making your choice.
What's Missing
Nothing in this world is perfect and Google Drive is no exception. We must admit it's hard to think of what's missing in Drive considering its feature set and the price tag of free (since we're only considering the free plan here).
The first and foremost major thing missing is a Linux client. No sync solution can be complete without clients for all major operating systems and while it doesn't have anywhere close the the market share of Windows, Linux is still used by many. Let's hope Google addresses this issue by releasing a client for Linux soon.
Similarly, while there has been an official announcement upon release that iOS apps for iPad, iPhone and iPod Touch will be available soon, there is no mention of a Windows Phone app at all. Ideally, all three of these major smartphone operating systems should have been covered from the very start but at least iOS has a promise; Windows Phone doesn't seem to be as lucky.
Another thing that has been neglected that should have definitely been there is folder syncing support in the Android app. Currently, only files can be made available offline in the Android app and the complete Drive can be accessed only when online. The ability to choose a folder on your phone or tablet for keeping it synced with a sub-folder in your Google Drive folder on your computer would have been a great way to manage file transfers to your Android device.
Also, there doesn't seem to be support for playback of MP3 files in the web interface of Drive. This is surprising, considering the impressive file format support – even HD videos are playable, but not MP3s.
Get Google Drive
At the time of writing this post, Google Drive hasn't been rolled out to everyone. To see if your Drive is ready, visit https://drive.google.com. If it's ready, you will be greeted with a welcome screen, presented with an introduction of its features and then taken to a download page for downloading and installing the PC or Mac app, depending on your platform (which gets detected automatically). Installing the PC or Mac app is optional so if you don't want sync, you can still access your drive online and use it just the same way as the old Google Docs.
Web Interface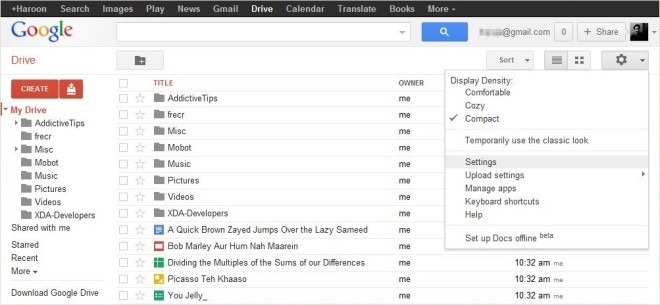 Once you have access to Google Drive, visiting it online will present to you an interface strikingly similar to the old Google Docs interface. There are your usual editable Google Docs as well as viewable files of other formats supported by Google Drive. This now also includes videos that play in a nice YouTube-like player when opened.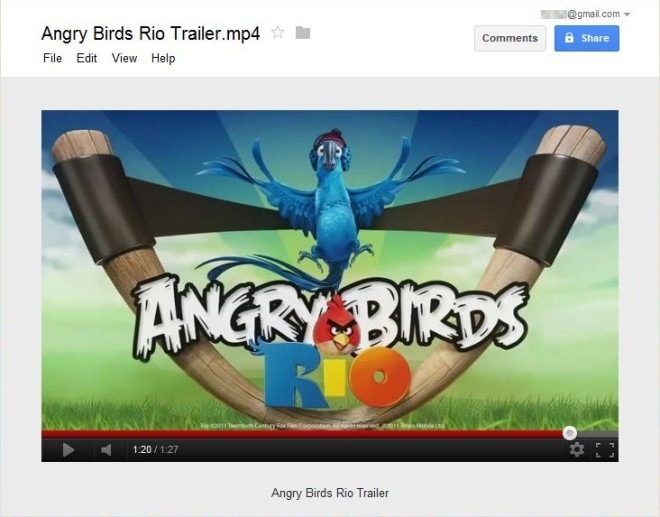 Everything you had in Docs is still available and accessible the same way in Drive now. You can upload files from the web interface the same way. You can still choose to convert certain file formats (documents, spreadsheets, presentations etc.) to Google Docs format automatically while uploading. You can even convert PDFs and image files to Google Docs format using the built-in OCR.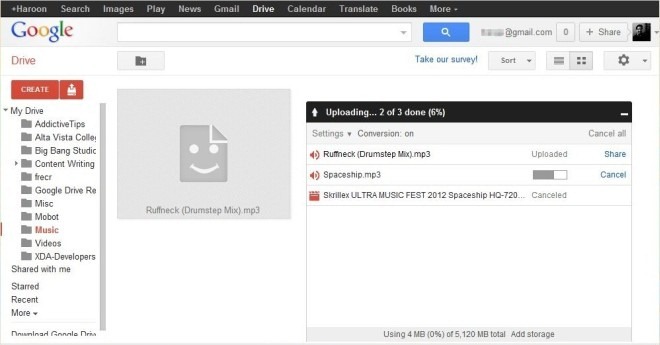 Google Drive is about more than just cloud storage. It is also about sharing and collaboration. For this reason, all the collaboration features of Google Docs are also retained. From the web interface, you can share any file or folder with anyone else using the same trusted Google Docs interface, letting others collaborate on the same documents with you from anywhere.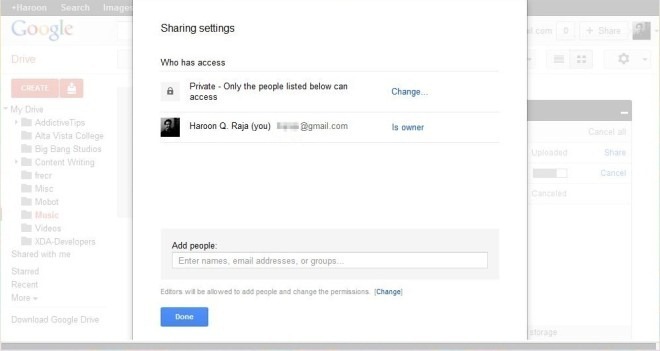 Files and folders can be public (anyone can search for and access them), link-only (only those with the link can access) or private (only those you have explicitly shared them with can access). Collaborators can also chat with each other while viewing or editing a file in a pane built right into the editor window. Furthermore, you can choose if collaborators get to have viewer, editor or owner level access. In the 'Shared with me' view, you can see all the files shared by others with you and if you want to grab a copy of your own, simply drag them over to 'My Drive' or one of its sub-folders.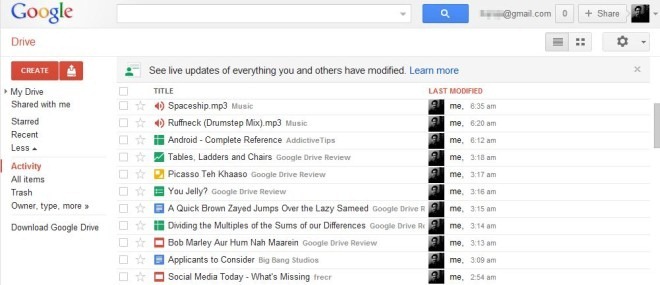 In the left-side menu, there is a 'More' option that when expanded reveals a few additional options including the very handy 'Activity' view. In this view, you can see an activity log of all your recently accessed files sorted by last modified time, along with details on who were they last modified by. This is a handy way of keeping track of the edits and see if any of your files were recently edited by one of your collaborators.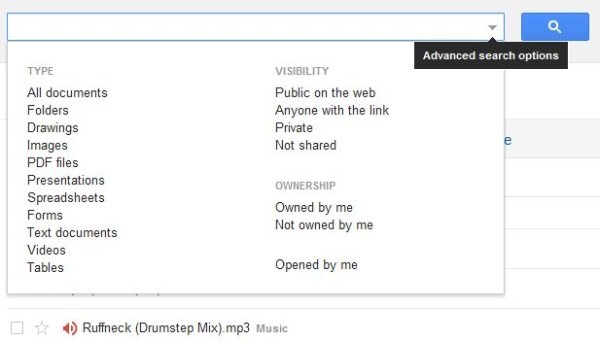 The search feature is pretty elaborate as well, allowing you to search by document type, visibility and ownership, making the process of finding the files you are looking for a breeze.
Web Apps with Google Drive Support
Google Drive seems to be set to take on much more than mere cloud storage and cross-platform apps for accessing it. One of the most impressive features of Google Drive is integration into other web apps that allow you to automatically edit content stored on your Drive, or save content created by such apps there. On the Google Chrome Web Store, there is a new class of apps available – apps that are given the 'works with Google Drive' designation. To see the complete collection, check out Google Drive supported Web Apps on Google Chrome Web Store.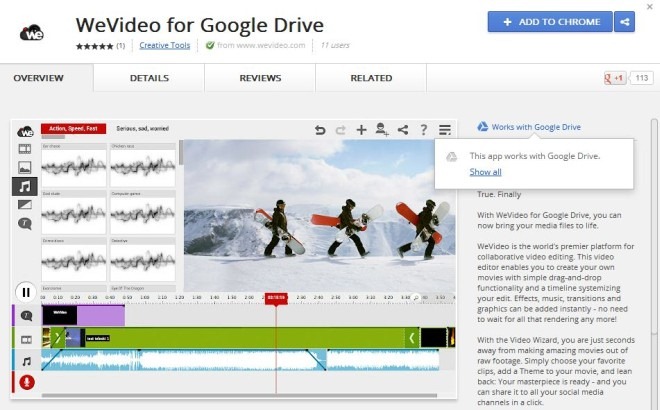 As you can see in the above screenshot, apps that have Google Drive support integrated have a 'Works with Google Drive' indication in their Chrome Web Store page. Hovering your mouse pointer on it shows you a popup with a link to all the apps that currently sport Drive integration. At the time of writing this post, there are 17 such apps available, and we have a feeling this number is going to grow real soon.
This feature of Drive is going to give cloud computing for the end user a whole different dimension. Imagine a world where all your apps are web apps, and the storage they use is your Google Drive.
Google Drive for Windows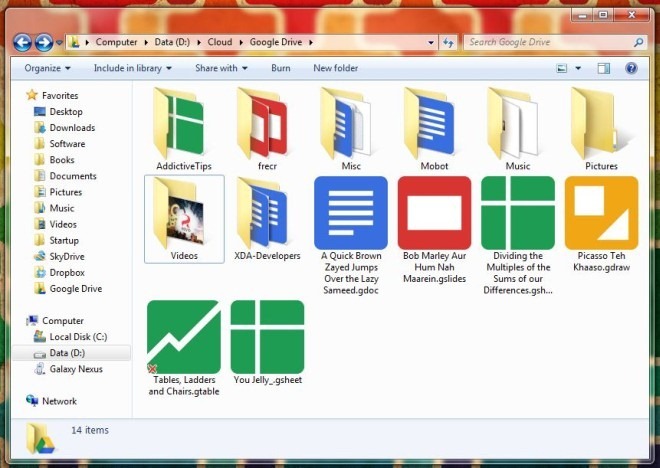 This is the Dropbox-like part of Google Drive. For those of you who aren't familiar with the concept, you install the app on your PC and it gives you a folder on your PC that stays synced to your Google Drive. Everything already present in your Google Drive automatically starts getting synced to this folder. Also, anything you add to this folder from your computer gets automatically uploaded to your Google Drive, becoming accessible across all your devices.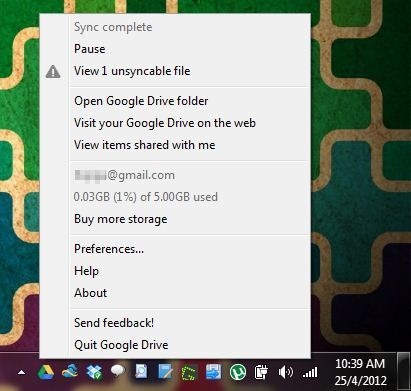 Once installed and running, Google Drive for Windows adds an icon to the system tray. Clicking the icon lets you pause/resume sync, see any alerts, open your Google Drive folder (which you can directly access from the Desktop or Windows Explorer too), visit your Google Drive on the web, view items shared with you, monitor your storage space usage and access the app's preferences, amongst other options.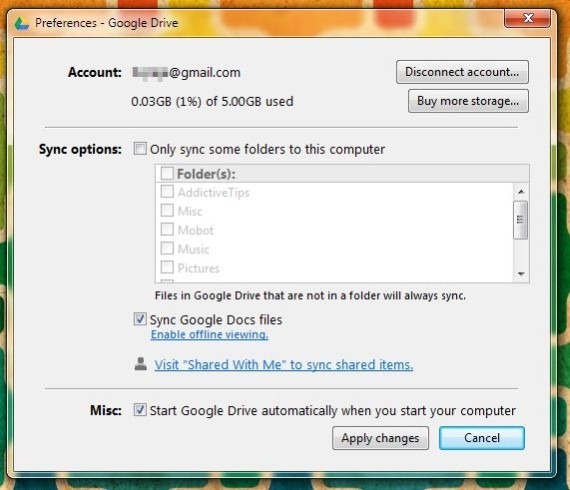 In the preferences, you can monitor your account's storage use, disconnect it if you want to start over or buy more storage if you need it. You can also choose whether to sync your complete Google Drive to your computer, or only certain folders. If you want, you can also sync Google Docs files stored in your Drive, but for that, offline viewing has to be enabled in Google Docs and configured for your computer. There is a link provided for that next to this option, along with another link to visit the files shared with you in Drive, if you want to sync some of those to your computer as well. By default the files shared with you reside on their owner's drive and not yours, and are therefore not synced automatically. Lastly, you can choose whether to start Drive automatically with Windows or not.
All in all, it is a complete sync solution for your computer that's dead-simple to configure and use.
Google Drive for Mac OS X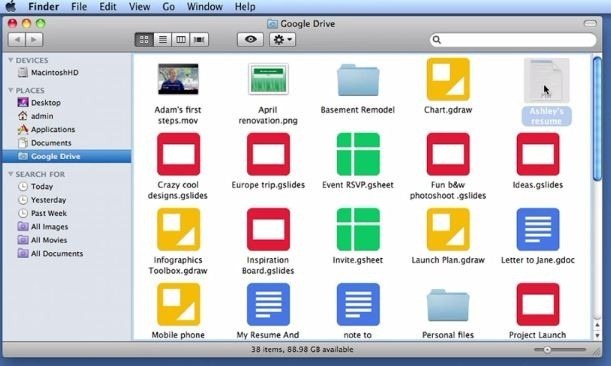 The Mac OS X app works the exact same way as the Windows app. You get a folder that syncs with your Google Drive, and an icon in the menu bar to access the same options and preferences as the Windows version. Since all the features are the same, just go through the Windows app review above to learn more, if you have jumped straight to this section.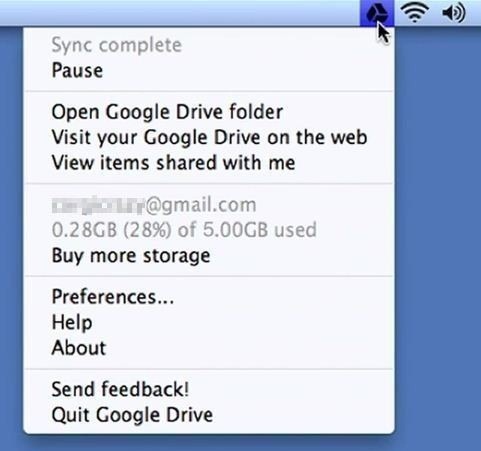 Google Drive for Android
Needless to say, Google Drive is available upon launch on Google's Android, and In fact it has been available on Android before even its release, as Google Docs. Yes, it's the same app, rebranded, with some new features added. To learn more about it, see our full coverage of Google Drive for Android (coming soon).
Google Drive for iOS
Google has officially announced that the iOS version of Google Drive for iPad, iPhone and iPod Touch is in the making and will be available shortly. We will cover it and add a link to our coverage here as soon as it is released, so keep checking back.
---
What do you think of Google Drive? Will you be switching over to it from your existing cloud storage service? Will you be using it along with the other options? Which of its features is your most favorite? What do you think is still missing? Don't forget to let us know in the comments. Happy cloud computing!