How To Batch Download Coursera Lecture Videos In A Few Clicks
MOOCs (Massive Open Online Courses) like Udacity, edX and Coursera have taken the world of online education by storm with their high quality, collaborative, work-when-you-want style of study. Coursera in particular is quite popular because it curates courses from multiple world-class universities. You can take up all sorts of courses: from Survey of Music Technology to advanced Computer Science programs like Design and Analysis of Algorithms.
If, like me, you are the sort of person who doesn't have the time to get completely involved with a course, and just want to go through the videos to expand your theoretical knowledge of things, you'll be glad to know that there is a program you can use for batch-downloading all Coursera lecture videos in a course, so you can watch them offline during your daily commute or whenever convenient to you.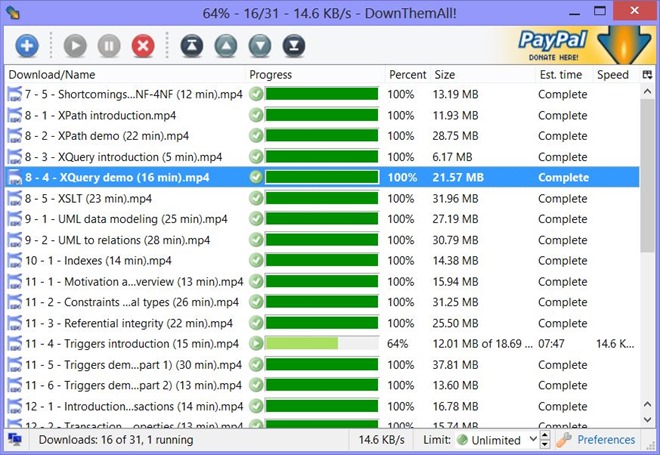 DownThemAll is a popular extension for Firefox that can be used to download all lecture videos in a free course you've signed up for in a few steps. To get started, you must, of course, install the Firefox browser. After that, head over to the link provided at the end of this post in order to download and install DownThemAll.
Once you've met these prerequisites, log in to a course on Coursera and navigate to its Video Lectures page. From there, right-click on the page and choose DownThemAll! It will open a new window that looks like this: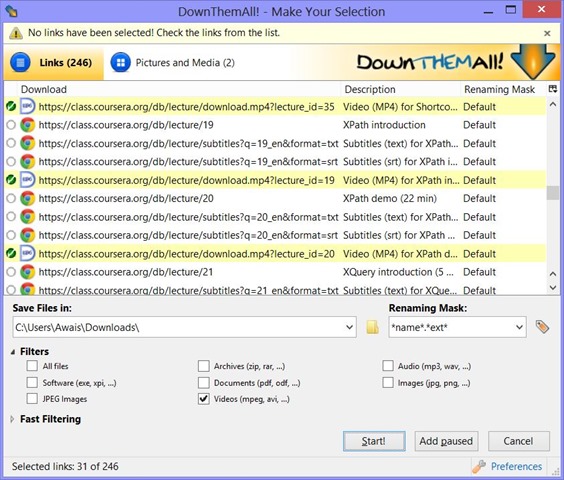 From here, you can use filters to choose just .mp4 files and then hit Start! to begin the download process.
We've tried multiple ways for batch-downloading Coursera video lectures, but this one is by far the easiest of the bunch. If you are command-line savvy, you can also check out the 'coursera-dl' script from its GitHub page here. It requires you to install Python 2.7 on your computer along with a tool called PIP, before you can execute the program with required arguments from the system terminal. I didn't find it easy to use, so we skipped on writing a full section on it but it's there for those of you who are interested.
Another alternative is Coursera Viewer for Windows 8 and RT. It's a $2.99 download from the Windows Store. With it, you can batch-download, view and manage all your Coursera videos.
Install DownThemAll for Firefox
Got your own favorite method for batch-downloading Coursera.org videos? Let us know about it in the comments section below.