Calculate Your Monthly Mileage With Monthly Mileage Calculator
Monthly Mileage Calculator is an application which stores all mileage information in a small database. It can track visits per date, visits per location and total mileage easily. Pretty useful if you work for a company which requires extensive traveling. You can either calculate it for personal records or because you want reimbursement from office at the end of every month or week.
Simply add a new location, insert location name with distance from your default location (which is supposed as either office or home) and hit Enter key. Each time you add a new location, it will be visible in Stored Locations drop-down list.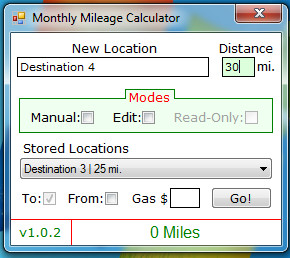 Whenever you visit some location, select its name from Stored Location drop-down, enter gas rate (rate displayed in image below is just for example) and hit Go.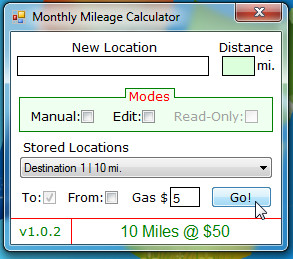 You can store mileage log by pressing CTRL + S keys. It stores all information about each visits to all destinations date wise and visit wise.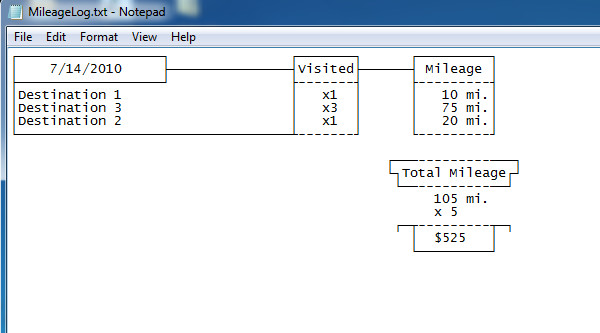 It comes under three modes, Manual, Edit and Read-Only. You can select manual mode, if you are not going to any destination from your default location. For example you go to destination 1 from you default location, and then you go to destination 2 instead of going back to default location. In Edit mode, you can edit any location's name and distance. Normally you work in last mode – Read-Only.
If you quickly want to preview any location details such as, location name, distance in miles, number of visits, and date of visits, select any location from the Stored Location drop-down and press F1 key. You can delete any location information from database permanently by using Edit mode, once selected, select location from Stored Location drop-down and hit Delete key.
Enjoy this small application for your mileage calculations.
It runs on all Windows based OS, including the latest Windows 7. Testing was carried out on Windows 7 x86 system.
Download Monthly Mileage Calculator