BulkFileChanger: Change File Attributes In Bulk
BulkFileChanger is another useful application from NirSoft which lets you change multiple attributes and meta information of all sorts of files which mainly includes; Last access, Modified , Created date, etc. It comes useful especially to keep track on files having different dispersed attributes by allowing user to edit files' properties. For instance; if you'd need to change the file(s) attributes copied/moved on specific date, changing each property is a tedious job, you can change the meta information (properties) stored in them by making use of this application.
After you have launched the application, start adding files from desired folders, you can add as many files as you need from multiple locations. It supports simple drag & drop behavior, thus populating files list is easy. It will list down all the associated fie attributes in multitude of columns, which are expanded in the main window.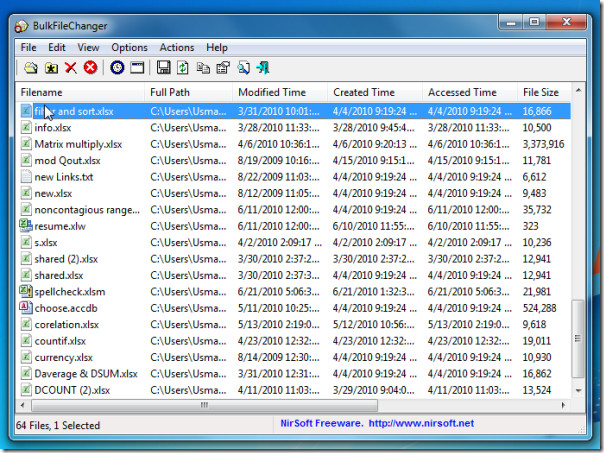 To view the attributes of a specific item, double-click the entry to bring up Properties dialog. It will list down all the associated attributes of a file in a separate window.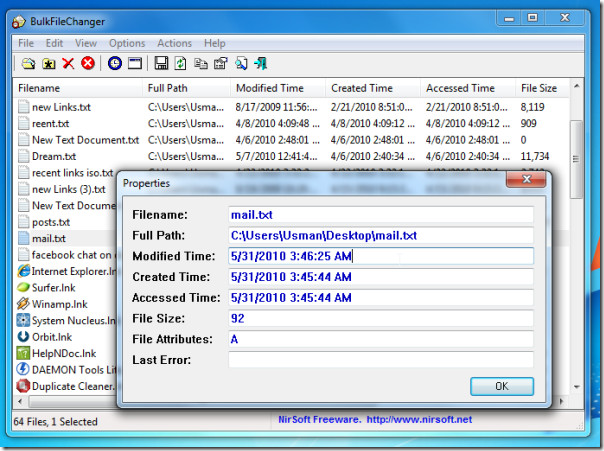 Changing the attributes of files in bulk is easy, all that is required is to select items from the list and click Change time/attributes button on the upper part of the window to bring up file attributes window separately, where you can change date/time of different meta information such as; Created, Modified, and Accessed of all the selected items in one-go. For adding date/time into existing attributes, enable Add checkbox and from drop-down list select a required option. Under File Attributes, you can change other associated attributes which includes; Archive, Read-Only, Hidden, etc.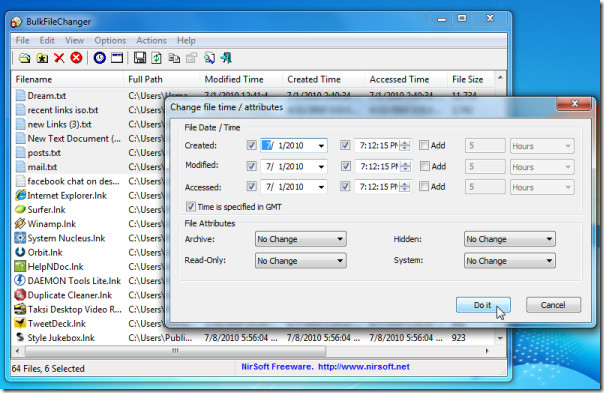 All the basic features and options can be seen alongside  Change time/attributes button. It also let you remove the inserted item, clear file list, execute the program/file with parameters, copy items and search for a specific item in the list. Furthermore, it provides you with an option of generating items list report in HTML format.
All Windows based OS are supported, we tested it on Windows 7 x86 system.
For more, you can also check out Attribute Changer.