How To Change Keyboard Layout With A Keyboard Shortcut In Windows 10
Windows has long had support for multiple keyboard layouts. If you type in two different languages, e.g., English and French, you might need to switch the keyboard layout to do so. The quickest way to switch the layout, of course, is to use a keyboard shortcut. Windows 10 lets you enable a keyboard shortcut that lets you cycle through all the input languages you've added. It also lets you switch to a specific keyboard layout via a keyboard shortcut. It's an added feature of the language bar, but it isn't enabled by default even if the language bar itself is enabled. Here's how to enable a keyboard shortcut for changing the keyboard layout in Windows 10.
Make sure you've added at least two keyboard layouts. Remember that keyboard layouts are different from input languages. Open the Control Panel and go to Control Panel > Clock, Language, and Region > Language, and click Advanced settings in the side bar.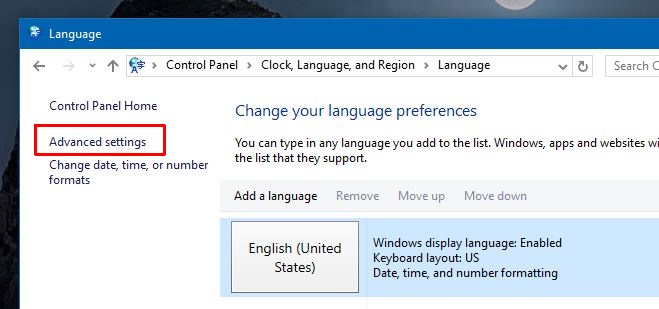 In the Advanced Settings window, scroll down to the 'Switching input methods' section and click 'Change language bar hot keys.'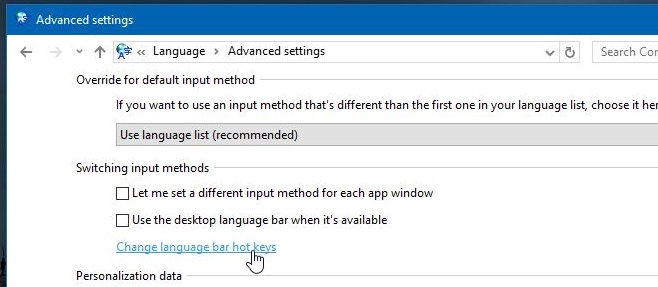 The 'Text services and Input Languages' window will open. Here you can see the shortcut for switching between input languages, and below it, you can see the different layouts you've added.
Select a layout and click 'Change Key Sequence…'. Check the 'Enable Key Sequence' box and record the shortcut. You can use the modifier key Ctrl, or Ctrl+Shift, or Left Alt+Shift combined with a number key 1-0. Select a keyboard shortcut and click 'Ok' and then click 'Apply.'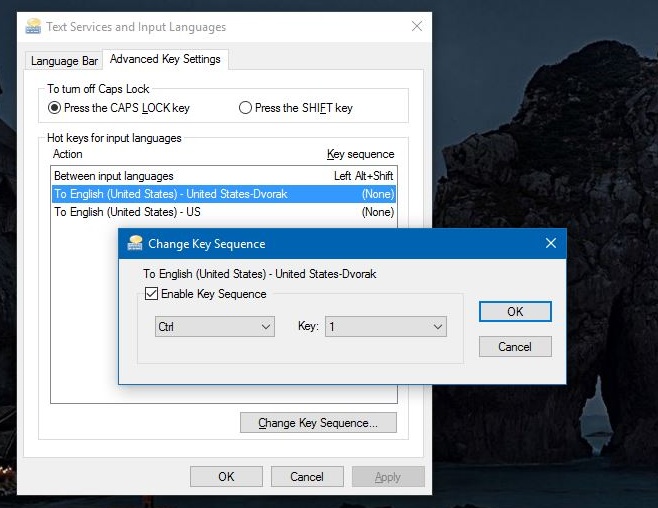 All you need to do now to switch keyboard layouts is type the corresponding keyboard shortcut that you've associated with it.
If you're looking for a way to change the keyboard shortcut for changing the input language, you can do that from this same window. Click 'Between input languages' and click 'Change Key Sequence.' Select a different keyboard shortcut from the listed presets.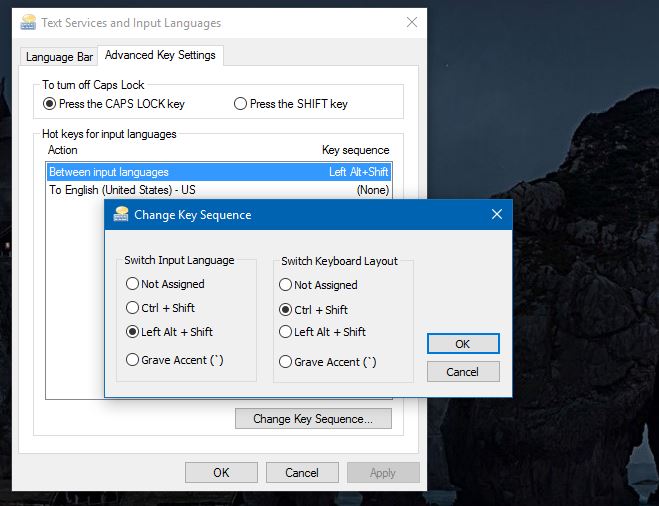 The options for keyboard shortcuts for changing the input language are limited, and you might just be better off sticking to the default one.