How To Change VLC Subtitles Settings
Aside from plethora of video/audio specific features, the best aspect of VLC is that you can customize almost everything it has to offer, be it video rendering, audio settings, effects, GPU acceleration, you can excavate deep inside it and tweak with its various features. Since many users prefer VLC for watching movies and dramas with subtitles, you may want to change the default settings to make subtitles appear in a required fashion. VLC allows its user to change subtitle text color, font size and font family, text position, and overlay effects. This post will cover changing subtitle settings in VLC.
By default, it displays text having font family Arial (regular), normal font size, white font color and an Outline effect to make text look clear over the video with 0 px subtitle position which can also be changed according to video default aspect ratio.
First off, head over to Preferences window, click Tools followed by Preferences.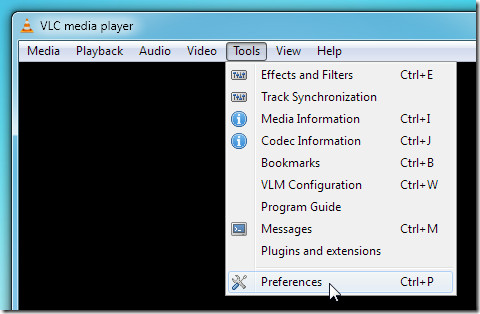 The main Preferences window shows settings for multiple type of basic VLC elements in the left sidebar, however, if you are a power user, you can enable All option present at the bottom to reveal the advance level options as well.
To begin, click Subtitles & OSD in left flank to bring all the settings related with On-Screen display and Subtitles. From Subtitle Language, you can enter preferred language along with text decoding. Changing Text Decoding option comes helpful in instance when you have subtitle decoded file not complying with VLC default Windows – 1252.
From Display Settings, you can change font family, size, effect, and font color. Font families are available in great number, you can pick out one which suites you more. If you watch video on big display monitor or DVI attached home theatres, changing Font Size from normal to large would make more sense. Font color list includes only bright solid colors you can choose one according to your video. As far as text overlay effect is concerned, I like it the default way, however, Background and Fat outline are always present to replace Outline effect.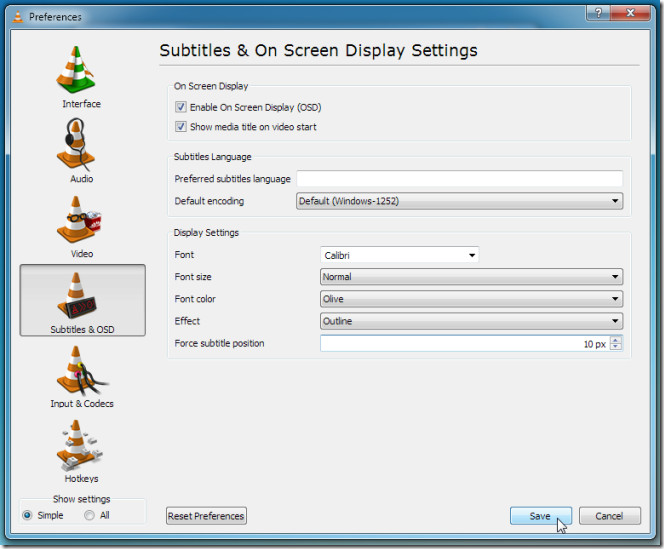 The Force subtitle position refers to changing subtitle position over the video, position can be changed by entering margin values in pixels, like if you enter 10px, subtitle will move up a bit on the video. Once you've done changing the settings, click Save and restart VLC.
Now play a video file with subtitles to check the subtitle settings.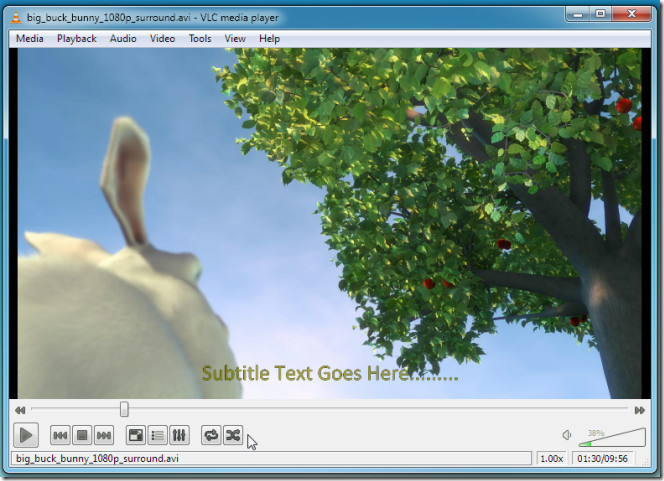 For changing advance settings, enable All option from left-bottom corner of Preference window. Advance Subtitles settings can be accessed from Video –> Subtitles/OSD.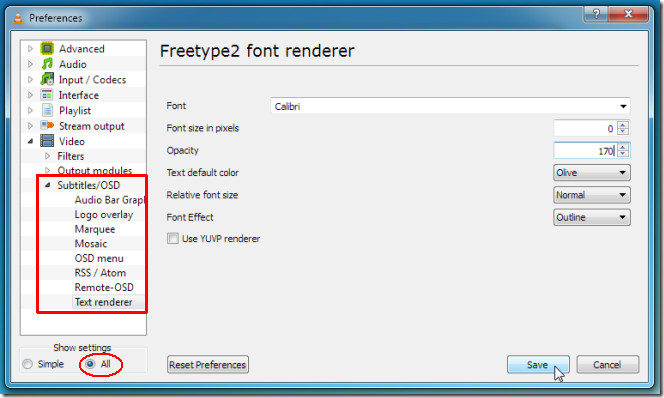 Changing subtitle options and settings helps you in customizing the way subtitle appears over video in VLC. We have demonstrated the guide on VLC v.1.1.5.