How To Enable Notepad Status Bar In Windows 7
By default, Windows 7 build-in Notepad does not show the status bar (at the bottom of the window). However, it is necessary at times to know basic statistics of the document like number of lines consumed and current column location. By doing a little tweaking in Windows Registry, you can easily make the status bar apparent in Notepad. In this post we will let you know how to enable the status bar of Notepad.
This is useful for users who cannot enable Status Bar from View menu as shown in the screenshot below. Status bar can't be enabled when Word Wrap is enabled. Since Status Bar option is grayed out, tweaking the registry is the only viable option.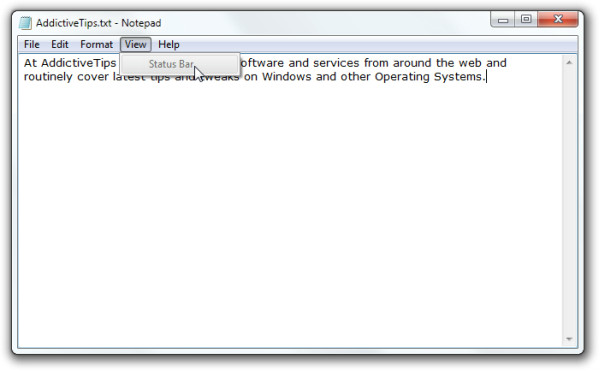 Note:Enabling Status Bar of Notepad requires modifying the registry, before you begin with the process, make sure that you have ample knowledge of backing up the registry files to prevent any erratic system behavior.
To start out with, from taskbar click Windows Start Orb button, type regedit and hit Enter. This will bring up Windows Registry Editor dialog.
Now look for the following key:
HKEY_CURRENT_USER\Software\Microsoft\Notepad
Once Notepad registry keys are opened, double-click the StatusBar key. This will bring up a small registry key editor, now change the value from 0 to 1. Click OK to save the changes.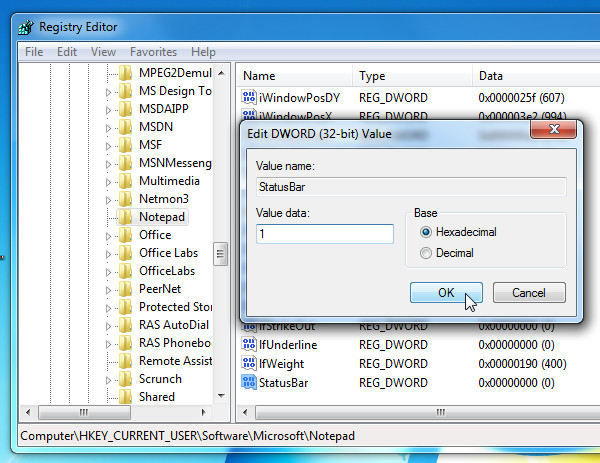 Now close down the registry editor and open a text file in Notepad. At the lower part of the window, you will see a Status bar showing Line and Column number.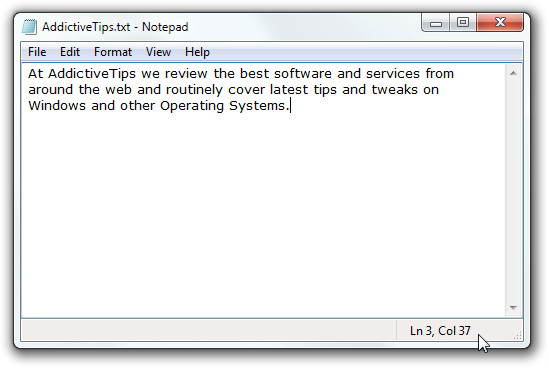 The above Registry tweaking was done on Windows 7.