How To Make Cortana Use Your Default Browser In Windows 10
Microsoft has been very restrictive with Cortana. Cortana does not honor your default browser settings and sends all web searches to Microsoft Edge and it isn't just Cortana that does this. A lot of links still open in Edge with no way to stop them. EdgeDeflector is a tiny Windows app that fixes this. It forces Cortana to use your default browser and it also redirects all other links from Edge to your browser of choice. Here's how you can make Cortana use your default browser in Windows 10.
Set Your Default Browser
Make sure you've properly configured your default browser. Open the Settings app and go to System>Apps. Scroll down and select your default browser.
Download & Install EdgeDeflector
EdgeDeflector doesn't install like normal apps. Download the EXE and copy it to C:\Program Files (x86) and run it. You will need administrative rights to copy the EXE to this location and to run it. You will not see any indication that the app has installed. It does not appear in the Recently added list in the Start Menu.
It's possible that EdgeDeflector doesn't install from this location. If it doesn't, copy it to C:\Program Files and run it again.
Configure EdgeDeflector
Open Cortana and search for something. If EdgeDeflector installed correctly, your first Cortana search will ask you to choose which app you want to use to search the web. Select EdgeDeflector from the list of apps.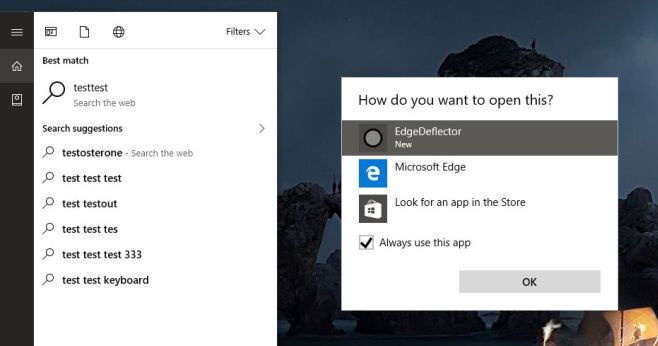 Next, you will be prompted to select a browser. Select your default browser and you're done. From this point forward, Cortana will use your default browser for all searches.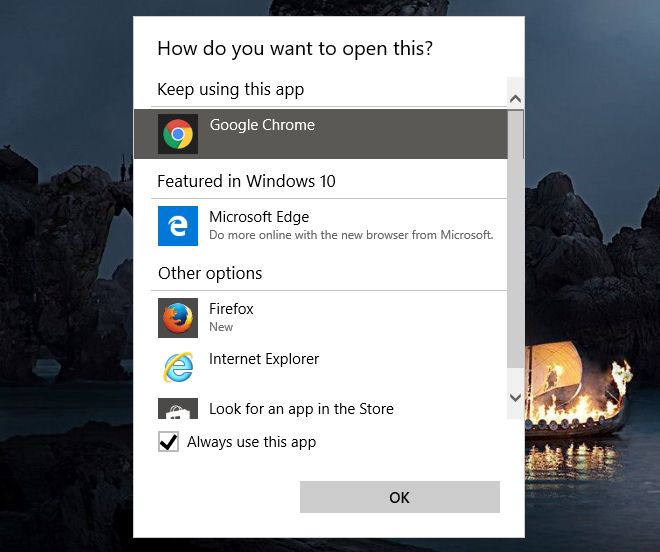 A Caveat
This change is not permanent but it also doesn't reset at the drop of a hat. A system update might reset these settings and Cortana can return to using Edge. To make Cortana use your default browser after an update has reset it, run EdgeDeflector again and configure it.
Make Cortana Use Your Default Browser & Google
Cortana will send all searches to your default browser, however, it will still use Bing. To circumvent this, you need to redirect Bing searches to your preferred search engine. If you use Firefox or Chrome, you can use an add-on and/or an extension to redirect Cortana searches from Bing to Google. For Chrome, we recommend Chrometana and for Firefox, we recommend Bing-Google.