How To Recover Important System Files Without Reinstalling Windows
Have you ever faced a problem where your antivirus deleted your important system files? For me this is even worse than the adverse effect of a virus itself. The best method to offset the infection is to Clean, Quarantine and Delete but if your antivirus deletes important system files by itself without asking permission than you must consider to recover those system files to prevent data loss, performance issues and missing system files notification at startup.
Windows has a built in tool called System Files Checker that reloads your system files with the help of Windows Installation Disk. This feature has become a part of every version of Windows after Windows 98. To fix your missing System files problem, follow these simple steps:
First, Disconnect your active internet connection.

Close all current programs even your anti virus, firewall and browsers.
Click Start, open the Run command,  type sfc /scannow and click OK.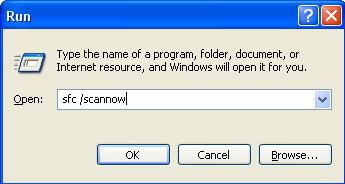 The system file checkup will look in your windows folder for missing system files and fix it, during this process the checker may ask you to insert the Windows installation disk into the CD/DVD-Rom.

After completion, remove CD from the drive and reboot your computer.
Some common commands
sfc /scannow  (Scans the entire system)
sfc.exe /scanfile=c:\windows\system32\secur.dll (Scans a specific file, you can add any specific filename you want to scan instead of secur.dll)
sfc.exe /verifyonly (This command only verifies the protected files not fix them)
sfc /? (Help for sfc)
Hopefully the problem of missing system files will be fixed by this method.
Got any questions or queries, let us know.