How to Uninstall Your Software Without Add/Remove Utility
Did you come across a situation where you needed to uninstall a software without using Add Remove Program tool? I came across a situation when I had to uninstall a software and its uninstall applet was not available in Windows Add/Remove list. This is when I started a search for a software, and found Revo Uninstaller. It does a perfect job in completly removing any installed program along with the registry.
Revo Uninstaller is an uninstall utility that includes additional system clean-up tools. It provides an alternate interface for the Windows Add/Remove software dialog that offers web search options, access to registry keys and some additional commands. The program also includes a startup manager to inspect and disable programs that start automatically as well as a privacy cleaner to remove Internet traces, a secure deletion tool and an option to find and remove files, folders and registry keys that were left behind during uninstall.
The main screen shows up small icons of the already installed softwares, you can select anyone of them to uninstall as per your own desire.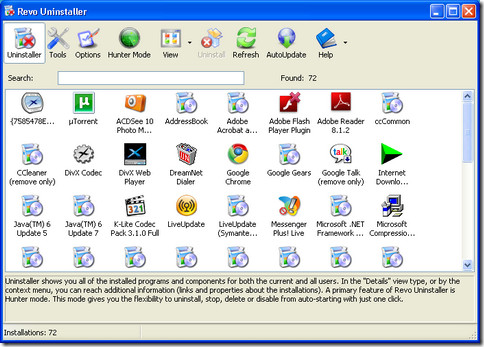 If you want to uninstall a particular software, select its icon, and click Uninstall option on the main bar. It will ask you to confirm the uninstallation.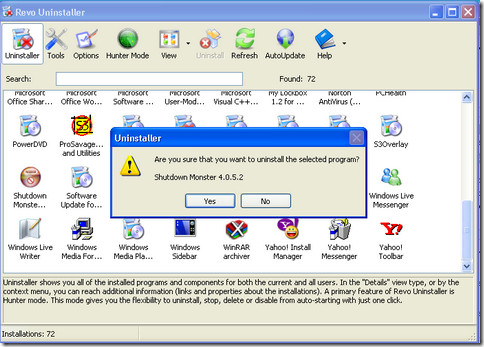 Upon clicking yes, it will provide you with four options.
Built-in: this option is almost similar to Windows own Add/Remove utility.
Safe: this option scans registry as well as hard drive for left over files that are safe to delete.
Moderate: lets you uninstall the software with extended scan of registry and files in the most common places
Advanced: this mode scans deep in the registry and files in hard drive, this option is really slow.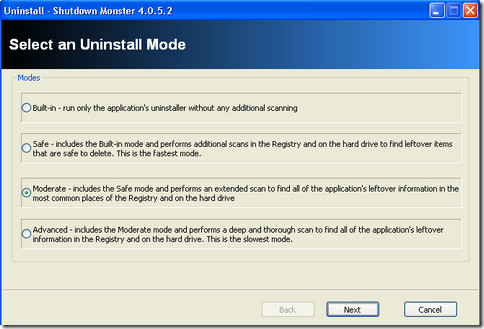 Always try to use either safe or moderate settings. After selecting either one of them, select Next, When its done uninstalling, Press Next again.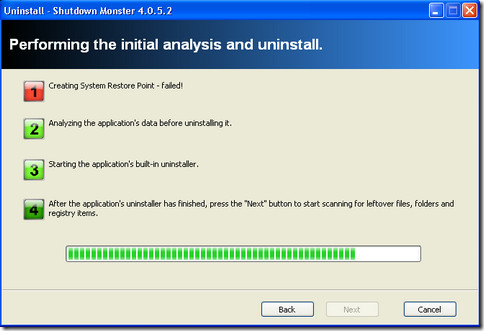 Now the software will scan for some left over files and registry for possible entries left to be deleted.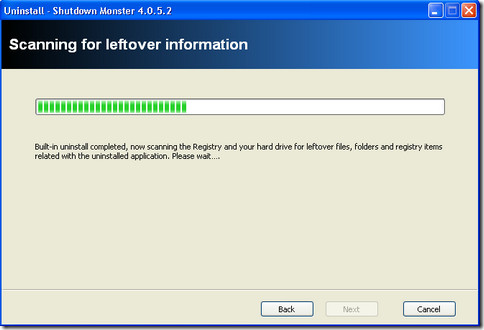 This is the difficult part when this software asks you to carefully select the registry entries that you want to delete, to be on the safe side you can select all the bolded items it has gathered, it wont harm your PC in any way, so select all the bolded items and your done with your uninstallation.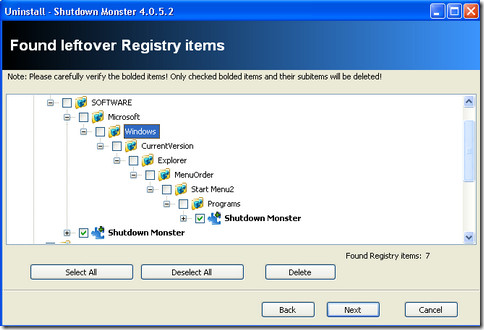 Just click Finish and your done. If you find any difficulty handling this software or want to ask any question regarding uninstallation through this software, feel free to ask any question in comment box.