How To Connect 5.1 Speakers To Your Computer
If you want to enjoy movies and games these days you must have 6 channel sound system because all latest games and DVD movies are optimized and programmed to give a natural surround sound experience. If you have 5.1 speakers and don't know how to connect it to your computer we'll show you some easy steps on how to connect your speakers to computer the right way.
What Is A 5.1 Sound System ?
The number 5.1 means that you have six speakers arranged in a way that two are on the front, two are on the rear, one on the front center which is known as voice channel and one subwoofer to provide bass. So you have five speakers and one subwoofer, this makes 6 channel sound system 5.1.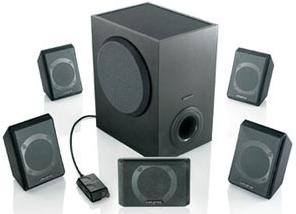 Difference Between Digital And Analogue Sound System
There are two kinds of 6-channel surround speakers: analog and digital. Analog speakers are cheaper compared to digital and can be installed on any PC while digital speakers require that you have a SPDIF output on your PC. If your PC has SPDIF output than you might want to use a digital system. The steps described here will be just the same, but instead of connecting your PC to a home theater receiver you will be connecting it to a digital 6-channel speakers system.
Know Your Speaker System
Generally in systems all the cables from the speakers are connected to the subwoofer which comes with a set of wires to connect, that includes : a power cord to connect the system to the AC outlet, a power connector to feed the subwoofer and the subwoofer wires. Your system should come with at least three set of cables for connecting your speaker system to your PC. These cables are usually colored to help with the installation.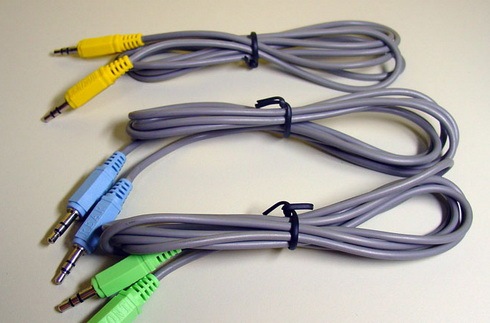 Start Connecting
You should connect the cables matching the colors on the jacks located on the subwoofer. After connecting all these cable, its time to connect the rest of the cables like power, subwoofer and speakers. This is very easy if you pay attention to the subwoofer connection then you'd be able to follow the polarity that is written on the connectors. In the end, all your cables would be connected perfectly.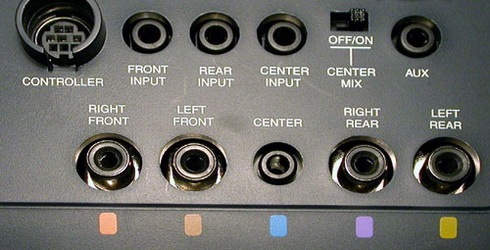 The above pic shows you all the ports to connect the wires to with all the color coded mannerism.
Knowing Your Computer
All computers have atleast three connectors
Computers with six channel audio systems have two more connectors, i.e
rear out.
center/subwoofer out.
You'll need to make sure if you  have these extra connecters by checking the back side of your computer.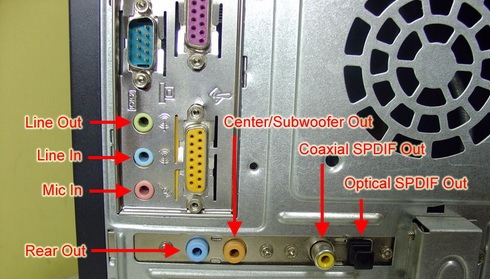 If your computer doesn't have these two extra outputs: rear out and center/subwoofer out, it's a disadvantage, you'd be able to connect your 5.1 anyway but you would require to use the line in and mic-in plugs as an alternative. Of course there is a really big disadvantage in using this configuration: you cannot use your microphone or line in inputs and your 5.1 speaker system at the same time. This is the reason that you should buy a motherboard with 5.1 system built in.
Configuration Of Computers With 5.1 Supporting Motherboards
Front cable: To Line out.
Rear cable: To the Rear-Out
Center/Subwoofer cable : To Center/Subwoofer Out.
Configuration Of Computers Without 5.1 Supporting Motherboards
Front cable: To Line-out.
Rear cable: To Line in.
Center/Subwoofer cable: To Mic-in.
Software Configuration
After every single connection has been made, its time to setup audio configuration in operating system. Since we had Realtec drivers on our PC, Double clicking it opened up Speaker Configuration tab. In various options you should select 6 channel mode for 5.1 speaker output and check Only surround-kit if your PC has the separated rear and center/subwoofer outputs and leave it if you don't.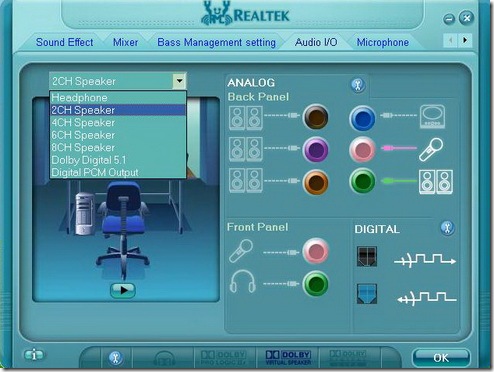 Now everything is done, you are completely ready to enjoy surround sound experience and don't forget to leave comments if you find this post useful.