How to Fix INACCESSIBLE BOOT DEVICE Error on Windows 10
There's nothing worse than trying to work or play on your computer, only to get stopped by a Blue Screen of Death message. All unsaved projects get lost because of it.
A BSOD error shouldn't be a problem if it happens only one time. But you should start taking precautionary measures when you keep receiving a BSOD stop code like INACCESSIBLE BOOT DEVICE on Windows 10 every time you turn on your PC.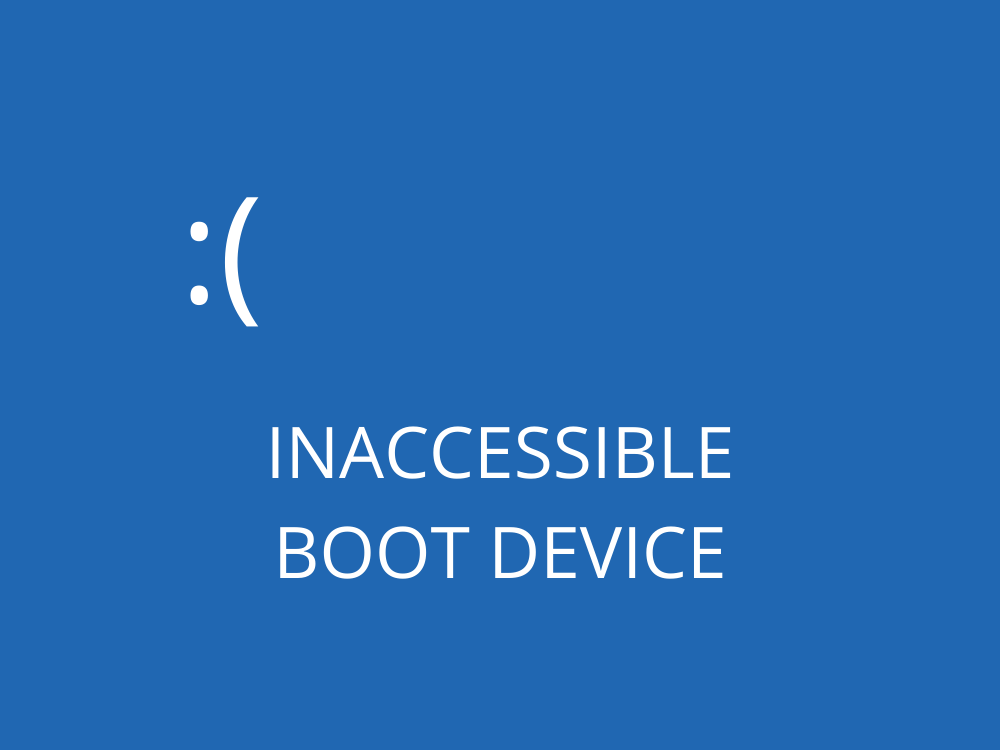 INACCESSIBLE BOOT DEVICE (Windows 10)
INACCESSIBLE BOOT DEVICE means that Windows can't access the system partition during boot. And it usually shows up with error code 0x0000007b.
The stop code can be caused by various reasons, such as corrupt drivers, malware, system errors, or missing updates.
Fix Stop Code INACCESSIBLE BOOT DEVICE
There are multiple ways to repair stop code INACCESSIBLE BOOT DEVICE, but it mostly depends on the nature of the problem: software or hardware.
Before getting started, however, it's advisable to create a system restore point. This way, you can undo all changes at the software level if you make any mistakes.
If it's impossible to set up a system restore point because your PC immediately receives the BSOD message when you turn it on, then you could boot Windows in safe mode.
1. Check your drivers
An outdated or incompatible driver is usually the cause of BSOD errors on Windows 10, including INACCESSIBLE BOOT DEVICE. However, you should be able to troubleshoot it without any issues by reinstalling and updating drivers to the latest version.
Here's how to reinstall drivers:
Follow the on-screen instructions to remove the device from your PC
Restart your computer. Windows 10 will automatically reinstall the device
This works if you already know which driver is giving you a hard time, which can be tricky when you're not equipped with the right tools. We suggest using Microsoft's DriverVerifier as an assistant.
Here's how to update drivers:
It's not unusual for Windows 10 to fail in finding and retrieving newer updates using Windows Update. It means you can't rely on it to update your drivers, so you have to do it yourself.
To manually update device drivers, you must identify the manufacturer and current version of each driver, then visit the official website and get a newer version.
But you still risk getting the wrong driver for your PC, which could lead to further issues. It's safer to use a driver updater, which autodetects your current driver versions, finds newer versions on the web, and installs them on your computer.
2. Uninstall recent software
Some programs can be installed on Windows 10 although they are not fully compatible. In certain cases, this can cause serious stability issues like INACCESSIBLE BOOT DEVICE.
But you should be able to fix this problem by uninstalling the applications.
Restart your computer
Unfortunately, the Windows built-in uninstaller won't work if the software application has made modifications to the system registry.
In that case, you should turn to a software uninstaller. Besides removing the program itself, it also gets rid of any leftover files and registry keys.
3. Enable AHCI Mode Value in BIOS
Several users claimed that they fixed the INACCESSIBLE BOOT DEVICE stop code by enabling AHCI Mode Value in BIOS.
Restart your computer and enter BIOS mode by pressing the key or key combination displayed on your screen
Go to Advanced Settings
Find and enable AHCI mode
4. Get the newest Windows packages
Make sure to download any pending Windows updates to keep your operating system in check. It might be just enough to solve the INACCESSIBLE BOOT DEVICE issue on Windows 10.
Restart your PC
5. Fix pending Windows updates
Windows 10 sometimes gets stuck in update pending mode. It makes it look like there are new system updates on standby. However, there's nothing really there, which can lead to the INACCESSIBLE BOOT DEVICE error.
You can fix it by deleting a specific registry key (SessionsPending) from the command-line environment. Make sure to press Enter between each line:
reg load HKLM\temp c:\windows
system32\config
software
reg delete "HKLM\temp\Microsoft\Windows\CurrentVersion\Component Based Servicing\SessionsPending"/v Exclusive
reg unload HKLM\temp
In the following step, you should create a temporary file for each pending update and move it there.
In CMD, type dism /image:C:\ /get-packages to get a list of Windows updates. Take note of any updates with the Install Pending tag
Type mkdir c:\temp\packages and press Enter to create a new file in that location
Type dism /image:c:\ /remove-package /packagename:[package name] /scratchdir:c:\temp\packages, replace [package name] with the correct value, then press Enter to move all pending packages into the newly created file
6. Check your computer for malware
If you don't have an antimalware application or have one but keep it disabled, you may have been hit by a cybercriminal attack. As a result, your computer might be infected.
Certain malware agents are powerful enough to disable or corrupt system files, services, and processes, causing BSOD errors like the INACCESSIBLE BOOT DEVICE stop code.
To troubleshoot this issue, you have to scan your computer for malware and remove any infections you might find using the built-in antivirus tool: Windows Defender.
7. Free up your disk space
If your hard disk is small and quickly fills up with files, this can become a real problem for Windows. That's because the OS needs plenty of disk space to carry out tasks in the background, like keeping services active.
With insufficient disk space, you can expect all sorts of compatibility issues, including Blue Screen of Death error messages on Windows 10. Luckily, you can easily sort it out by making more room on your HDD or SSD.
Make sure to transfer your important photos and work documents to an external hard drive, burn them to a disc, or upload them to your cloud storage account.
When it comes to junk data, you can use the Disk Cleanup tool built into Windows if you don't want to install any third-party tools.
Here's how to free up disk space with Disk Cleanup:
Log into your PC with admin privileges
Review the Recycle Bin and Downloads locations for important file to restore or copy
Restart your computer
8. Remove all external peripheral devices
Your hardware gear might not work properly, which could trigger serious issues on your operating system, such as the INACCESSIBLE BOOT DEVICE stop code.
Or, your USB ports might not function correctly. To check this, you can unplug everything from your computer, especially new devices that you attached around the same time you started receiving the BSOD error.
Afterward, reboot your computer to see if you still get the BSOD error. As soon as you confirm that you don't, start reattaching your peripheral devices one by one. You might be able to spot the bad apple.
9. Disable your overclocking software
Overlocking software solutions give you the possibility to amp up your CPU, RAM or GPU. They are typically used by gamers who need a bit more juice to meet system requirements.
However, because overclocking tools are intrusive by nature, they could do more damage than good on your operating system, like triggering Blue Screen of Death errors.
To solve this problem, you just have to turn off your overclocking utilities and restore your clock settings to their factory values.
10. Check your hard disk and system for errors
If your HDD, SSD or operating system has corrupt files, it could trigger BSOD errors like the INACCESSIBLE BOOT DEVICE stop code.
However, you can investigate this problem from the command line. Before getting started, make sure to save your work and close all running applications:
Get started with CHKDSK (Check Disk):
If your OS is installed on the C: drive, write chkdsk c: /f and press Enter. Otherwise, replace c: with the correct partition letter
When the tool asks for confirmation to schedule the disk scan at the next Windows boot, type y and press Enter
Reboot your PC and wait until the scan and repair job is over
CHKDSK is great when it comes to identifying and repairing HDD and SSD errors. However, if it won't get rid of the INACCESSIBLE BOOT DEVICE error on Windows 10, proceed to the next tool.
Here's how to use SFC (System File Checker):
Launch CMD as admin
Wait until the scan is complete
Restart your machine
SFC can fix corrupt system files that could cause OS stability problems, such as BSOD errors. But, if it's not enough to eliminate your problem, use the next solution.
Here's how to use DISM (Deployment Image Servicing and Management):
Run Command Prompt as admin
If there are any issues, use DISM /online /cleanup-image /restorehealth to repair them
Restart your PC and launch CMD as admin again
Reboot your computer again
DISM looks for corrupt system files in the component store of the OS image.
11. Restore Windows to a previous checkpoint
If you're the type of user that regularly backs up their data and creates system restore points as contingency plans, then you can use System Recovery. It makes it easier to undo the INACCESSIBLE BOOT DEVICE stop code if it was caused by a software issue.
Here's how to use System Recovery:
Log in as the PC administrator
Restart your computer
12. Run a clean boot
You can start Windows in clean boot mode to only load the necessary drivers, services, and processes. It creates the perfect environment for troubleshooting the INACCESSIBLE BOOT DEVICE error on Windows 10.
Disable all startup processes
Reboot your computer
Conclusion
To conclude, if you can't get rid of the INACCESSIBLE BOOT DEVICE error on Windows 10, check your drivers to make sure they're compatible and updated.
You should also uninstall recent software, set the AHCI Mode Value in BIOS, update Windows to the latest version, and fix the pending system updates issue.
It's also a good idea to run a malware scan on your computer, free up disk space, remove all external peripheral devices, and deactivate your overclocking software.
You can also check your hard disk and system for errors, restore Windows to a previous checkpoint, and run a clean boot.
Did these solutions work for you? Let us know in the comment section below.