Inspect And Monitor Windows Events With EventLog Inspector
EventLog Inspector is a Windows Events monitoring application that extends Windows event log management, helping those who require consistent event inspection. The application is largely built for system administrators to keep tab on Windows events and inspect them accordingly. You can set it to notify yourself via email or by regular pop-up messages. The best feature is that it comes with user-defined event monitoring mechanism, you can either choose all the events to be monitored or choose only those which are required. It lets user gain more control on event monitoring by creating event-specific filters & rules that allow you to limit notifications.
The application also enables user to view all previous history of selected events, it maintains a detailed statistics of specified events to thoroughly review and analyze the event log report later. The application real usage can be seen in situations when it's a dire need to view all the critical event logs generated by Windows event logging system, since it offers user to create rules and filters, all the critical events can be pre-sighted.
The main interface shows just about everything you want to know about the Windows events. To begin, you need to start it as a service, click Start Service to start monitoring and inspecting Windows events. Adjacent to it, you will see it chalking out errors and warnings on real-time bar graph. You can enable Infos and Audit option to let it consider them in graph too.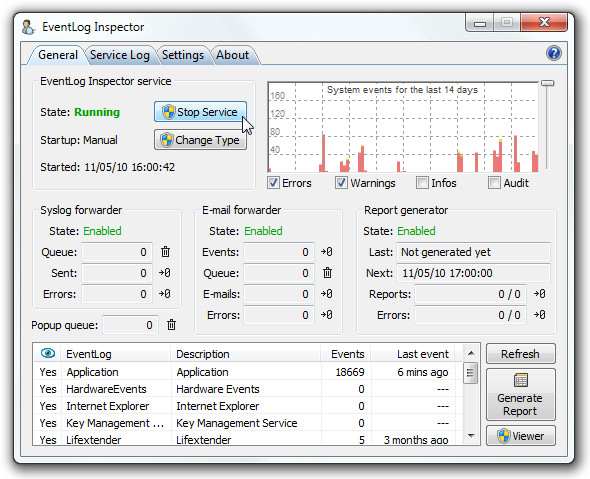 The center pane shows information pertaining to Syslog forwarder, Email forwarder, and Report generator. These three main functions are disabled by default, you need to enable and configure them to see details regarding Forwarder instances; Queue, Sent, and have Errors, and last & scheduled date for Report generator. Bottom pane list down all the events, you can refresh the list, generate a detailed report of currently listed events, and bring up the Windows default Event Viewer.
We reckon you to customize the default behavior of application, since Syslog forwarder, Email forwarder and Report generator are by default disabled. To enable these functions and configure notification settings, Click Settings tab.
From Syslog –> Forwarding, first you need to enable it, and choose either option to forward all the system events to syslog server or permit only selected events.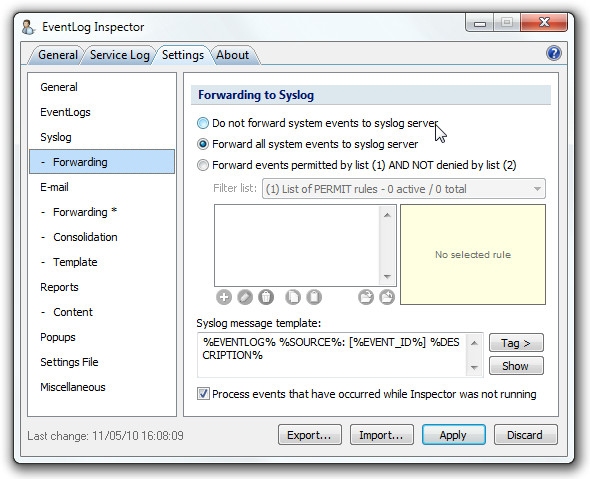 Now to enable email service, enable it first and enter your email address. You can also specify only important events which are to be sent to your mailbox.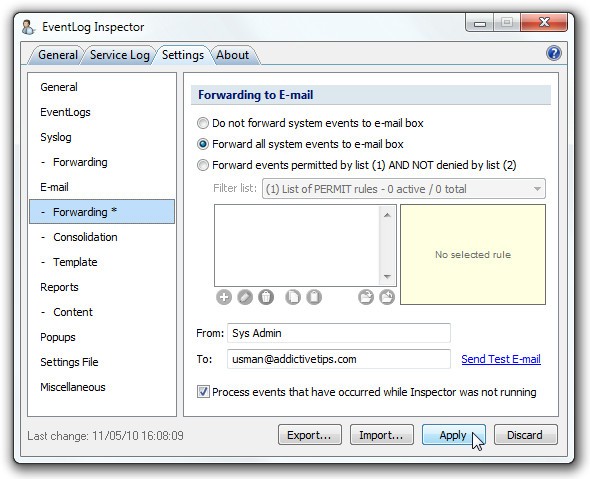 Click Reports and enable the second option to set periodicity of generating report. Here you can set schedule reporting intervals and limit down the number of reports that are to be created.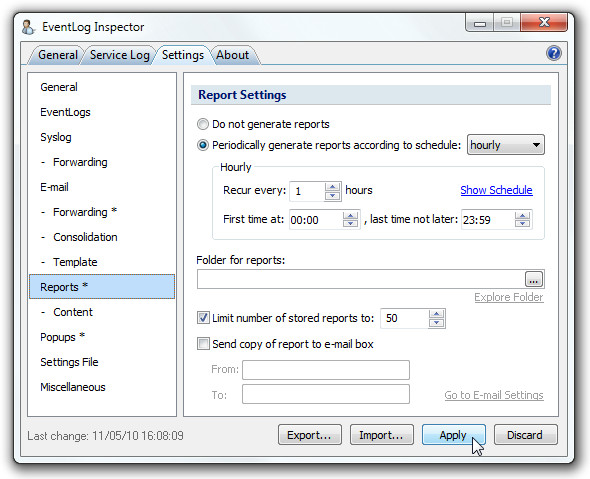 Likewise, it'd be better to setup the notification settings, click Popups from left sidebar and enable  pop-up notification messages. If you want to manually generate a report, click big Generate Report button on main interface. Choose if you want to generate report for selected events or all the events. Click Generate and specify the output path.
Reports are generated in HTML format, you can analyze all the selected events anytime later.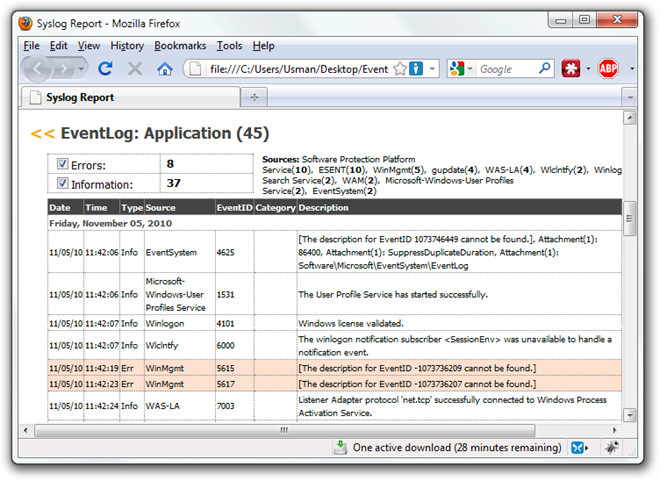 When a critical event occurs, it will immediately notify you either via email or by popping-up a message in notification area. Events having high priority will be promptly sent to specified email address.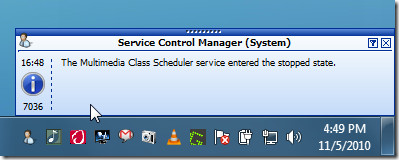 Considering its usability and support for IPv4 and IPv6 networks,  it is an awesome Windows event inspection & monitoring application. It worked flawlessly on our Windows 7 x86 testing system while it supports Windows XP, Windows Vista, and Windows 7.