Install Applications With Npackd Windows Package Manager
Unlike other OS platforms, which come with native App Stores, such as, App Store for Mac OS X and Synaptic for Ubuntu, Windows users have always been deprived of one App Store where they can easily find freshly baked applications, check latest updates, and, importantly, manage all of them under one hood. Npackd is an open source application which fills this void for Windows. It allows users to install applications, desktop utilities, compilers, etc., on Windows OS with ease. One major downside is that it doesn't come with all sorts of applications which you might need on Windows, yet it can come handy for installing most prominent utilities, such as, 7zip, .Net framework, C++ Redistributables, Adobe Reader, VLC, Firefox, FileZilla, Audacity, CCleaner, Defragler, etc., with a long list of software designed for Windows power users.
It offers a neat interface with all the applications and utilities listed in main window. From pull-down menu present at the right-side, you can filter applications by; Not Installed, Newest, and Installed status. Adjacent to Status, it allows you to search an application which you want to install by specifying keywords.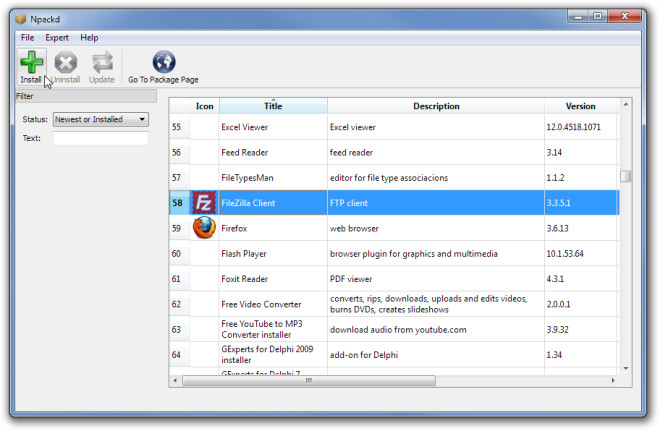 Nothing more requires than selecting the application followed by a click on Install button present at top-left corner to install the application. If the selected application is already installed, Uninstall button will become active, indicating that selected app can be removed.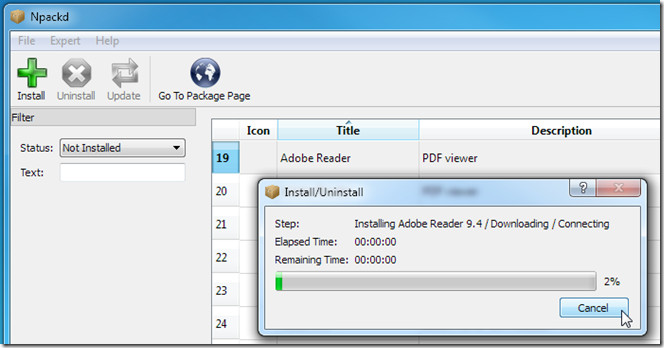 Below you watch a brief usage demonstration video.
It works flawlessly without showing any errors in grabbing download link for listed applications. It supports Windows XP, Windows Vista, and Windows 7.